French manufacturer Amadeus is previewing a 'Hi-Fi' model of their new 'Philharmonia' speakers at the 'High End' Show in Munich. The Company expects to release the Hi-Fi model of the new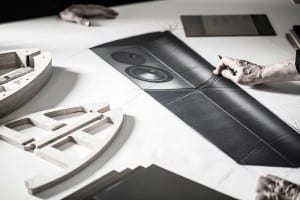 Philharmonia reference speakers in Q4 of 2015, with pricing to be announced soon. Amadeus can be found at the High End Show in Halle 3 J05/K08.
The new 'Philharmonia' 2-way, self-powered speakers feature a 28-mm soft-domed tweeter and a handmade 8-inch woofer. The 'Philharmonia' comprises a line level input with a customised analogue integrated tone control system.
The speakers were designed by Amadeus' Michel DELUC, who has designed speakers over the past 30 years, along with French architect Jean Nouvel, who created the Philharmonie de Paris building, home to the Paris Symphony Orchestra and the custom recording studios, that feature the first sets of the new 'studio version' of the Amadeus Philharmonia speakers.
The 'studio' version of the Philharmonia speakers were unveiled at the Prolight + Sound Expo in Frankfurt in April, 2015.
Bernard BYK, co-founder and CEO of Amadeus, says, "Imagine a reference sound reinforcement system, adapted to the dimension of this architectural gem, with exceptional design, ergonomics and acoustics is a kind of consecration! Jean Nouvel's imagination, exuberance and creative genius brought a brilliant solution, beyond the original specifications. Amadeus especially praises tradition. Combining innovation and timeless beauty, this system, christened 'Philharmonia', embodies the know-how, the creativity and the values on which we have been building our History for more than 35 years."
Gaetan BYK, Marketing Manager at Amadeus, continues describing the genesis of the Philharmonia speakers, "This project, under the direction of Jean Nouvel, is the result of a unique collaboration between professionals with talents, sensitivities and careers, both original, and complementary. They have achieved an amazingly transparent sound as well as a stunning look with Philharmonia. We have been pursuing this quest for ultimate timbral neutrality, along with musicians, recording engineers and artists who use our products, for a very long time. Now we can bring this result to the Hi-Fi community. We look forward to the reactions at the High End Show in Munich."