It's been observed before that the world of hifi goes in cycles. Few of today's enthusiasts were around to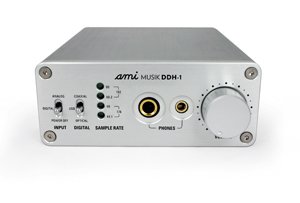 buy hifi in the early 1960s, but looking back, amplifiers were the 'hot' technology, the end of the valve era and beginning of the transistor one sparking a flood of innovation the results of which rumble on even today in a series of revivals. In the 1970s it was turntables and associated vinyl technology. In the 1980s it was tape decks, and in the 1990s, all things compact disk related. In the 2000s, retro was the fashion, with all sorts from speakers to amplifier designs being dusted off and reborn/'improved' to varying degrees using today's components and manufacturing techniques.
But what if you asked the question today – where is the hottest area of competition in 2013? For me, unequivocally, it's the DAC.  As the world of digital sources splinters, with new transports being born on a daily basis and ever greater numbers moving to streamed sources rather than spinning disks, the humble DAC has more to do than ever – more flavours of input, more variety in terms of bit rates and resolution, and more demands in terms of output: from conventional output to preamp, to direct to amplifier (which to sound any good needs attention to the elements that led buyers to use preamps in the first place) and, increasingly, high-end headphone duty.
And manufacturers have certainly stepped up to the mark, offering everything from matchbox-sized DACs, driven only by the microscopic current available via a USB cable, right through to multi-thousand pound technological marvels (multi tens of thousands in some cases). And a myriad of options in between, for all ears and budgets – made possible not least by standard boards from China that are repurposed and repackaged into products across the globe.
Into this steps the DDH-1 DAC, from Tokyo-based AMI Musik (AMI stands for Audio/Music Interface) – resolutely its own design from the ground up. The DDH-1 sells at $549 – about £340 before shipping and taxes (currently only direct from the manufacturer but local distribution deals is in the offing). This sub £500 area is a highly competitive sector in the UK and includes DACs with quite a following such as the Arcam rDAC and the Rega DAC. Double that budget you get to the M2-Tech Young and other avowedly 'cutting edge DACs that push the envelope technologically – though to be honest some of the super-advanced DACs have left me cold in terms of the emption of musical reproduction, for all their technical prowess.
I think I have a rationale for this. In its essence a DAC has three parts: an input section (which receives the digital signal, does the handshaking and correction, and generally ensures the incoming bits are as accurate as possible); the digital to analogue converter section itself, where the bits are converted more or less accurately to voltage and current-based audio signals; and the output stage, which amplifies those signals up to line level. It seems to me that the designers of some of modern DACs – no doubt driven in part by an enthusiasm for the new possibilities afforded by emerging features on the latest chipsets, as well as an eye on reviews on technically-focused sites – focus overmuch on the digital elements of this process, and insufficiently on the analogue domain, resulting in a DAC that may well process super high bit rates and bit depths (notwithstanding the near-unavailability of music originated to this specification), but which sometimes  fail at the essential test of a musical component. I have a number of times heard kit like this fail against old-fashioned 44kb, 16bit equipment with competent output stages honed by older, more mature hands and ears.
The DDH-1 came into my hands just as I was handing over my reference DAC, an Audio Note 4.1 Signature for some routine maintenance.   Arguably the AN does rather fall into the realms of old fogey faddishnes, being non-oversampling and non digital filtering.  It wasn't chosen out of dogma though – it was chosen because it sounds like music, which is surely the acid test for any DAC. And this test applies regardless of whether the source is a spinning disk or bits direct from a streaming device or even a laptop.
A quick look at the specifications of the DDH-1 show attention to all the elements that count, accepting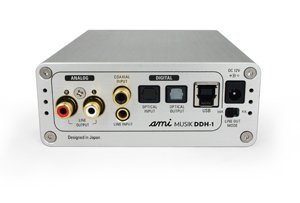 material up to 24-bit/192kHz – about as high a bit rate and depth as you could sensibly ask for – but also featuring high-speed asynchronous mode (lacking on many 24-bit DACs certainly in this price bracket) on the USB input as well as 24bit SPDIF (194kbit) and optical (96kbit) inputs. Output to RCA connectors is either fixed or variable (nice smooth, high-quality volume pot) while the volume pot also controls the headphone output. It also has line input – meaning it can be used as a preamp in its own right.
I won't repeat the full technical specs as you can read them at the end of this review: but undoubtedly this is a lot of technology for the money.
My needs for a DAC are pretty straightforward and – dare I say it – mainly old-fashioned. An Audio Note CDT 2/II  transport provides the bulk of my listening, with a Squeezebox Touch for radio duty (mainly BBC R3 and R4, with a few favourite Internet radio stations creeping into my regular listening) and for occasional use in listening to my own and others' mono transcriptions from vinyl and 78. 
So how did it fare in terms of listening? Surprisingly well. In my normal listening context, it slotted in superbly (if taking up a lot less space than what normally sits in the DAC position). My Audio Note plays different league pricewise – more than ten times the price – but although the AMI DAC is somewhat less holographic and lacks the ultimate in valve smoothness, it's hard to fault (indeed, impossible to fault at the price point), making far better, more enjoyable music than the a recent 32-bit Sabre DAC (which must remain nameless) that came to stay, at more than twice the price. Add in its versatility – embarrassing the Audio Note completely here of course in terms of its ability to deal with all sorts of inputs and outputs – and the package itself is extremely compelling. I didn't notice any perceptible difference between SPDIF input and USB input.
On a wide variety of programme music from English lute duets to Bach cantatas, to hectic jazz fusion in the form of Pat Metheney and Brand X, to mono recordings from Pete Seeger and Bob Dylan, it acquitted itself admirably. In character it has fullness and a verve about it that is very endearing and musical, yet far from lacking in detail. Bass is substantial, rounded but still snappy, and the mid and upper ranges betray none of the graininess problems this valve-head in particular associated with op-amp output. This is a well-balanced highly-enjoyable piece of kit that deserves a place not just on desktops but in more substantial systems.
I am not a headphone user, at least not with any regularity, but I felt obliged to try th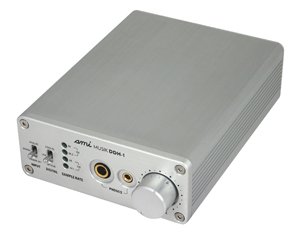 ese out with a borrowed pair Sennheiser HD650 headphones – exactly the sort of mid-upper headphone I'd expect to see used with this DAC. With decent quality headphones, source quality is paramount and I wasn't surprised to find that the DDH-1 didn't disappoint.
I'm not sure what the 'secret sauce' in the DDH-1 DAC consists of – what comes across is piece of gear executed by some highly-experienced professionals – the management is tight-lipped on the background of its engineers, noting only that they have been involved in some seriously high-end gear before joining the company. This shows in the execution of what is, by any standard a serious product.
Indeed AMI in all its presentation is in every sense the self-effacing Eastern company a million miles from the brash Western ways. Nevertheless after some questioning, a sense of the company – founded as recently as April 5, 2012 – emerged.  As is the way of Japanese organisations, there is a stated company philosophy which is to "be passionate", ''open to ideas'' and above all, to be ''fast'' in exploiting technology and bringing it to market – ''affordable luxury'' is the buzz-phrase. The market opportunity it exists to go after tracks the tremendous growth in 'desktop'' notably since 2009 with the release of USB 2.0 Audio Class. Its next product is the DS5, similarly featured but with the addition of DSD compatibility, and other products are set to follow in the coming few months.
It did rather occur to me in use that I am possibly not the target buyer for this DAC. I feel not many of its buyers will try it into 98db vintage Tannoys, via high-end valve amplification. Yet if it can stand up to this sort of scrutiny, this is surely to its credit in desktop and headphone applications.
And so the cycle continues –  Is the world ready for a new kid on the block? Well, on the face of it this is quite a dramatic debut: the timing is good, and the product is excellent. I think we are set to hear more from this young company.

 Tech Spec'
Power & Input Source Toggle Switch

:
Power Off / Digital / Analog

Digital Input Selection Toggle Switch

:
Optical / USB / Coaxial

Sample Rate Indicator

:
4 level. From bottom : 44.1 / 48 / 88.2 / 96 / 44.1+48 (176.4) / 88.2+96(192)

1/4″(6.35mm) Headphone Output

:
Supports 16~600 Ω headphone output

3.5mm stereo Headphone Output

:
Supports 16~600 Ω headphone output

Rotary Potentiometer

:
Precision dual unit audio potentiometer
Author -Tom