With its Digital-to-Analog Converter (DAC), standalone Digital-to-Analog Converter (DAC) & Preamp, Digital-to-Digital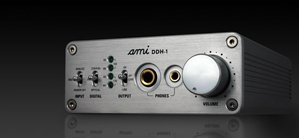 Converter (DDC), standalone Digital-to-Digital Converter (DDC) with analog input and Headphone Amplifier this little unit from Tokyo certainly seems to be well specced.
All in one device for USB DAC, standalone DAC & Preamp, USB-DDC, standalone DDC with analog input, headphone amplifier.

Asynchronous USB operation: bit-perfect digital audio and low clock jitter.

USB audio class 2 (up to 24-bit/192kHz) and high-speed asynchronous mode: Microsoft Windows® XP, Windows® Vista and Windows® 7 (32-bit/64-bit) with special driver compatible with WDM/Direct X, ASIO 2.1 and WASAPI exclusive. Apple OSX version 10.6.4 and above (no driver install required).

Up to 24-bit/96kHz full speed mode compatible. If enabled for UAC2 when connected to an FS hub, it will fall back to UAC1, full speed mode.

External 12V 2.5A high current DC power supply unit for high quality audio performance.

Full aluminum finished exterior design case.

Audio muting transistor for anti-pop control.

ESD protection varistor, USB Surge protection circuit enabled.

Standard dual RCA stereo line output jack with fixed gain and variable gain controlled by FIX/VAR select switch.

High−performance dual unit precision potentiometer for line output (at variable mode) and headphone output volume control.

Quad-level LED indication for sample rate status: 44.1kHz, 48kHz, 88.2kHz, 96kHz, 176.4kHz and 192kHz.

Dual line output mode support pure DAC mode (fixed gain) and preamp mode (variable gain, potentiometer volume control).

Up to 24-bit/192kHz S/PDIF input (TOSLINK optical & coaxial).

Up to 24-bit/192kHz optical S/PDIF output from USB input, optical input, coaxial input and 24-bit/96kHz optical S/PDIF output from analog line input path.
Price is expected to be around 450 USD
We will have a full hifi review of the AMI Musik DDH-1 DAC and headphone amplifier coming soon.