Building on the success of their first-generation range of home cinema separates, Anthem (from Canada) has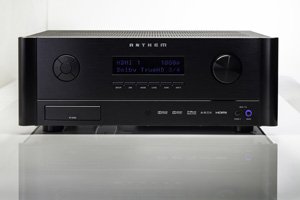 unveiled its next generation of their AVR range: the MRX 710 (Pictured), MRX 510 and MRX 310.

Remote control apps for Android and iOS (Apple) devices, improved ease of integration, a new version of the company's proprietary Anthem Room Correction (ARC 1M) system and drivers for popular control systems are some of the improvements Anthem have made.

The new models come with more HDMI inputs, dual HDMI outputs, faster HDMI switching, more robust control (IP and RS-232 control drivers for full integration with automation), software updates via the USB port, larger, easier-to-read on-screen menus and improved status displays.

The MRX 710 and MRX 510 will be available in autumn 2013, while the MRX 310 is due out early 2014. Prices: MRX 710 £2,199/ MRX 510 £1,699/ MRX 310 £1,199.

MRX 710 and 510 feature seven channels of power whilst MRX 310 is a five-channel unit. Output power is as follows:
MRX 710 120W (2 channels driven), 90W (5 channels driven)
MRX 510 100W (2 channels driven), 75W (5 channels driven)
MRX 310 80W (2 channels driven), 60W (5 channels driven)