Here's some "preliminary info" about a couple of new products out of the Arcam stable.
MusicBOOST
First up is the Arcam MusicBOOST – iPhone 6 Digital Audio Upgrade that will have a UK Price of £120 (subject to change) and will be on Sale early-December 2015.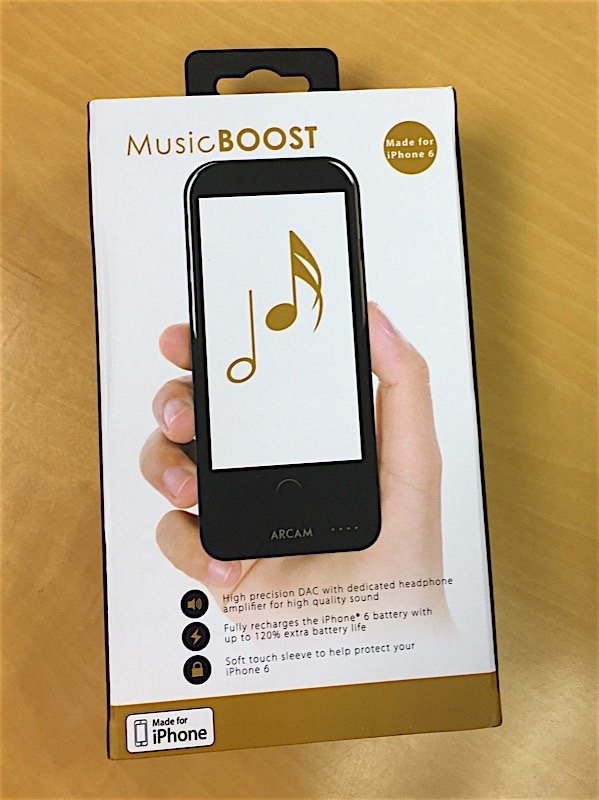 This product looks and functions like a high-quality iPhone battery sleeve but has a big audio surprise inside say Arcam
Here's the lowdown:
– multi-function Digital Audio Upgrade for the iPhone 6/6s
– combined battery pack, DAC and headphone amplifier
– upgrades quality of all iPhone audio
– charges battery
– protects phone
– slim and light despite extended functionality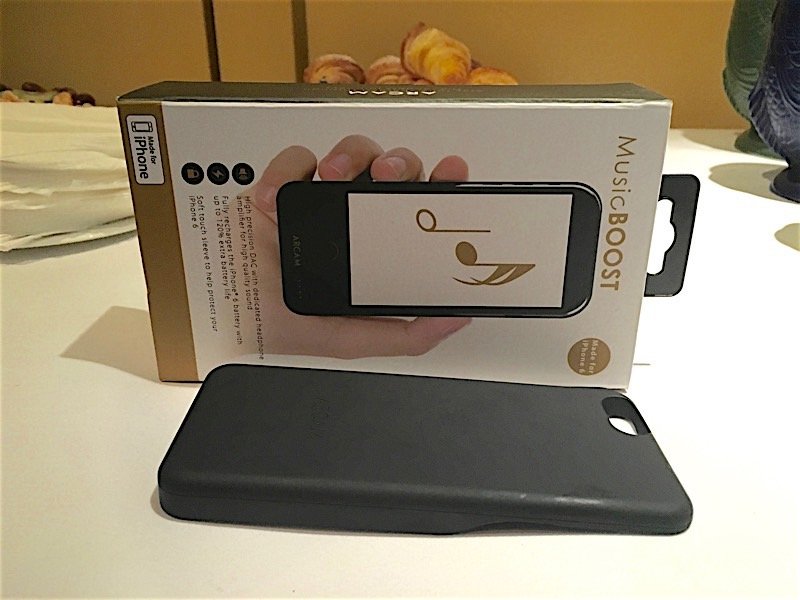 "A massive audio upgrade for iPhone headphone users" says Arcam and will have Arcam quality DAC & Amplifier to improve sound quality. Boost will have the power to power to drive headphones large and small and will play all iPhone audio from iTunes, Apple Music, YouTube, Spotify, Tidal, Qobuz etc whilst handling FLAC, WAV files etc using 3rd party apps such as VOX, Flac Player+
Internal rechargeable battery powers amp and DAC  plus it recharges iPhone giiving up to 120% extra battery life and the soft touch sleeve case protects iPhone
Arcam Solo 'Gen 3' Music & Movie
Solo Music Stereo – £1,500.00 RRP
Solo Movie 5.1 – £2,000.00 RRP
"The performance of black-box separates, in one simple unobtrusive, human friendly system" says the blurb from Arcam
ARCAM launched the original Solo Music & Solo Movie nearly a decade ago. These compact systems were built as serious Hifi and not 'audio', allowing for a one box solution for music and movie systems.
A decade is a long time and over two years of R&D, Arcam have woven elements of their high-performance Hi-Fi and Home Cinema ranges into the new Solos. This includes Class G amplification and (in the case of the Solo Movie) high-end video quality. They'll both have loads of connectivity, streaming capabilities, and a big sound.
Quotes from Charlie Brennan – Arcam MD
"The Solo Movie is the perfect solution for music and movie lovers who want an all in one unit that offers high-end AV performance in an elegant powerful package. The sound quality is simply stunning" "The new generation Solo Music offers music lovers an all-in-one solution that sets new standards for sound quality from a one-box system. The Arcam Class-G amplifier can drive any speaker on the planet and deliver performance that's out of this world"
The key features of the Solo Music are:
–             2x 80WPC (both channels driven – 8ohms) Class G amplifier
–             Ultra-quiet fanless design
–             SACD/CD playback
–             Dedicated subwoofer output
–             4 HDMI 1.4b inputs for TV sound, games console and set top boxes etc
–             FM/DAB/DAB+ tuner
–             SPDIF, Optical, RCA and 3.5 mm input
–             Built-in Bluetooth/aptX receiver
–             UPnP audio streaming with MusicLife app
–             Multi page/learning remote control supplied
–             MusicLife IOS app for control and streaming
–             RS232 & IR input for whole house control systems
Solo Movie features as above PLUS these features
–             5x 60WPC (all channels driven – 8 ohms) Class G amplifier
–             Ultra-quiet fanless design
–             3D/BD/DVD/CD/SACD playback on the Solo Movie
–             DTS HD-Master and Dolby True HD decoder
–             4K video upscaling from 1080P.
–             UPnP video streaming
The Solos will be available in late-November 2015.