Arcaydis are a Sheffield based manufacturer of loudspeakers that many will know the name of. The company has relaunched recently with new owners but with the same designs and here Ian Ringstead takes a listen to their £799 EB2S standmount loudspeaker. 
Some History 
Arcaydis was initially formed in 1997 by Richard Allen who had worked in the audio industry and spent time working for Celestion but by late 2013 the company ceased trading. Richard is not part of the new company, but the new builds are an exact replica of the first designs and the company is now totally owned by brothers Robin and James Szemeti with Robin being Technical Director of a pro-audio company and James working for a service and support operation for global customers in an industrial software company.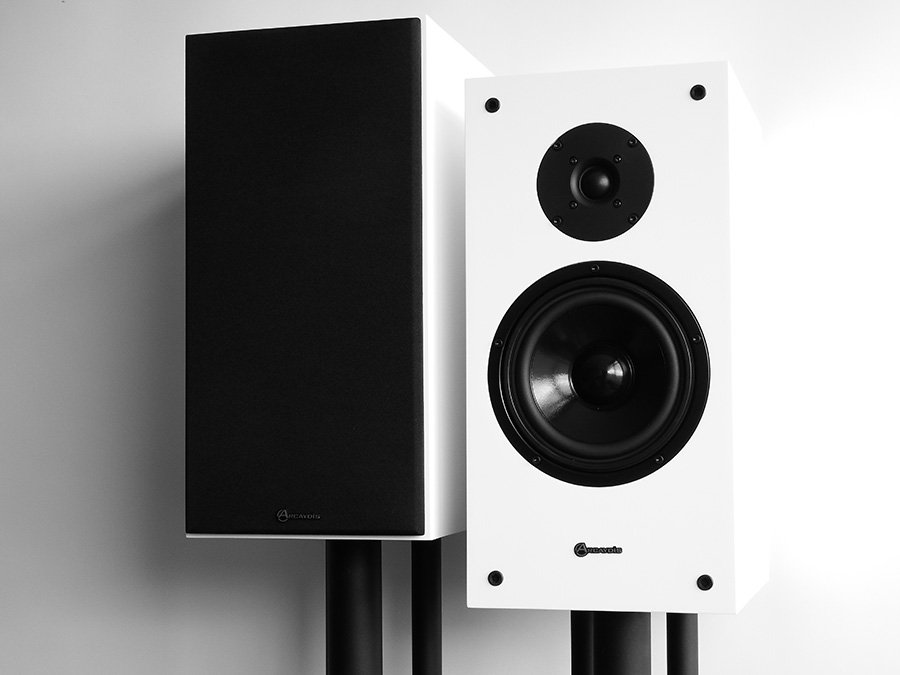 Arcaydis are based in Sheffield only a few miles from me, so Jim popped over with a pair of the EB2S and he also brought samples of all three available finishes (oak, black and matt white. Other finishes can be supplied at an additional cost). The EB2S's are a medium sized, infinite baffle design standmount design with a larger cabinet than more usual ported designs and are built with Arcaydis' Arcolam laminate, which the company say gives incredibly low levels of cabinet panel resonance. The speakers are 450mm tall, 225mm wide, 296mm deep.
Round the back of the speakers are a pair of bi-wireable connections and Arcaydis suggest using stands of 40cm stands; I used a pair of Atacama Nexus 500mm stands filled with kiln dried sand and Atacama isolation gel pads on the top plate. These for me provided the perfect height and platform for the EB2S. The speakers are bi-wireable but I chose to use my single wired 4mm Van Damme cables with Van Damme 4mm jumper links. The standard pressed metal link plates don't do it for me and I feel let the speakers down a tad. Jim said he was going to probably supply links of their own based on my findings. He also suggested attaching my single wired cables diagonally on the terminals so one connection was on the top right terminal and the other was on the bottom left. Jim claimed some had preferred the EB2S wired this way. I will reserve judgement here.
The bass unit is a 170mm Visaton model and the tweeter a 25mm Monacor soft dome design. The crossovers are built in-house and rather than using off-the-shelf components, all the components in the crossovers are either hand-built or custom manufactured in Britain. Their inductors are wound in-house on their own coil-winder using "premium copper", with a high temperature varnish. Each inductor is inspected and its value checked and adjusted to meet the design values. Crossover components are mounted by hand on custom-made circuit boards which are gold plated, designed to minimise any losses due to skin effect… it also has the advantage of easing the soldering process, where lead-free solder is used. After wire terminations are added the crossovers are computer tested to ensure that they fall within the company's parameters, with the aim that what leaves the factory is a loudspeaker that is an exact replica of the Arcaydis reference unit. Each set of loudspeakers' measurements are recorded and logged so that if a loudspeaker is returned for service the original data can be used to see if anything has altered. Impedance of the speakers is 8 ohms' nominal, 5.9 ohms minimum and they are 87dB sensitive (@ 2.8 volts @ 1 metre with pink noise).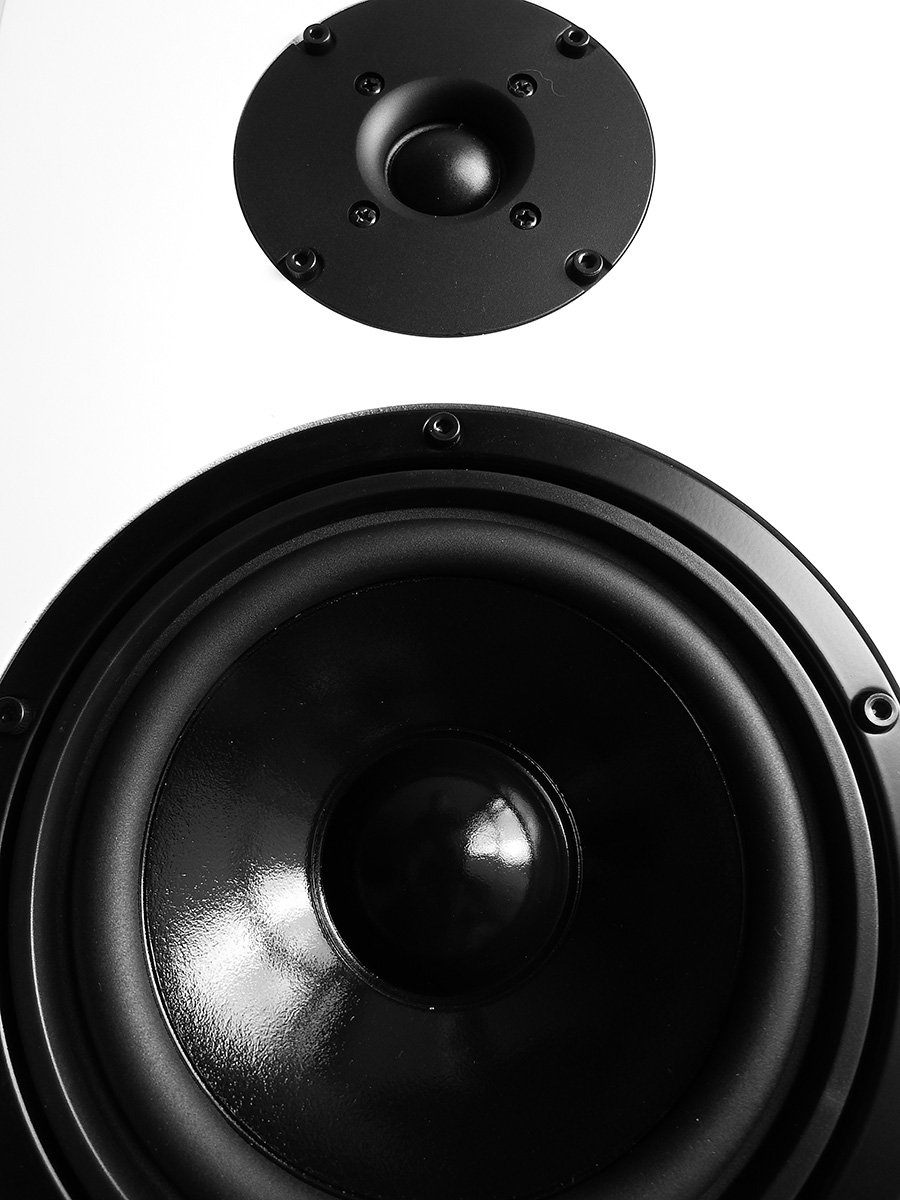 Sound.
The EB2S had a fine reputation from a few years ago, but I had no pre-conceptions having never heard them before and the original designer Richard Allen was a name from the past I recognised but I had no experience of his products.
After a week or so of running in I started serious listening and I must say I was very impressed. For quite a large cabinet in my listening room they disappeared very easily sonically and provided a detailed 3D image on a large range of music. Top to bottom detail was excellent and I particularly noticed early on how clearly the tweeter could portray very realistically the sound of instruments like cymbals and tambourines. We take for granted that these instruments are easily reproduced by a system, but believe me I have heard many systems or components that don't sound natural and not just the cheaper items. Let's face it a good system should sound natural and enjoyable,          (musical if you insist, although I think that term is over used at times). Mids and bass were equally well portrayed and the bass was not over blown unless pushed too hard to a volume level the room couldn't handle; an issue of the room rather than the speakers.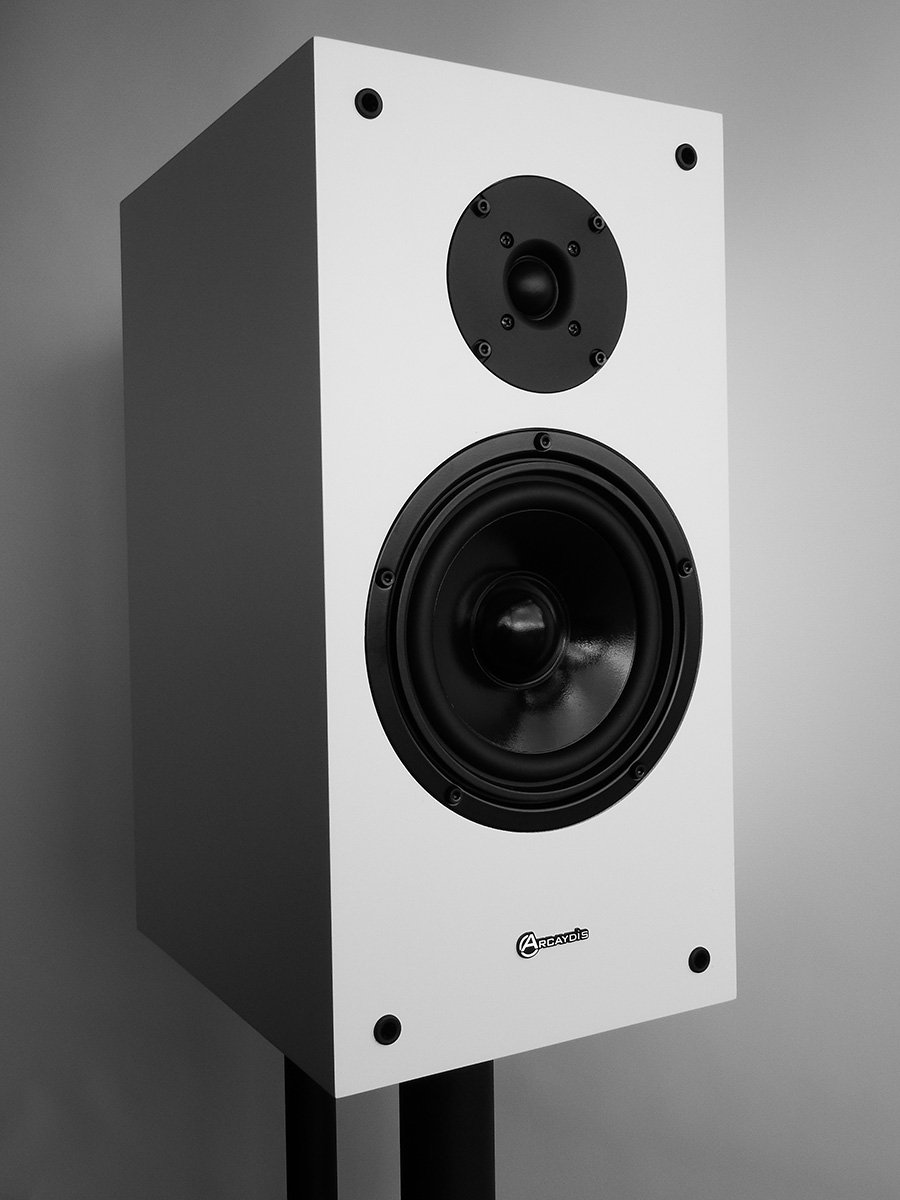 Artists such as Oleta Adams, Simply Red, Boz Scaggs and Sade all tested the EB2S ability to work their magic with vocals and instrumental details. A lot of this music is from the eighties and I make no apologies for that. It was a great era for music and well recorded albums. I pulled out albums I hadn't listened to for ages and not one was a disappointment. In fact, I was pleasantly surprised by some I hadn't heard for many years and had thought weren't that good musically back then.
One album that particularly stood out was from a favourite artist Sting and his live album "Bring on the night". I love this style of jazz rock and as always Sting has top musicians playing alongside him. Omar Hakim on drums, Branford Marsalis on sax, Kenny Kirkland on keys, Darryl Jones on bass and Janice Pendarvis and Dolette McDonald on backing vocals this was one sublime performance. I really felt involved with the show and although not quite the same as being there it was a close second for enjoyment.
I can't really say any more about the EB2S. Coupled with good sources and amp they really shine. I used my usual Tisbury Audio passive pre, Meridian 556 power amp , Project Extension 9 turntable with Ortofon Quintet Black and Tisbury Audio Domino phono stage , Atmo Sphera turntable (more to follow on this in a later review) and  Denon DCD2500NE SACD player. These aren't budget items apart from the Tisbury which are extraordinarily good value for money, but showed what the EB2S are capable of. I am sure that on any other decent system from reputable manufacturers that the EB2S will not let you down. With an introductory offer of £799.00 a pair they are fabulous value and if you can't accommodate their size Arcaydis also do the smaller EB1S for smaller rooms which I hope to try out at a later date.
Build quality: Excellent for the money and made locally in Sheffield
Sound Quality:  Overall a highly entertaining design that I felt really at home with and could listen to long term without any qualms
Value For Money:  Great value at this price level
Pros:  Sound quality, decent choice of quality finishes, with custom requests catered for if so desired at a premium of course
Cons:  bin the pressed metal links and use decent jumper cables or bi-wire
Price: £799 (direct from Arcaydis as an introductory offer)
Ian Ringstead