While at High End Munich 2017 we were drawn to the very eye-catching new brand, Art Deco Acoustics, read on for further details about their system.
Gerd Köck was driven to create his brand, Art Deco Acoustics after mulling over the following question for several years: "Is it possible to enhance the transparency of audio playback so much that you end up hearing nothing but the pure original sound? Without the interference of ambient noise, humming or distortion?"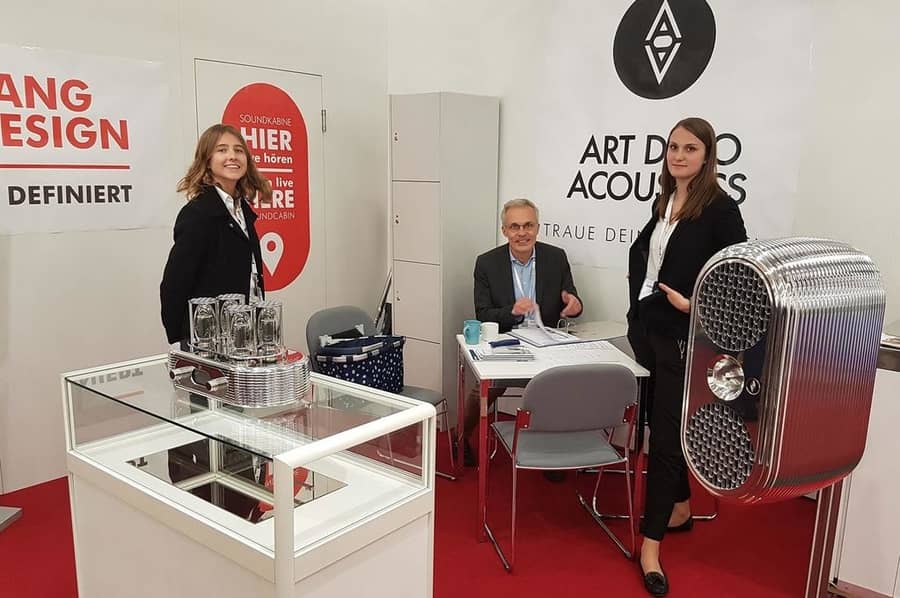 For over ten years, Gerd has been working on creating loudspeaker systems and amplifiers for the most demanding requirements of mastering and sound studios. Early on, he discovered the potential of electron tubes: The technical foundation for Art Déco Acoustics was born: a focus on essential components of the highest quality.
Gerd wanted this simplicity and efficiency to be reflected in the system's look, too. Which is why he began looking for a design to support the speakers and amplifiers in achieving the best possible playback. He found what he was looking for in the Art Deco era: Gerd says: "Art Deco provides the perfect framework for sound with its forms, materials and sensuality." He continues: "I'm driven by the desire to make a completely new holistic approach become reality. The challenge wasn't just to think through every single detail of this idea – I wanted to keep improving it in practice, too. And eventually use new manufacturing processes to perfect it. This is how I managed to improve audio playback to such an extent that you'll hardly believe your ears."
Gerd studied electronic engineering. He's a product developer and passionate puzzle-solver. In developing his audio system, he put to work all his years of practical experience in electronics development and production optimization. Which is why he knew that the design of a system is a crucial factor impacting longevity and sound quality.
M15 MONITOR LOUDSPEAKER
2-way passive loudspeaker in an aluminium enclosure with a stainless steel stand

Dimensions: width 38 cm, height 133 cm, depth 54 cm

Frequency range: 125 Hz to 22 kHz +/- 3 dB for an average SPL of one third

Efficiency: > 95 dB/W/m

Max. SPL : 112 dB/m

Impedance: 8 ohm
B16 BASS LOUDSPEAKER
Passive loudspeaker in a sheet aluminium enclosure

Dimensions: width 38 cm, height 212 cm, depth 54 cm

Frequency range: < 28 Hz to 125 Hz +/- 3 dB for an average SPL of one third and < 25 Hz at – 6 dB

Efficiency: > 95 dB/W/m

Max. sound pressure: 112 dB/m

Impedance: 8 ohm
The heart of the audio system is the stereo push-pull amplifier with six electron tubes, symmetrically arranged.
E17 INTEGRATED AMPLIFIER
Stereo push-pull amplifier based on electron tubes in an aluminium enclosure

Stereo sound: 14 – 40 W output power per channel (6L6 – KT150)

Stereo inputs XLR: analogue and digital AES/EBU (extendible to 4 inputs)

Speakon speaker outputs: one fixed 8 ohm output and one 4/8 ohm output, adjustable per channel
All enclosure parts are made in Baden-Württemberg, Germany.