Whether it is measured in pounds and ounces or pounds and pence, John Scott finds that Audio Note's Jinro is a heavyweight champion that doesn't pull any punches. 
When you discover that you are going to be spending some time at home with Audio Note UK's celebrated Jinro integrated amplifier there are many thoughts and emotions that might run through your head.  Personally, I experienced a brief combination of gratitude and excitement before a more practical concern burst my bubble.  Quite simply, where was I going to put it?
The Jinro is not, in any sense, your average integrated amplifier.  At 26 inches deep, or more likely long, – do you know anyone who has a 26-inch deep shelf? – and weighing 85 pounds, the Jinro might have been able to sit lengthways on my glass-shelved Stands Unique rack.  Maybe.  It was also possible though, that after about 30 seconds, there would have been an almighty crack and the whole shebang, Jinro and all, would have come crashing to the floor. And that wasn't a phone call I wanted to make.  Fortunately, a couple of weeks previously, I'd had cause to stand on top of an old wooden Victorian blanket box and knew that if it supported my weight without complaint then 85 pounds wasn't going to be a problem so it was pressed into service as a hifi support and, damped internally by blankets and cushions, a jolly good job it did too.
The Jinro is an integrated design running pure Class A and utilising a pair of 211 output triodes to give a maximum output of 20 Watts a channel.
UNBOXING
The Jinro used for this review was supplied by Audio Note dealer Carlo Marengo of Audio-philia in Edinburgh.  Carlo not only delivered the amp but also supplied a pair of ART Monitor Diamond speakers and a COS D1 DAC along with DRAM speaker cables and interconnects and a pair of Incredibly solid Target speaker stands.  Altogether, this would create a system that cost more than my first three-bedroom house and ought to help show the Jinro off to the best of its ability.
One of the most exciting things about Hifi reviewing is that moment when the courier arrives and the subsequent unboxing of the equipment.  On this occasion, the courier was Carlo and he did the lion's share of the unboxing and setting up which is exactly the service I would have received had I been a real customer.  A good thing too, as it took our combined efforts (and a small trolley) to move the Jinro, the speakers and the stands from Carlo's car to my living room.
Carlo's familiarity with the equipment ensured that the Jinro was quickly freed from its sturdy packaging and fitted with its complement of six valves.  With the ART speakers equally quickly installed and the COS DAC fed by my own Roon Nucleus + server, we powered everything up and took a quick break for a cup of coffee before settling down for a listen.
As the Jinro I had for review was a demonstration model from the Audio-philia showroom, it was fully run in and, although Carlo was keen to point out that its sound would improve after it had been powered up for an hour or so, we were both equally keen to have a listen before he left.  Knowing that Carlo is a big Chet Baker fan, I fired up Baker's version of George and Ira Gershwin's But Not For Me from The Best Of Chet Baker Sings.  After a couple of minor adjustments to speaker position and another couple of tracks, Carlo declared himself satisfied and left me to it. With uncharacteristic restraint, I decided not to launch straight into an extended listening session but instead to wait until later in the evening while the Jinro settled into its new surroundings.
BUILD QUALITY 
So, setting aside the Jinro's sound for a moment, what about its aesthetics?  The Jinro's design has its origins in the Ongaku amplifier manufactured in the late 1980s by Audio Note Japan (a different company from Audio Note UK who make this particular amp, but that's a story for another time and place).  The Ongaku was a money-no-object amplifier using silver wiring throughout and the highest quality components.  The Jinro tweaks the design and takes a more cost-conscious approach, with copper wiring and less esoteric, but still high-quality internals.  Did I mention that it weighs 85 pounds?  Given its pedigree, you will not be surprised to learn that what we have here is not 80 pounds of casing with a few pounds of components rattling about inside.  Much of the weight comes from the three massive transformers that sit atop the base, but every part of this amplifier exudes solidity and first-class build quality; the input selector knob provides a satisfying click as it moves between inputs and the volume control turns smoothly and authoritatively.  At this price point you will want to feel that you can see where your money has been spent and the Jinro certainly provides reassurance on that front.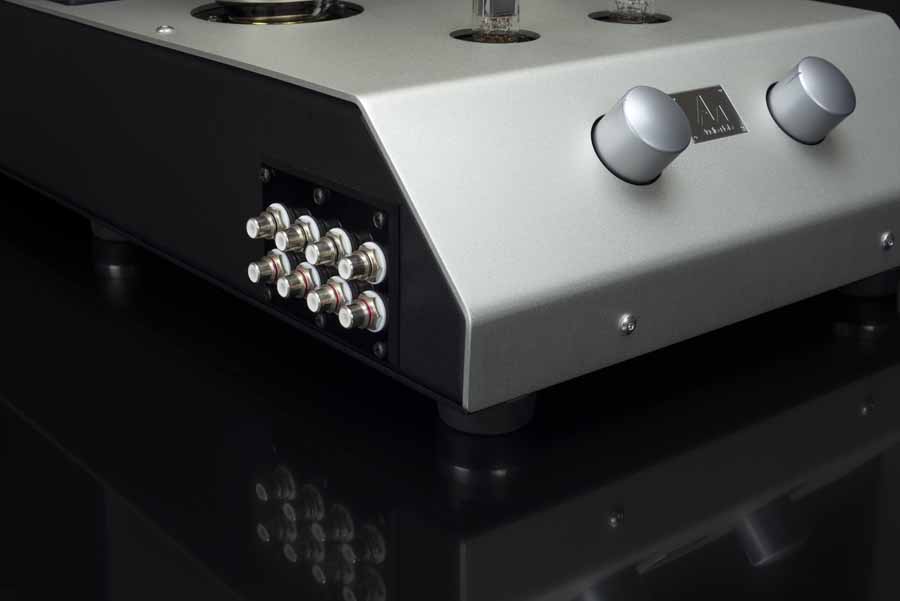 SOUND QUALITY 
I spent a fidgety couple of hours pretending to watch the TV before getting down to my first serious listening session.  Choosing the first track to play is always a difficult decision but I settled on an old favourite: John Martyn's Solid Air.  It's a track that I've known for nearly forty years and has been played on dozens of different systems, from humble 1970's music centres to systems costing tens of thousands of pounds.  How would if fare with the Jinro?  Rendered on a high-quality system, I often think of this song as hanging in the air between the speakers like smoke.  The combination of the Jinro, COS DAC and ART speakers provided all of the smoky atmosphere I was I was expecting but I wasn't prepared for the sheer level of detail that I was hearing.   This was like being in the room when Martyn, Danny Thompson, Rabbit Bundrick, Tony Coe and Tristan Fry laid down the track, or at least as close to it as it seems possible to get.  I thought I'd been there before with other bits of hifi kit but clearly, I'd been wrong.
Herbie Hancock's River: The Joni Letters is a tribute to Joni Mitchell featuring an interesting collection of guest artists including Tina Turner, Corrine Bailey Rae and Leonard Cohen.  Cohen intones the lyrics of Mitchell's The Jungle Line as a poem and The Jinro pulled out all the depth and gravitas of not only that famous voice but also all the tones, and overtones, of Hancock's piano, rendering it as a living instrument.
Moving on to some classical music, I picked one of my favourite test pieces- Benjamin Britten's A Young Person's Guide To The Orchestra.  After an introductory theme played by the entire orchestra, Britten takes us on a tour as each section of instruments plays their own variation on the theme before they all come together again at the end for a fugue and a reprise of the theme.  It's a really enjoyable piece of music in its own right but also a great way of getting to know the individual instruments of the orchestra.  Sitting in the dark as the valves of the Jinro cast a rosy glow over in the corner of my living room I was transported to Philadelphia's Scottish Rite Cathedral as the orchestra unfolded in front of me. Simply magical.  Incidentally, the Scottish Rite Cathedral is not an actual cathedral but an architecturally impressive Art Deco Freemasons Hall, now sadly demolished.  For the next 15 minutes or so though, it was resurrected by the Jinro along with the almost palpable efforts of the orchestra members as they transformed physical movement into music.
That's all well and good, John, I can hear you say; but that's a whole new system you've got going there.  How do you know that it's not the COS DAC or the DRAM speakers that are the star performers here?  There was only one way to find out.  Much as I would have loved to have spent the whole week listening to this system, I knew I was going to have to pull it apart to get to the heart of the Jinro's sound.
Going almost from the sublime to the ridiculous, the £8000 COS D1 was replaced firstly by my Spectra DAC and then the Allo Boss DAC that forms part of a self-built raspberry pi-based streamer/DAC.  Each of these come in at around £100 so are not even in the same universe, never mind ballpark, as the D1.  That there was a difference was immediately audible; it would have been astonishing had there not been.  A loss of detail certainly, a reduction in ambience.  But did the Jinro expose these DACs as utterly unworthy companions; did the DACs render the Jinro's considerable charms mute? Fortunately not and far from it.  The Jinro may have revealed the limits of both DACs' performance but they were still sounding better than they ever had before.  When the DRAMs were swapped out for my Audio GE Sincerus 80s, I'd reduced the cost of the system by more than 60% but I was still left with a setup that simply outshone anything I'd previously heard here at home.  Does it make sense to partner a £20,000 amplifier with supporting kit at a fraction of that price? You'd be surprised.
I spent longer than you might imagine with this configuration.  Yes, the urge to upgrade DAC and speakers would be undeniable in time but this was a set up I would be more than happy to live with.
The final test was, of course, to pair my reference amp, an Etalon SuprA, with the D1 and the
DRAMs, removing the Jinro from the equation entirely. Had I been reviewing either of these in isolation as an upgrade in my own system, I'd have been delighted with the improvements but it was clear that this set up simply didn't sing in the way that even the "budget" Jinro configuration had.
Some amplifiers garner a reputation as "rock amps" or "classical amps".  The Jinro is simply a music amplifier.  Whether you throw a Mahler symphony at it or some dub reggae, it just gets on with the business of putting on a musical performance, portraying the recording as close as possible to what the producer intended.  Each listening session stretched on into the night as I picked out hitherto unnoticed details in what I thought were familiar recordings.  If I could sum up the Jinro's core quality in a single word it would be: Holographic.  Playing Felton Lonnin from The Bairns by Rachel Unthank and The Winterset, I could practically see Rachel clog dancing on a wooden stage in front of me, flanked by upright piano and double bass, in what I imagined to be a small church hall.
VALUE FOR MONEY 
One of the questions people often ask me about high-end audio equipment is: "Is it worth paying all that money?"  On average, people spend around £22,000 on a new car and you can get a pretty decently specced one for the cost of a Jinro.  You might argue that a car is a necessity and a hifi amplifier isn't but, treated properly, the Jinro will outlast any number of cars and will be cheaper to maintain and fuel into the bargain.  If you really care about music reproduction, it's an investment that will repay itself by providing many, many years of listening pleasure.
And it is, in fact, a pleasure that is really difficult to relinquish once you have experienced it. A couple of days after he had delivered the Jinro, the COS D1 and the DRAM speakers, I got a text from Carlo asking how I was getting on.  "Sorry, who is this?"  I texted back. Would it be possible to move house in a week without Carlo finding out? I was beginning to think it might be worth a try.  When the time did come to hand back this wonderful beast and return to my own system – which I had been perfectly happy with by the way – I found myself not really wanting to listen to music much for a couple of weeks; that special magic that the Jinro had brought just wasn't there.  Time, however, is a healer and while I've got used to living without the Jinro again, the time we spent together won't be forgotten.
CONCLUSION 
There is no denying that the Jinro isn't for everyone.  It is a piece of equipment that needs to be accommodated; you are very unlikely to be able to simply slot it into your listening room in place of your current amplifier.  However, if you are prepared to give it houseroom, its stunning sound quality will repay your efforts in ways that really have to be experienced to be appreciated. It's a hefty investment, but one that will pay dividends over a very long time.
AT A GLANCE
Build quality: No unnecessary bells and whistles here, just top-quality components expertly put together as a beautiful, solid package.
Sound quality: Breathtakingly detailed, the Jinro makes the most of any musical genre from whisper-quiet ambient jazz to full-blown orchestral climaxes.  If you think you know your music collection inside out, the Jinro will show you otherwise.
Value for money: At £20,000 the Jinro won't be in everyone's budget but if you are considering an amplifier at this price point it demands an audition. Unless you are an incurable box swapper, it may be the only amplifier you'll ever need. 
Pros: Build quality is second to none. Incredibly detailed and refined sound. Hugely enjoyable to listen to.
Cons: Expensive. Uncompromising size and weight. Carlo made me give it back
Price: £20,200
John Scott
Manufacturers Specifications
INPUT IMPEDANCE: 100K Ohm, line level
INPUT SENSITIVITY: 450mV for full output
MAXIMUM OUTPUT: 450mV for full output
CHANNEL BALANCE: +/- 0.3dB
VALVE COMPLEMENT:​ 2 x 5R4WGB, 2 x 211, 1 x ECC82 / 5814a, 1 x 7044
UNIT WEIGHT: 38 kg
UNIT DIMENSIONS: 305mm (h) x 305mm (w) x 640mm (d)
MAINS INPUT: AC 100-120V / 220-240V  50/60Hz
MAX. POWER CONSUMPTION: 200W