We reviewed the
Audio4Soul Extrem 16 digital amp/DAC a while ago 
and the company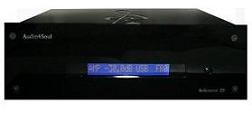 have just contacted us to tell us of a new breed of eeference amplifiers, that has been designed on the basis of ultimate performance.
Simplicity in design Philosophy, minimal signal path and top quality materials, guarantee ultra hi-end performance, while backed-up by an ultra low-noise power supply, as well as a dead-quiet chassis.
With a  paying scheme of "Pay What You Need", you can now build the amplifier you need/can afford, without having to pay for features you will never use.
You can now, add or remove input or features (like the optional battery PSU)at will, keeping your amplifier up to date with the latest technology available!
The new amplifier is available over 300 colours, while two different front covers -fully configurable- will give more flexibility and more freedom of choice!!
The first model in the new line is Reference 20, followed up by Reference 50 (by the end of April) and Reference 120 (by the end of August). The company say the Reference 50/120, are the perfect pairing for speakers that are very demanding, like electrostatics, magnetostatics and some of the most demanding electrodynamic speakers available.