Dan Worth takes a listen to this well connected, £1200 DAC from Romanian company Audiobyte.
When purchasing a new DAC I want a host of connections to allow the opportunity to plug and play multiple digital sources at one time, or to interchange sources for review purposes.
Despite a recent flurry in HDMI over I2S devices being produced, the format is often overlooked by some of the mainstream manufacturers; however, Audiobyte have embraced the standard and this is a positive move from the Romanian company in my opinion. As well as my own Audiobyte X+ spdif converter sporting a HDMI digital output the Black Dragon also has the latest standard as an input.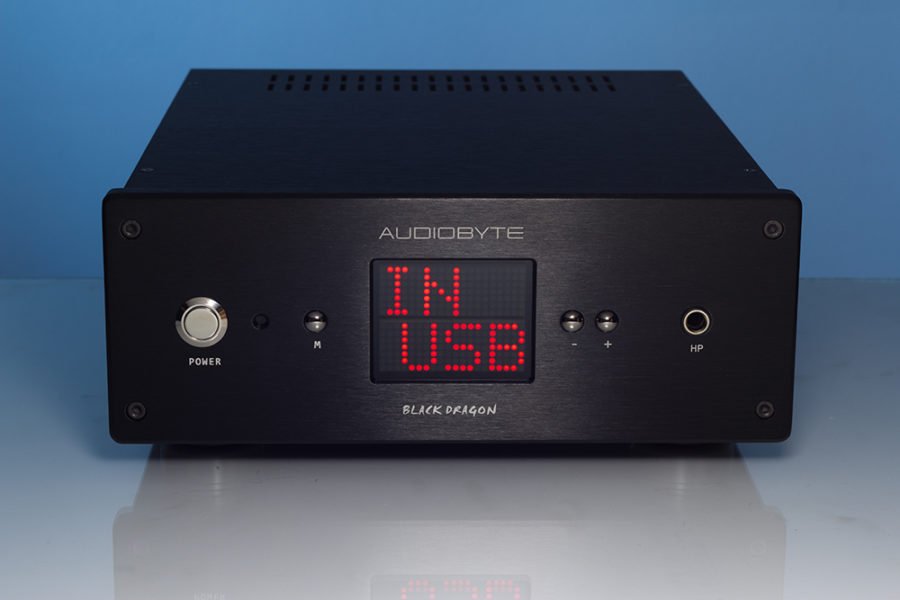 CONNECTIONS AND FEATURES
Along with BNC, RCA and optical spdif inputs, the Black Dragon also has asynchronous USB and the 110ohm AES/EBU professional standard connection type too. Outputs are via a set of either balanced XLRs or unbalanced RCAs.
Sampling rates and bit depth are as follows:
32bit – 44.1-384 KHz on USB, I2S (PCM)
DSD64, 128 on USB
24bit – 44.1-192 KHz on spdif, aes-ebu
24bit – 44.1-96 KHz on toslink
The Dual Mono Conversion, using 2 X AK4396s, offers a fully balanced implementation mode which is designed to give better analogue conversion and lower jitter rates and the onboard Femtovox Clock 300fs is an extremely accurate and precise clock from Rockna, and here is used to increase timing accuracy and to reduce jitter.
The custom Minimal Phase Digital Filter aids in producing high performance up-sampling for conditioning the incoming digital signals. Of course this filter can be switched on or off.
The LNS Linear Power Supply – There are a total of 11 linear stabiliser I/Cs and 8 of them are said to be very low noise. There are a total of 50,000uF capacitors for smoothing and two separate toroidal transformers provide power to all individual pcb sections.
The Black Dragon has a preamplifier and headphone amplifier onboard, with the digital volume controller being useable for all inputs and outputs. The headphone amplifier, rated at 32ohms and outputting 800mW, should offer the flexibility of use that consumers want to see from a modern digital hub such as this.
Visually the Black Dragon is pretty nice looking, with sleek lines and a compact size. The dot matrix screen is clear, with connector layout on the rear being tidy and easily accessible. Overall build quality could be a little better in my opinion, with the lid of the unit being very thin and a little rattly… more screws and some damping would be very welcome here. However, the Black Dragon certainly does look great on either a desk or in rack.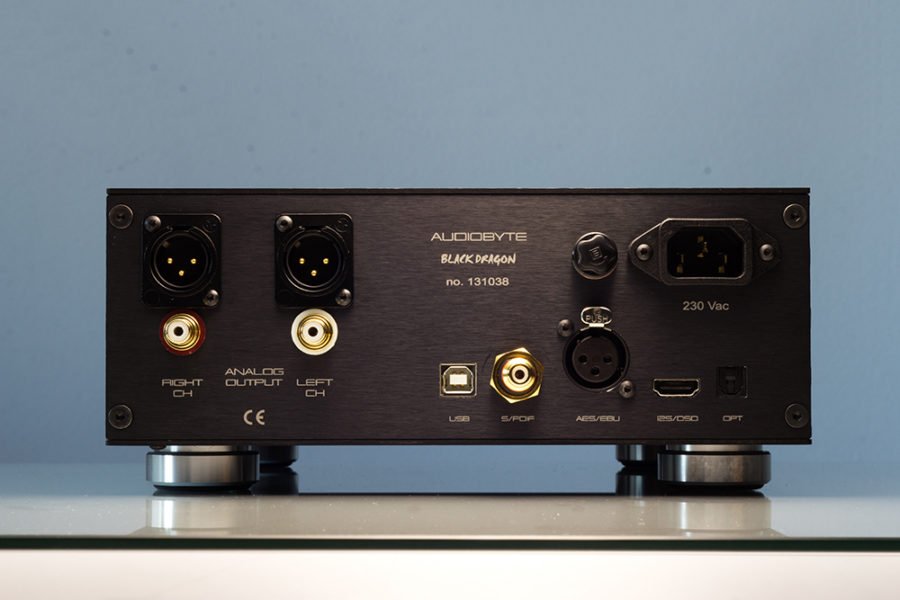 THE SOUND
My first impressions of the sound were very positive, the unit has done the rounds already so was more than ready for action after a quick warm up when it arrived here from BD Audio.
Initial findings were that vocals are very distinguished and the top end, with the FIR filter set to off, is beautifully open and very well extended. Whilst playing a Fink live album I felt the metallic clang of cymbals to be expressed very well and the shimmering decay felt nice and true to the venue's acoustic.
With poor recordings, such as Derrin Nuendorf's live album, I felt the top end to be a little over explicit, but flicking the filter back to the 'on' position cured this exceptionally well. I used Spotify extensively and threw a good range of genres at the Black Dragon and felt the filter offered terrific flexibility, allowing me to enjoy tracks in a much more musical manner than if it was not present. There is also some benefit to the upper midrange here.
The midrange as a whole is wonderfully analogue-like and very expressive, and I loved how the Black Dragon rendered a strong female vocalist, particularly in the higher registers and how it added grunt to males tones. I particularly enjoyed Sinead O'Connor's 'Am I Not Your Girl' where there's a certain sweetness to her vocal when played through good equipment and The Dragon allowed her vocal to remain intimate and unrestrained.
Busier tracks had nice separation, again especially when it came to vocals, and I really like how The Dragon can take the lead singer and separate them from the haze of noise that can surround them, allowing for a clear and articulate emphasis on centre stage performance.
The soundstage produced from the DAC as a whole was very appealing. Depth is good, leaving vocalists in the foreground and width and height is what I would class as 'expected in my room' from a quality component. There is a cohesive thickness to the sound and the stage isn't overblown, but nor is it warm or oversaturated. Definition and clarity is the overall nature of the sound and when fed with good recordings this DAC sounds surprisingly natural for its price point.
Bass notes seemed to represent the actual instruments in use very well and where some DACs in this price range can be more of a one note affair, The Dragon gave me each note. For example, when listening to 'Hey Now' by London Grammar, there are actually eight bass notes being played consecutively in the track and I have had DACs here costing a fair bit more than the Black Dragon that have failed to accurately portray this. Bass is really very rhythmical and carries the flow of the music exceptionally well and I think Audiobytes certainly know how to tune equipment – which I guess is why I still use their Hydra X+ to this day from my Mac.
HEADPHONE AMPLIFIER
I attached my Audio Technica ATH AD2000X headphones to the Black Dragon and I felt it would make for a great all in one, desktop headphone rig. Now I'm sure dedicated "headphone-aphiles" out there would demand more from an all in one experience, but for those who like our sound to predominantly come from in front of us rather than 'inside our heads' I really enjoyed quite a few hours listening to a great range of music from The Dragons headphone output.
Soundwise I found The Dragon to be on the slightly warmer side of neutral and I loved the fact that the top end behaved just like the headphones do, taking the treble to the edge and then leaning back a notch or so to give lots of extension and openness, without any harshness.
Again, the FIR filter works a treat when listening to headphones.
Volume control on the DAC is wonderful when wanting to make small volume adjustments, and allows for a very smooth incline or decline in decibels when pressed, although I would have liked it to be faster when changing large volume swing.
CONCLUSION
Audiobytes have once again come up with a product that offers fantastic performance for the money. The Black Dragon is a feature rich digital to analogue converter which sounds detailed, open and natural. With great extended highs, a fantastically informative midrange and a realistic bass performance, music has a rhythmic flow and engaging enthusiasm. 
Sound Quality: 9/10
Value For Money: 8.8/10
Overall: 8.66/10 
Price at time of review: £1200 
Pros:
Lots of inputs
Balanced and unbalanced outputs
Great vocals and cohesive sound
Nice headphone amp 
Cons:
Lid is a bit flimsy
Volume can take an age to move large increments 
Dan Worth