Audion have today announced the release of their latest product Audion Select, a passive pre-amplifier.
"The name "Audion Select" has been given as it's mainly an input selector and in the double entendre stakes its also quite a select product." Said Graeme Holland of Audion.
The basic Audion Select is a passive pre-amplifier with 5 line inputs, 2 line outputs and an unattenuated tape loop. Volume control is by an Alps pot fitted and with ground loop lift switch and hard wired.
The chassis is designed to match the rest of the Audion range in looks and sound quality, and having the same size and shape will fit in with other Audion equipment when on your rack.
The retail price for the standard 5 channel model is anticipated at £475 and the Audio Slelect pre-amplifiers are available now and will be with our distributor (Deco Audio in the UK) in approx 1 weeks time.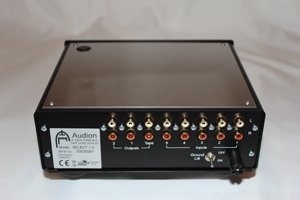 There will be versions with 48way stepped attenuators, and / or silver wire, and possibly transformer volume control.
In future Audion will be developing a transistorized mm/mc phono stage (aimed at the Revolver market which Audion now owns), a select passive pre with balanced in/outs and even a headphone amp (valve) in the chassis.