Audiovector are based in Denmark and produce a wide range of loudspeakers? Here Dominic March takes a listen to their £750 QR1 standmount with ribbon tweeter. 
When the stand mount speaker market has plenty of competition and rivals to fight amongst themselves, it takes something a little bit special to stand out from the herd.  All of them however have limitations due to their physical cabinet and driver sizes, so invariably have to perform with a whole host of compromises and we as consumers have to decide which of those are acceptable to us and which are not.  Every once in a while I find a product that defies the odds and if there are any compromises being made, then I really am not really aware of them, because the package as a whole exceeds the sum of it's parts.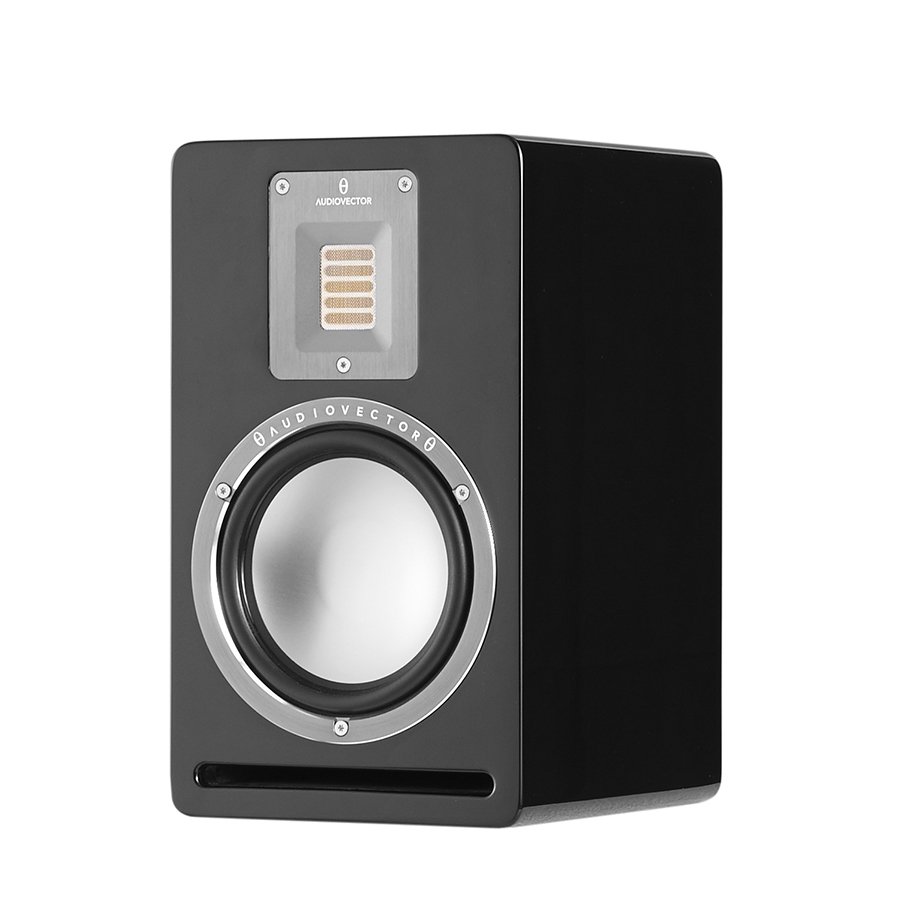 For those of you that are not familiar with the Audiovector brand, they are in fact one of Denmark's leading speaker manufacturers, up there with the likes of Dali, Dynaudio and B&O, headquartered in Copenhagen.
Audiovector also provide what I think is a rare and rather unique service for it's customer base and that is to offer a full upgrade service for your existing base level speakers to the higher specified version of the same model.
Under test here then is Audiovector's compact QR1 loudspeaker.
Construction
The very first thing I noticed about these speakers when unpacking them is just how handsome they are.   With a high gloss black cabinet they were impressive at first sight, but when I removed the grilles they looked even smarter still, with a light gunmetal coloured chassis ring to the bass driver and what appeared to be gold coloured screen mesh sitting in front of the Air Motion Tweeter's delicate ribbon membrane, which Audiovector have termed an "S Stop Filter" which in plain English is purposely designed to minimise sibilance.  The mid/bass driver is a 150mm concave dish shape with no central dust cap.  Material is said to be an aluminium sandwich with a fibre and foam filling.
Both the bass driver and ribbon tweeter frames are laser etched with the word "Audiovector", so if aesthetics are important to you then the QR1's will do very nicely on that front as they have a quality air to them.  Beneath the drivers sits an elongated slot type of reflex port, extending almost the full width of the front baffle.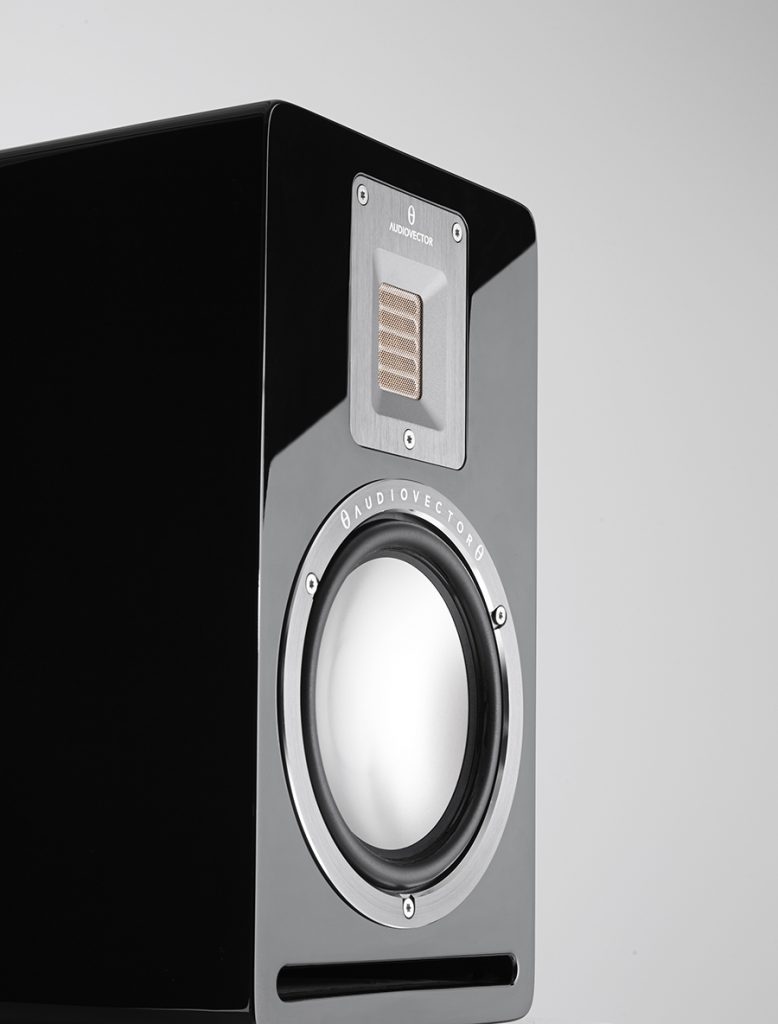 Cabinet dimensions are 32,5H x 19W x 23,2D (CM), weigh in at 6.2Kg and much to my surprise are fitted with four small rubber feet so shelf mounting or indeed stand mounting is as simple as placing the speakers where you want them and there is no sliding about or damage to the underside of the speakers – especially so when sited on metal framed stands.
To the rear we find a single pair of well made high quality binding posts that accepts bare wire, 4mm banana plugs or spade connectors.
Price at time of review is £750.00 retail.
Sound Quality
As befitting their good looks, so too are the Audiovector QR1's are up to the mark regarding sound quality.
They are extraordinarily unfussy about placement.  While installing them into my system they ended up perched on top of their boxes while I re-arranged my entire rack.  This being a lengthy process I had a break half way through the task with a cup of tea and a biscuit and casually connected the QR1's exactly as they were sat on their boxes.  Conventional wisdom says that being too low, on top of hollow wobbly cardboard boxes, one speaker near the rear wall the other two feet out, one facing dead ahead into the room and the other around 45 degrees facing the other way, should by rights  not sound pleasant at all but pleasant indeed they sounded and they actually imaged rather well!  Once correctly installed on to 60cm steel stands and sited around 30cm from the back wall with a slight toe in, they sounded superb, especially imaging and sound-staging which was both wide and deep.  Running in period was surprisingly short too, at around 20 hours or so as I recall.
I will use the words "uncoloured", "lithe" and "precise" to describe their overall sound characteristics, which might lead you to think they are lean or thin sounding, but not so.  They also have a fair measure of deep bass for their size and for once isn't hidden behind an artificial uplift in upper bass to give you that perception there is more bass than there actually is in reality.  Indeed, I would say the bass extends down below 45Hz that Audiovector claim for the QR1, albeit well rolled off but still easily discernable and this I prefer much more than the upper bass "hump" put there on purpose to fool you into believing the lowest registers are being rendered when they are not.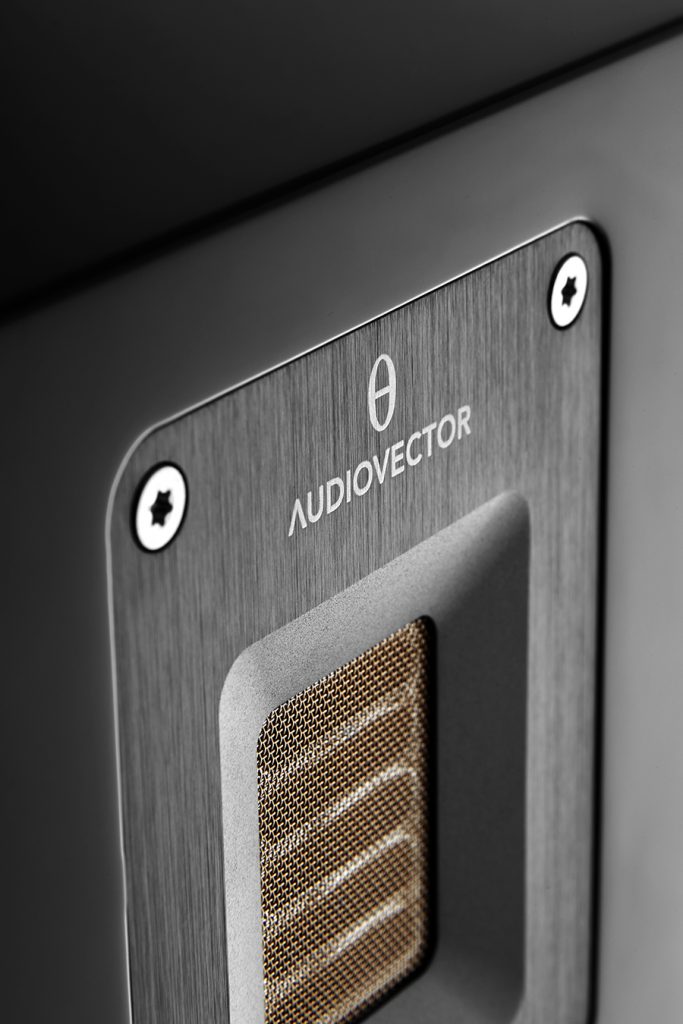 Midband is free from any congestion or bloom and having the crossover point between bass driver and tweeter at 3kHz is no doubt largely responsible for this accuracy and cleanliness.
The AMT tweeter is a real peach in my view, because while it maintains accuracy to a high level, it never spills over into harshness or brittleness, unless of course it is there in the recording to begin with.  I do have some recordings with some sibilance and the "S Stop Filter" did a grand job of reducing the effect considerably, but not eliminating it entirely.
Time to play some music to get a handle on the QR1's performance envelope.  Into the CD drawer (none of this new fangled streaming malarkey for Dominic during a review) went Fink's 'Wheels Beneath My Feet' live album which has a clearly defined set of benchmarks that any component must either match or exceed.
Track two called 'Perfect Darkness' has some intro bars with bass provided by the bass guitarist and drummer on his kick drum, plus some very crisp rim shots on the snare drum.  I pay close attention to the reflex port to make sure it isn't chuffing away in time with the bass and the QR1's were not so afflicted.  A definitve and cleanly portrayed "tock" sound as the drummer was hitting the snare drum with rim shots, not only that but I could also clearly hear the shell of the drum and the ambience of those rim shots ringing out into the venue too.  You could also tell that the drummer has a hard faced beater on the kick drum with some good heft behind it.  Beautiful.  So free flowing and natural, a real joy to listen to and I could have easily bathed in that sound for many hours without fatigue.
Moving on to track 12 called "Sort of Revolution" the initial intro bars are a bass guitar solo with the audience clapping and cheering in time, which carries on throughout the whole track.  It has to be propulsive and engaging, in perfect time and rhythm to be fully appreciated, dare I say it, toe tapping too.  This was no test at all for the Audiovector QR1's, it was their playground and they just drew you further and further into the music itself without you even realising it.
I played some jazz, orchestral, acoustic and a film score too with equally engaging results, so they are suitable for most genres of music.
Conclusion
Here is a small challenge for you; if you know of a good looking, good sounding and highly specified stand mount speaker with an AMT ribbon tweeter for £750.00 or less, then kindly let me know. As I cannot think of one that meets all of those criteria.
If therefore you have a hankering for a really great stand mount speaker and around £750.00 burning a hole in your pocket, then it would be unwise to make any decision on which speaker to buy without giving the Audiovector QR1 a hearing at the very least, so do make sure it is on your audition shortlist.
I found them to be engaging, enthralling and entertaining all at the same time and not many speakers have that level of capability, especially in this fiercely contested sub-£1,000 price bracket.
On that basis then I have no hesitation in giving them my recommendation.

AT A GLANCE
Build Quality:  Superbly built and finished, with a top notch ribbon tweeter fitted as standard no less.  They have become my new benchmark in this price range
Sound Quality:  Detailed, clean and transparent, with no colouration.  Bass won't shake your ornaments off the sideboard with sheer power, but the bass is deep and well controlled
Value For Money:  For me they are at the top of the tree for their £750.00 asking price
Pros: 
Peerless build quality, stunning looks and fantastic sound to boot.  You will love the tweeter for sure
Cons: 
None at this price
Price: £750
Dominic Marsh