Aurender introduces the N10 Caching Music Server/Player. Designed to be used with high performance digital-to-analogue converters, the Aurender N10 is the only Music Player to support on-the-fly precision DSD to PCM on SPDIF and AES/EBU outputs with user-selectable choice of 88.2 or 176.4 output sampling rate says the company's press release so you can enjoy DSD files even if your DAC isn't capable of native DSD playback.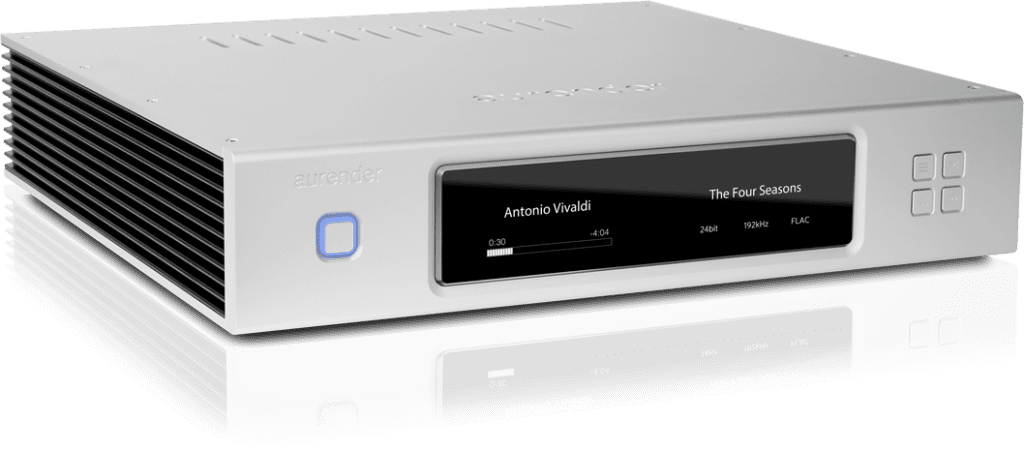 There's 4TB of (2TB x 2) internal hard disk space and a 240GB solid-state drive cache for playback.
The Aurender N10 is equipped with various SPDIF outputs (BNC, AES/EBU, coaxial, optical) and one dedicated USB Audio Class 2.0 output. For network connectivity and file transfers, the N10 comes with one a Gigabit Ethernet port and two USB 2.0 data ports.
More advanced Oven-Controlled Crystal Oscillator (OCXO) for the greatest jitter reduction. OCXOs are among the most accurate and stable clocks in use today, and are orders of magnitude more accurate and stable than commonly used ordinary crystal oscillators usually found in computers the company say. Temperature changes cause crystal oscillations to fluctuate, which can lead to jitter in the digital audio signal. Moreover, ordinary crystals are much less stable and lose accuracy over time. In OCXO clocks, a very stable, high-grade crystal oscillator is enclosed in a compartment and kept at a constant temperature to prevent jitter from temperature fluctuations. In conjunction with the OCXO is a Field Programmable Gate Array (FPGA) based All-Digital Phase-Locked Loop system precisely times the digital data transmission reducing jitter to near immeasurable levels.
Aurender's Conductor App turns an iPad or Android (Lite Version) into a versatile user interface for Aurender Music Server/Players. All settings and functions of the Aurender Server/Music Player can be accessed through the Settings menu, and the Aurender App comes with extensive features to make managing, viewing and playing high-resolution music collections — including TIDAL.
Sending a Remote Support Request through the Aurender App allows the company's engineers to quickly diagnose and fix problems over the Internet.
Available in silver or black finishes, the N10 measures 16.93" W x 3.27" H x 13.9" D. Available now, the N10's Suggest Retail Price is $7,999.