Aurorasounds' is a high-end audio company from Yokohama, Japan. Designer and director Shinobu Karaki has 28 years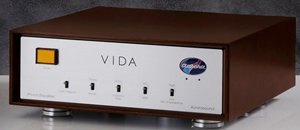 experience working for Texas Instruments Japan Inc and is also a passionate musician, music teacher and an audiophile.
Aurorasounds' latest development is a phono-stage called VIDA (Vinyl Disk Amplifier). The two box VIDA uses an LCR network for RIAA equalisation via Lundahl transformers combined with old-world craftsmanship offering "outstanding performance" and fully adjustable loading for both moving coil and moving magnet phono cartridges. The phonostage has no capacitors in its signal path and comes as standard with RCA inputs/outputs which can be upgraded to XLR connectors.
The VIDA also features a stereo/mono switch, a built in cartridge demagnetizer and a rumble filter.
Price is £3199.95