As we've mentioned in the introductory blurb to this series of articles, beauty is very much in the eye of the beholder
when it comes to Hifi equipment, but we think that the Avantgarde Trios will appeal to pretty much anyone with a passing interest in hifi and, dare we suggest, will also score highly on the WAF scale too. OK, they do look a little bit like something from another planet and they certainly don't conform to the minimalist approach to high-end loudspeaker design, but then we think they look all the better for this.
The Avantgarde Trio is a three way spherical horn 'satellite' which is then complimented below 100Hz with active subwoofers or by 2 to 6 Basshorn modules.
Low- mid Frequencies on the Trio are handled by the 38" horn, which is driven by an 8" driver, the midrange (down to 600Hz) is dealt with by a 23" horn and the top end by a 7" horn. With only 4 passive crossover components the system delivers a very healthy 109dB sensitivity.
The Trio, even without the Basshorn modules, is certainly no shrinking violet and stands a full 1.67m in height and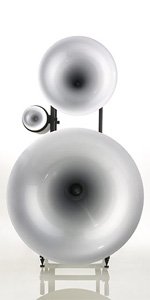 95cm in width. Each unit is also 83cm deep and so whilst the Trios are big, they aren't huge, though they do weigh in at an impressive 56Kg each.
The Basshorn is an active bass system with a frequency response of 18 to 250 Hz. Each Basshorn is driven by two 12 inch long excursion drivers with 600 watts RMS. The mouth area of each Basshorn module is 9 ft squared. With six Basshorns in the system this offers a colossal 54 ft squared.
Whatever of the specifications and measurements (that's not what this article series is about) the Avantgarde Trios certainly strike an impressive and impactful visual statement and they undoubtedly don't try to hide themselves away from passing glances. With the f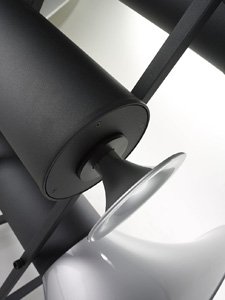 ull compliment of 6 Basshorn modules the Trios will certainly dominate any room in which the lucky owner chooses to place them, but we feel there is a certain stunning beauty about the ensemble.
Eleven standard colours are available to further enhance the appearance of the already striking loudspeaker – from 'Turmaline Vivid Black' to 'Ruby Brilliant Red'. The look of the Trios is certainly very contemporary, but we think that whether in an ultra-modern and minimalist apartment, or a more traditional living space, they are a statement piece that will get your visitors talking.
Now, there are options and the trio is available in either the standard 'one-on-top-of-the-other arrangement', or the curved 'Trio Classico' curved frame… though this is a $2400 option atop the, already not insubstantial, $68 000 for the standard Trio with the standard subs. Add the full compliment of six Basshorn modules and, let's face it who wouldn't want to do this, you get the price up to a bank-balance-busting $163 000…plus another $6000 if you want a customised colour. These are luxury items and luxury hifi comes at a price. Would they be on my short list if I had the money…oh yes!