Over nearly two decades the Acutus turntable from UK manufacturer Avid, has progressed to become renowned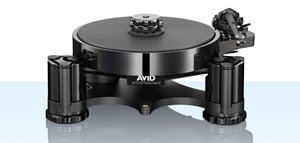 throughout the audio industry. Visually the turntable is a striking piece of engineering, its distinctive polished chrome finish having done much to set the fashion for open skeletal styling.
Whilst we at Hifi Pig always thought the turntable looked stunning in chrome, Avid had many requests for a black version, but  due to the complexity in perfecting the standard of finish required this never happened. Now technological improvements and bespoke tooling have allowed the possibility of Avid offering a lustrous black finish on both the Acutus SP and Acutus Reference SP.
The Acutus SP Black and Acutus Reference SP Black are available now with a UK retail price of £12,000 and £17,000.