Hifi Pig recently reviewed the T1 headphones from Beyerdynamic and liked them a great deal and so I was curious when we were
sent the £246 (279 EUR) T 51i on ear headphones from the company.
I'll not repeat the preamble in the previous review other than to say I've been a fan of Beyerdynamic for a good while and have used their cans at home and in the studio in the past.
In the box you get a nice and compact nylon fabric carry case which looks rugged enough to pop in your hand luggage when travelling, but is small enough to carry about in its own right too. As well as the carry case you get an instruction manual, a male to female minijack cable (I wasn't sure of the use for this I'm afraid) and a doodad for using the headphones on planes. The T 51is are clearly meant for portable use and the permanently attached cable has (lost on me) in-line controls and mic for your iPhone 3GS or later, iPad, iPod touch 2nd generation or later, iPod Classic and 4th generation or later iPod nano; this cable is a good length (1.2m) – short enough to not get tangled, but long enough to reach your media player in your pocket. Also labelled on the pack is a quarter inch adapter but this was missing from the supplied headphones.
The construction of the T 51is is pretty straightforward and they look minimal and quite stylish, but I don't know if they will appeal to the youth given their distinct lack of blinginess….though I like their understated aesthetic a good deal.
The headband is metal and padded with a thin cushioning… as are the cans themselves. Despite their relatively modest padding the T51is are very comfortable indeed and easy to wear for extended periods without experiencing any aches or pains. They also fit on the ear with very little pressure and so are very comfortable in this respect, though they also feel surprisingly secure in the headshake test.
The German made T 51is are marketed as a "premium portable headphone" and utilise the same Tesla technology as their bigger T1 siblings. They have a closed design with an impedence of 32 Ohms and weigh in at just 174g.
Although clearly a headphone for the portable market I used them pretty much exclusively with my little day to day desk set up of Schiit Modi and Magni being fed with FLACs from JRiver Media Centre.
The Sound
The first thing I noticed when popping these cans on my head was just how comfortable they are and how much isolation to the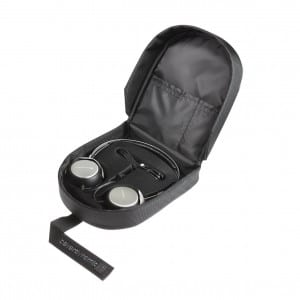 outside world they provide allowing you to really get lost in the music. Being closed back they also isolate folk on the outside from your music, which is a good thing for those wanting a set of cans for on the go.
Popping on Neil Young's Harvest album there's clearly an endearing quality to these headphones from the outset. The opening lines of Out On the Weekend have the bass nice, punchy and tight and with enough detail in the mix coming through – there's a reverb on Young's voice that's easily lost, but here it's pretty much all there. There's nothing in the mix shouting out "Listen to me, listen to me" and as such, on this kind of material, they are even-handed and quite a smooth sounding headphone. Given their diminutive size I'd expected these cans to sound closed in but they're really not at all – they have a good and wide soundstage that sounds natural and unexaggerated. Some will prefer a more artificial sounding soundstage, but I like this naturalness to the image. This naturalness of the sound was a feature of the more expensive T1s too and Beyerdynamiuc must be congratulated on this.
Given the recent death of LFOs Mark Bell I thought it fitting to virtually reach for Bjork's Homogenic record on which Bell collaborated. Here the (easily overdone) electronic, low-bass notes are again tight, taut and enjoyable if a little more pronounced than other frequencies. There's reasonable insight into the recording again and whilst I'd not be comfortable doing a mix on these cans, they offer a standard of reproduction, detail and openness that is very good for their price-point. Again it's clear that there is no one part of the frequency spectrum being pushed to the fore, though arguably they do err on the side of bass a tad.
The Ship Of Fools' record Let's Get This Mother Outta Here goes on next, a sort of space rock/psychedelic album, and again there is an even handedness to the sound these little cans produce. There's a little harshness (perhaps breakup would be a better word) at the very top end of the frequencies, but the music bounces along in a highly enjoyable fashion that is a great deal of fun to listen to. There's not the refinement of the T1s, or other more costly headphones for that matter, but these are a hoot to listen to and for the money there's very little to moan about. There's good dynamics and punchiness and I could easily see me using these as my go to headphones of choice whilst traveling given their diminutive size and big sound, though I enjoyed them most when turned up loud rather than at low volumes.
On female vocals such as Lucinda Williams (Happy Woman Blues) the mids are nice and open with a little drift from overall
neutrality and a slight warmth which I enjoyed and which made for an easy and non-fatiguing listen.
Time and time again though I kept going for the harder techno and dance tracks which really play to the strengths of these cans – low and tight bass with reasonable if not perfect fidelity at the top end of things, but that's not to say they will only appeal to the bootsncats (bootsncats n bootsncats) brigade…there is enough detail and finesse here to satisfy listeners of more sedate music too.
Conclusion
Given the asking price of these little headphones there's not a great deal to criticise if truth be known and a good deal to praise.
Build quality is reasonable, if a little utilitarian and sound-wise you are presented with a nicely balanced feel that is slightly on the warm side of neutral. Bass extension is good and not too over blown and whilst at the very top end of the frequency range things can become a little unstuck, it would be churlish to moan excessively.
They are comfortable, light, easy to pack away and offer pretty good value for money I'd say. No, they are not in the same league as the likes of the Audeze and Oppos of this world, or even Beyerdynamic T1s, but they offer a great deal of enjoyment for relatively little outlay. Of course the T 51is have their limitations and aren't the last word in being totally neutral (they're not a monitoring headphone) and they're not bad at all on a wide range of music, but particularly I enjoyed these when banging out techno at loud volume.
The question is could I use these on a daily basis and the answer has to be a resounding yes when they are used as cans for on the go. In the home I think the majority of readers would want something more sophisticated/neutral tonally, but if you are looking for a reasonably priced out and about headphone that you may use occasionally in the home, then these little Beyerdynamics offer a great compromise.
Stuart Smith
Sound – 8.10
Comfort – 8.05
Fit and finish – 8.0
Value – 8.30
Overall – 8.11
Recommended for users looking for a good sounding, reasonably priced headphone that is genuinely portable but that can be used for the occasional listen at home.