Birch Audio are a new company based in Omaha, Nebraska and have very clear aims in the manufacture of their loudspeakers  – "To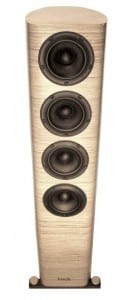 make exceptional minimalist audio equipment".
To this end the company currently produces The Raven, The Robin, The Falcon and the Finch loudspeakers.
In all their models they use Birch Ply and wideband drivers negating the need for crossovers.
The Raven (pictured) is priced at €7500, The Robin at €3500 (including stands), The Falcon €2500 and The Finch at €750.