The Paris Audio Video Show has grown from what was the Son et Image show, which we had attended a few times over the past years. Last year it was given a revamp and became a two-venue show, so this year we decided that we would give it another visit, and very pleased we were too.
This is technically our 'home' show…not our nearest, Bristol is closer but that involves ferries and a long drive, whereas Paris should be just over three hours on the train (more on this later). The show is located in the shadow of the Eiffel tower, and is really easy to locate. Hop off the Metro at the Bir Hakeim stop (Metro line 6) and walk along the banks of the Seine. The first venue, the New Cap Centre is literally two minutes walk from the Metro, and the main Novotel Tour Eiffel venue, is just another five minutes walk along, or there are pedal power navettes towhill you between the two venues in an eco-friendly fashion if you don't want to walk. You are bang in the centre of Paris, so there are loads of options for hotels and restaurants if you fancy making a weekend of it and seeing a bit of the French capital too.
With the aim of doing the show in one day, we made an early, and I mean really early, start. Up at before 4am and on the road by 4.30am, we were due into Paris just after 9am, so we could be there when the show opened at 10am…we made it after a slight bit of train trouble and a delay, which was a sign of what was to come later. By the time we returned to the train after the show, travel chaos had totally descended and instead of getting home at 11pm as planned, it was 2am. However, this did not spoil our show experience and, knackered though we were, we thoroughly enjoyed the Paris show and will aim to be there again next year.
So covering a show in one day is not something we do very often, usually, there is a long journey involved and we have at least two days to do our coverage. The Paris Audio Video Show does have a lot of home cinema and AV exhibits, which are very impressive, but we just did not have time to cover these. Also as a bit of an experiment, I decided to cover the show just with my mobile phone, to see if good quality coverage could be achieved without bringing my usual Cannon camera. For info, the phone used is a Google Pixel 3 XL.
Here's my speedy Bird's Eye View of the Paris Audio Video Show 2019 and what stood out for me!.
First of all, it was busy. People were queuing up outside as we entered the New Cap centre just before 10am. The city centre location worked really well, it's easy to find and get to whether you are in Paris or coming from further afield. There seemed to be a lot of public interest and, speaking to exhibitors they were very pleased with the attendance on the first day and, several commented that the French Hifi market in general was very buoyant, which was great to hear.
To stop their neighbours being disturbed, many of the rooms employed a policy where they took it in half hour turns to play music, so, as our time was limited it meant we did miss hearing a few things.
New Cap Centre
Walking in we were greeted by professional show staff and a nice hot cup of coffee, suitably caffeine fueled, we headed into the two large exhibition spaces Eiffel and Grenelle, on the entrance floor.
PPL
PPL (Professional Product Line) are a French distributor of brands including Monitor Audio, Moon, Nordost, Mark Levinson, dCS, Arcam, Mofi and Raidho.
There was a really excellent system playing that drew you in as soon as you sat down. It consisted of the dCS Rossini DAC and clock, Moon 740P preamp 860A v2 power amp and 810LP phonostage, Mofi Ultradeck turntable, Raidho TD 2.2 floorstanding speakers and Nordost cables. Price of the system without cables was 115,000€, 160,000€ with cables.
AV Industry
Across the entrance, in the Espace Grenelle were AV Industry. We had Elipson, Bryston and Tangent in this exhibition space. Lots of 'lifestyle' type products and wireless speakers here, but the real interest for me was the Elipson 3230 Legacy flagship speakers which come in at around £7000 and launched at Munich. Now, these speakers might cause you to think 'B&W', but the Legacy draws from the design original 1968, 4050 loudspeaker (which was also present) and the 1980's 4240 model. They feature the signature Elipson sphere with an AMT tweeter and ceramic/aluminium mid-range, perched atop a cabinet with the two bass drivers. Very cool looking with their nod to the past, and the sound was rather enjoyable too.
Downstairs were a few more rooms, several of these were AV/Home Cinema rooms that were running timed dems with closed doors, sensible given the anumberof people that were there from the off. There was also a Espace Casques (Headphones and related accessories) where we spotted these dinky horns…actually Bluetooth FM radios. There was also a 'kids' play area with gaming devices set up and a conference room.
Yamaha
A large two-room section was taken over by Yamaha, who had created several 'Real Home' environments to display their gear…a very clever way to show people how to accommodate Hifi into their house or flat.
Novotel Tour Eiffel
We then had a short walk to the Novotel, where the show was spread over two floors, but cleverly contained from the rest of the hotel and set out in a way that meant you saw all the rooms and static stands. We went up to floor three and started there, scooting around a few rooms before lunch and then the rest in the afternoon. It was very busy indeed with a real buzz about it.
L'Audio Distribution
The first room we went in was a lovely sounding room, L'Audio Distribution had paired Franco Serblin Accordo loudspeakers with Astin Trew's AT2 2100 integrated and Meridian streamer. Also on show in this room were Vertere's turntables, including their new DG1.
PMC
PMC were showing several of their twenty5 range, we heard the standmount 22. The cor amp was also in the system along with Bryston. A great, lively and listenable system.
Klipsch
Klipsch had approached exhibiting this show as an exercise to show just how relevant Hifi can be, and they succeeded. All areas that they had taken, whether those were their main room or static stands, were branded in their ultra cool black and copper colours, with an urban chic feel and lots of bare brickwork. They carried on the ubran feel with their own barber and tattooist (strictly fake but real looking tattoos). Their branding was perfect and really dispelled the 'Hifi is for old people' myth. Their main room with the big Heritage Klipschorns was excellent…a pure, raw, visceral listening experience that made you want a pair of these huge speakers in your home. They really deserve the hashtag #MakingHifiCoolAgain.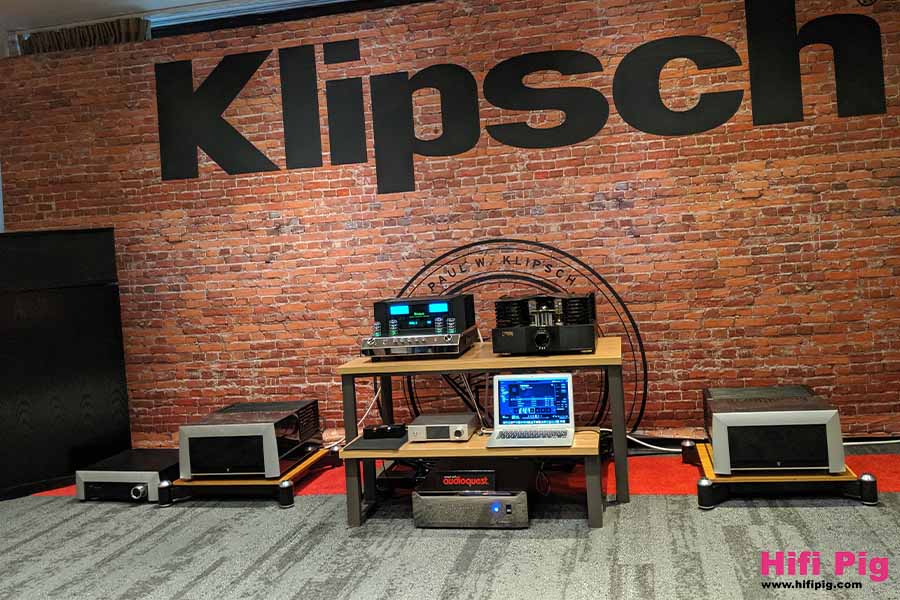 Davis And Jadis
Two French brands that sounded wonderful together. Davis makes very nice loudspeakers, that also don't cost a fortune. We heard the Courbet n°4 floorstanders that were launched at the show and cost 2200€ a pair…we shall be having a pair along for review shortly.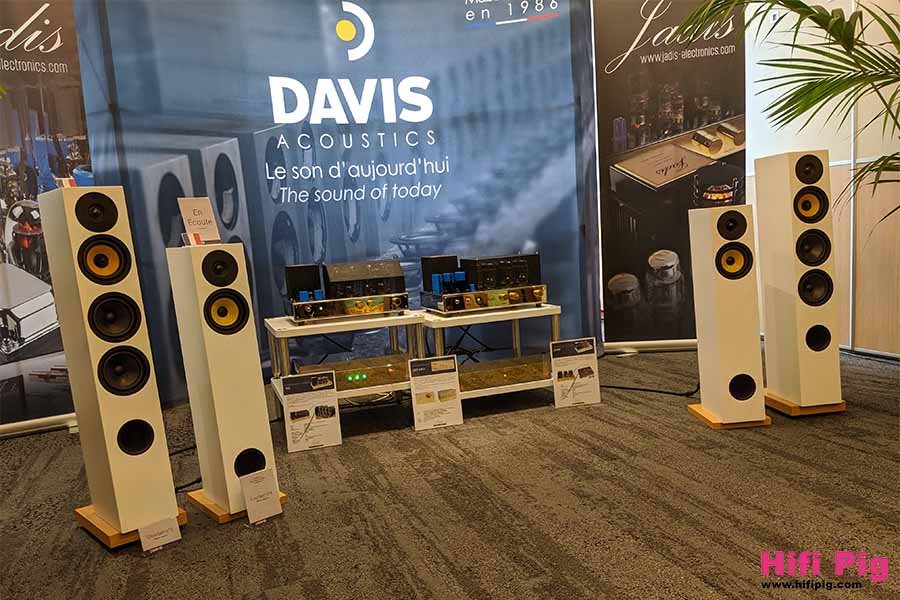 KEF
Great to see Ron and Johann from KEF. They had two rooms, one with a Home Cinema dem, which, you can see from the picture, we just managed to squeeze in at the back of the room, it was packed! Equally busy was the room where Johann was demoing the KEF LS50 wireless and the little LSX active speakers…very impressive and Johann had a crowd of all ages entranced.
Waterfall
Waterfall speakers always amaze me, I can't really get my head around the fact that they are made from glass, they look so beautiful and have such a massive but detailed sound. If I was the kind of person that lived in some beautifully spotless house, with art deco mirrored furniture and someone to constantly clean my grubby fingerprints off everything, I would have a pair of these speakers…they do look and sound stunning. We heard the big Niagaras and also the highly effective Elora Evo, which kind of fill the gap between in-wall speakers and standmounts, they produced a wonderful room-filling sound, very impressive…expect to hear more about these soon.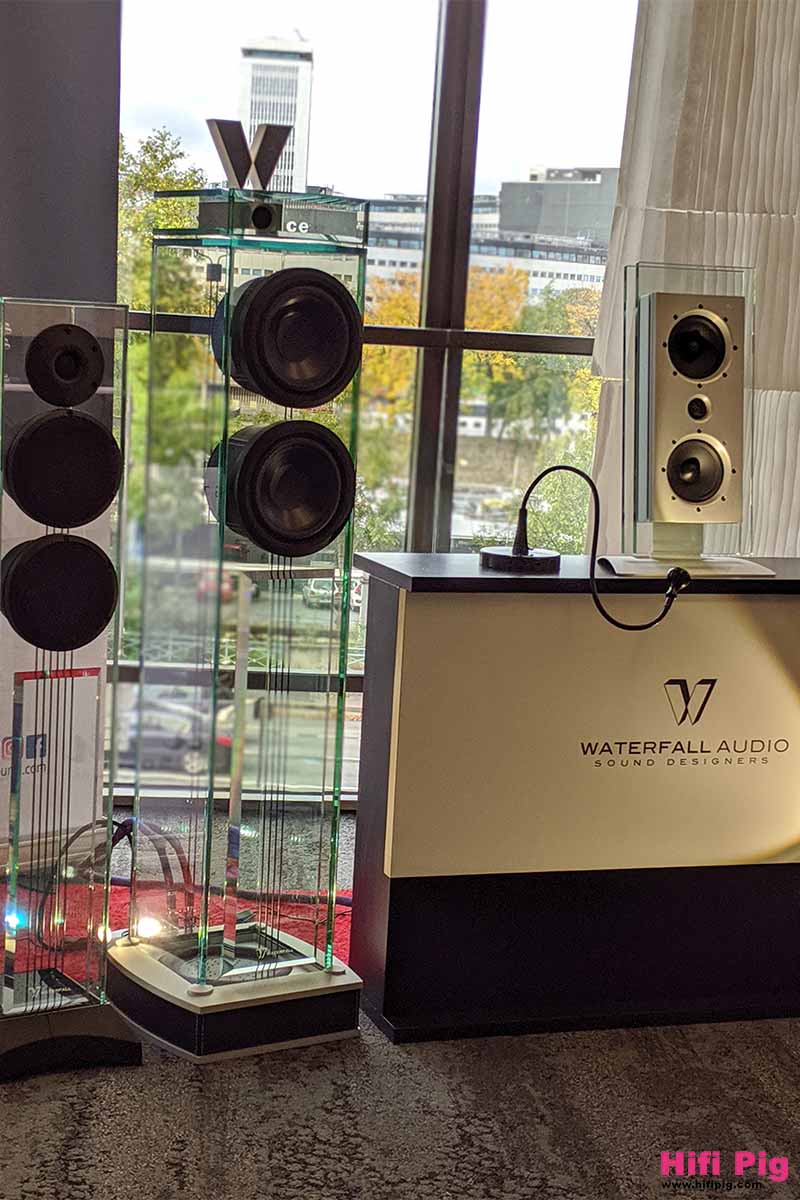 Lawrence Audio And Leema
An interesting combination from French Hifi dealer, Opus51, the stunning Cello speakers from High End Taiwanese brand, Lawrence Audio, and electronics from our homegrown Welsh brand Leema. Shadwell the sheep didn't make it but we were very pleased that we did as this was a brilliant combination.
Bowers & Wilkins
Another British brand that stood out was B&W. This was probably the best I have heard B&W at a show. Partnered with the brand new Michi P5 pre and M8 amplifiers from Rotel, the big 800 series B&W speakers were entrancing, a very pure sounding and engaging room.
They also had 'lifestyle' setups featuring the new Foundation range, which you can easily see people buying for their homes.
Suffice to say, this was a great show, will possibly make a weekend of it next year so that we have more time to linger. The organisers and exhibitors are giving the crowds what they want, a great balance of home audio, AV/Home Cinema, portable audio and 'proper' Hifi…perfect for a city show and attracting new people to visit.
Linette Smith