Last year was my first ever High End Munich Show and I did indeed get myself quite worked up at the prospect of hearing Avantgarde Acoustic Trios for the first time.
For me, loudspeakers are the part of a system that I get most excited about. 
They are generally the first part that you see when you walk in a room, the eye- catchers of the outfit and the mouthpiece of the system.
I like the fact that loudspeakers can be a work of art in your living room even when they are silent.

I tend to measure all my show experiences by last years encounter with the Trios.
It was incredibly emotional. Avantgarde Acoustic make incredibly beautiful loudspeakers that people really connect with and they give me goosebumps……….but this year there were no new loudspeakers, or ones that I had not heard, from Avantgarde, so what was going to give me this year's 'Trio' moment?

Last year I heard Living Voice's smaller loudspeakers but not the Vox Olympians.  I had vowed that I would not miss out this year so I was very excited when we made it up to the top floor of the show to see Lynne and Kevin. 
The room sounded great, but we had managed to arrive when the smaller OBX system was playing.  Not a bad thing at all as it sounded incredible, with a much bigger and fuller sound than one would expect from a pretty diminutive floorstander.
We were warmly welcomed and, after a quick chat and a listen we promised to return in a couple of hours when the big boys were coming out to play.

The Vox Olympian is a stunning horn loudspeaker.  It oozes quality, the cabinet building and the finishing is a master class in 'how to do it right'.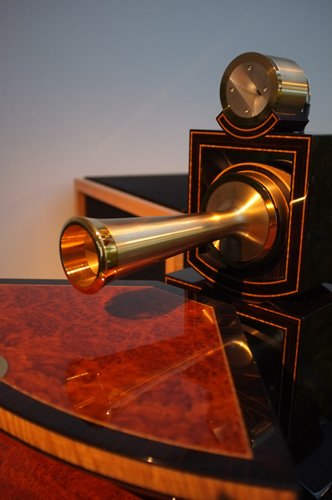 Paired with some serious Kondo valve amplification there is an air of quirky but classy Steampunkness to it.  The beautiful woods and bronze make me think of the Time Machine, vintage but futuristic at the same time.
Yes, these are some of the most expensive loudspeakers that you can buy….for good reason.

When we walked back into that room there was standing room only.  A hifi show can be a challenging place for an exhibitor; there are loads of issues that can make your products sound less than their best but that didn't seem to bother Living Voice.
Walking into that room was an instant 'wow', seriously impressive sound and that instant connection with the music.

Now, I am not a fan of much classical music and much less opera.  I have no idea what the piece of opera was that Lynne was playing but it just sounded, well, to be fair, it just sounded that we had popped out to an actual opera…..there was a woman with a stunning voice there just singing her heart out.
It really was a spectacle of sound and vision, beautiful, beautiful hifi that sounded incredibly real…..I don't really think I can add much more except to say make sure that if you go to a show and see the Living Voice Vox Olympians, you damn well get your act together and go back and hear them, you will not be sorry!

I left the room feeling a little bit sorry for the one I was due to go into next…….everything else was going to have a hard time living up to what we had just heard.