Black Rhodium engineers say that they "have discovered that there are at least seven Laws of Physics that affect the sound quality of an audio cable including conductor choice, insulation and its susceptibility to vibration and electrical interference".
Black Rhodium went on to say "to counteract these forms of audible distortion, Black Rhodium has tested many different solutions. Some are well-known techniques used universally in cable design whilst others have been specially developed by Black Rhodium. In many cases, Black Rhodium has employed two or more different 'distortion busting' design techniques to reduce each type of audible distortion. These act complementarily to deliver greater freedom from distortion and enjoyment of music".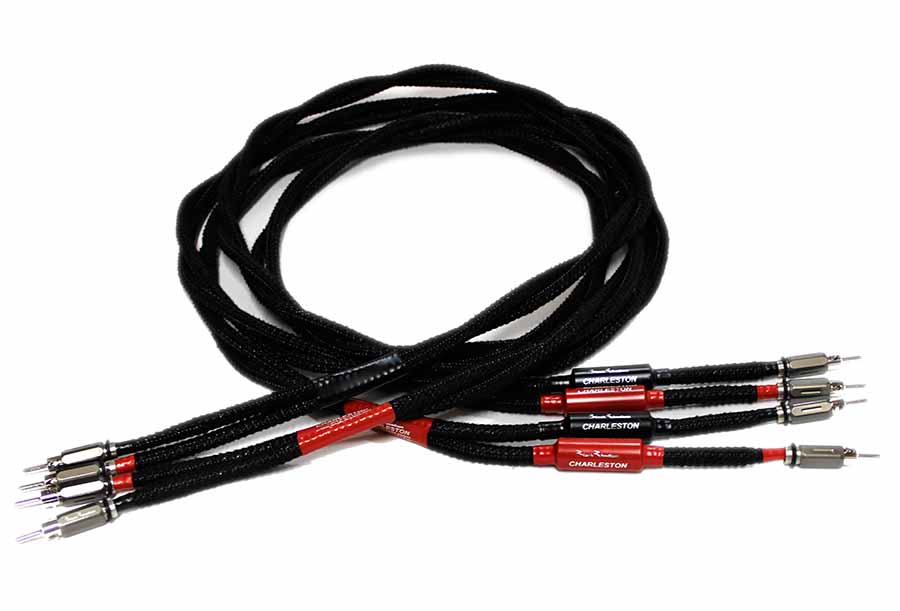 Charleston Speaker Cable
Black Rhodium say that Charleston has been designed "from scratch to minimise all types of distortion that can influence the sound quality of a loudspeaker cable with many proprietary Black Rhodium ' distortion busting' engineering techniques".
Charleston Loudspeaker cables are terminated with Black Rhodium Locking rhodium plated plugs. Rhodium plating is applied to the Black Rhodium locking plugs to ensure a cleaner and less corroded contact is maintained between the plug and socket. Additional security of the connection between the plug and terminal is achieved by turning the screw cover to the plug. This creates a very strong connection that is not easily removed by force. Charleston can also be supplied rhodium plated spades to customers' request.
Specifications Of Black Rhodium Charleston
Deep Cryogenically Treated Silver Plated copper stranded conductors
Braided screen and vibration damped along its whole length
Large ferrites for reduction of RFI
Rhodium-plated 4mm locking  plugs
Rhodium-plated spade termination available on request
Cable assembled by hand in England
Retail Prices
3m pair terminated with rhodium-plated locking plugs £4800.00
3m pair terminated with rhodium-plated spades to rhodium-plated locking plugs £4800.00
3m pair terminated with rhodium-plated spades £4800.00
Charleston can be made in lengths from 2m to 6m pairs to customers' order and prices will be supplied on request.