Blue Horizon has unveiled its new phono preamplifier, the Profono. The Profono has been in development for the past two years and is the result of "painstaking design and engineering to deliver a high-quality yet affordable solution for anyone wanting to make the most of their record collection".
The Profono is said to be a "great step-up option to replace budget phono preamps that "simply don't cut the sonic mustard."
Blue Horizon say that the Profono is "designed and built to be a genuinely high-end phono preamplifier delivered at a highly competitive price point, able to compete with – and even outperform – models at twice the cost".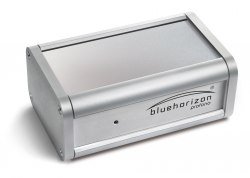 An interesting feature of the Profono is that, Instead of the the cheap 'dip switches' found in many phono stages, they are replaced by a series of shunt resistors to set cartridge impedance.
The Profono is compact in size and looks sturdily built. Casework looks of good quality for  this price point and claims to serve to reject sonically deleterious RFI and keep the unit solidly in position when heavy cables are connected – something that cannot be said of all phonostages!
The Profono's power supply unit (PSU) is housed separately and connected via a detachable cable and a series of PSU upgrade options will be available at a later date.
A switch on the Profono's rear panel gives three settings for cartridge gain: moving coil low (50dB), moving coil high (61dB) and moving magnet (41dB) meaning that the Blue Horizon's Profono should be compatible with a wide range of cartridges.
The unit should be available in the UK by April and the price will be £695.