Blumenhofer Acoustics got in touch to tell us about their new loudspeaker launch at High End Munich.
"During the Munich High End 2017 we will present our new Loudspeaker, the Gran Gioia MK 2." Andrea Vitali of Blumenhofer told us.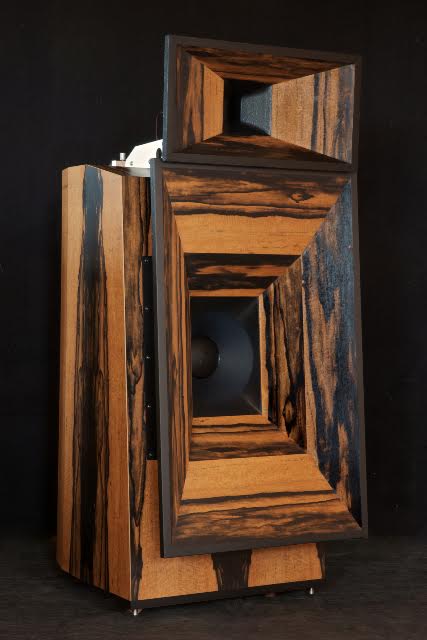 "After a long time the development of the Gran Gioia MK 2 has reached its fulfilment. It is a brand new loudspeaker, quite different than the previous version. Much more complex in the production and realisation and with much more technologies and developments than expected and planed. We made no compromises".
The first 3 pairs of Gran Gioia MK 2.have been produced in a Makassar finish (pictured), a perfumed Olive and an antique palisander veneer. The Gran Gioia MK 2 will be unveiled and will play at the Munich High End 2017. We expect the German SRP price to be in the range of 60.000€ for walnut.
"The Gran Gioia MK 2 bears a 16″ (38cm) paper woofer, in a front loaded horn with a bass reflex harmonic constructed cabinet. The mid high range is made by a 1.4″ compression driver and a proprietary horn as well. A lot of in house know how is built into these loudspeakers and this will make them unique. At the Munich High End You will enjoy the Makassar Gran Gioia in the Room F224, Atrium 4.2 in combination with a pair of rock solid 300B of MastersounD monoblocks driven by by the Spettro preamplifier. The main source will be a Technics SP-15 turntable. Cabling and Power treatment by Cammino."
There will be another room presenting the Olive Gran Gioia MK 2, in the room of Octave, Atrium 3.1 Room C117.