Devialet has announced DIALOG and PHANTOM (1690 EUR) (pictured), the new Devialet "revolutions"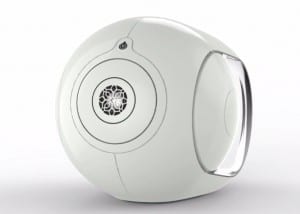 DIALOG is an intelligent audio router which, in association with the new Devialet application, is said to make your life easier:
– unique interface combining all your digital contents (stored or online) in an intuitive and smooth way, whatever the file formats (from MP3 to HD audio)
– communication and synchronisation between your Devialet products throughout your home, via a dedicated and powerful network which is open to all your guests
– accessible from your smartphone, tablet or computer, DIALOG is compatible with all Devialet products*.
PHANTOM is a wireless "Implosive Sound Center", that can be used stand-alone or together in your preferred music, home theatre or multi-zone set-up. Phantom is said to be the result of over three years of R&D and combines all the Devialet exclusive technologies (including ADH® and SAM®), miniaturized into a small enclosure, as well as brand new, acoustical technology, HBI® (Heart Bass Implosion). "It produces an ultra-dense sound which you don't just hear, you feel it!" say Devialet
Along with the D-Premier, the Devialet 120, 200, 250, 400 et 800, DIALOG and PHANTOM make up the new Devialet audio eco-system.
More news when we have it.