Mola Mola's Makua pre and Kaluga power amplifiers are personally introduced by their designer Bruno Putzeys at the show's Lancaster 4 suite Hifi Show Live, Windsor, UK, 3pm Saturday 29th and 3pm Sunday 30th October 2016.
Bruno is widely acknowledged the inventor of the first audiophile class D: Universal class-D (UcD) in 2001 while at Phillips and, as chief tech guru at Hypex, was responsible for the development of its NCore Class-D amplifier technology.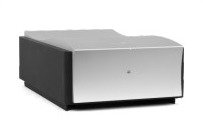 Mola Mola's separates will be joined in Lancaster 4 by Vivid Audio's Giya G4 and B1D loudspeaker designs. The Limited Edition B1 Decade is a 3.5-way/4 driver vented system with tapered tube loading on the mid and high frequency drivers while the reference Giya G4 is a 4-way/5-driver system with all five alloy drivers, taper tube loaded. Both designs feature balsa-cored quadraxial glass composite sandwich enclosures. Designed by Laurence Dickie, formerly of B&W and responsible for their Nautilus loudspeaker.