Canor have announced their latest "Precision Tube Compact Disc Player" and digital to analogue converter,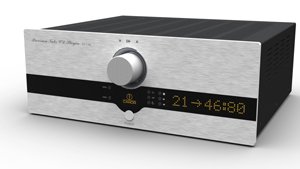 the CD 1.10.
New CD player is equipped with a standalone 24-bit/192kHz digital-to-analogue converter for each channel, and with a high-quality CD drive with compact disc disengagement bearing driving mechanism.
The Canor CD1.10 inherits the big matrix display from its predecessor, the CD2 VR+ CD player and its appearance fits the design of the Canor power amplifiers.
The digital to analogue converter section of the new CD player includes coaxial, optical and USB 2.0 inputs and also XLR outputs, digital optical and digital coaxial as well as two RCA outputs.
Canor use their patented Canor PCD Milling Technology throughout.