Cary Audio is partnering with KEF showing three complete systems at the New York Audio Show on the 12th -14th April.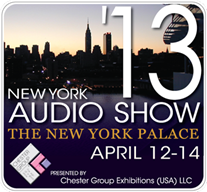 They will also be debuting their brand new Cary Audio DAC-100 24/192 hi-resolution USB DAC and a complete Audio Electronics setup including the new Lighting 24/192 USB DAC.
Their main system will consist of Cary Audio's reference products, such as the SLP-05 tube preamplifier, SA-500.1 500 watt solid-state mono blocks, DAC-100 USB DAC and KEF Reference 207/2 floorstanding loudspeakers.
The second system will include the CAD-120S MkII tube amplifier, SLP-03 tube preamplifier, and CD-303t CD player/DAC.
The final system system will be made up of the new Audio Electronics by Cary Audio direct product line. The Constellation tube preamplifier, Hercules tube power amplifier, Lighting solid-state hi-resolution DAC and KEF LS50 monitors.