US Company Channel Islands Audio introduce their 24 bit/192k Transient MKII asynchronous USB converter.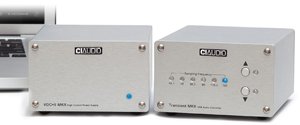 The heart of the system is the company's XMOS based circuit, utilizing extremely low-jitter clocks. Multiple digital outputs are available via isolated 75 ohm BNC (with included 75 ohm RCA adapter) and two individually buffered I2S outputs.
In addition to the digital outputs, Transient also provides Digital to Analog conversion. The conversion is done by a Wolfson circuit with a built-in high resolution volume control and 2V RMS output. A microprocessor circuit allows configuration for fixed (line level) output, or variable volume control, and also indicates the sampling frequency of the incoming signal.
The Transient is powered by the USB cable so you can plug into your computer audio and take it on the go. CI Audios VDC-5 MKII Upgrade Power Supply can be connected to the DC Input port for improved performance.
Price $699