Janine Elliot takes a listen to Mike Valentine's Chasing the Dragon label's Reel to Reel Revival "Big Band Spectacular" by the Syd Lawrence Orchestra. Needless to say this is a reel to reel release. 
The rebirth of vinyl is firmly playing on side B now, though unfortunately it is still only a small percentage of total music purchases. Overall physical recording media sales from all formats are still significantly lower now than they were in the 70's when I started my own record collection, due to playout systems that allow you to listen to music that perhaps you wouldn't actually have bought, and which artificially rates artists at "Number One" who perhaps wouldn't get that recognition had their music not been ideal for background listening. As vinyl met cassette tape head-on and survived, with the later competition of CD, MD, DCC and mp3, things were not quite so clear-cut and they have all lost out in the very end. Whilst the recording world might be considerably different to how I remember and loved it of old, it is perhaps more surprising now than before due to the resurgence of old ideas. Not only has the valve been reborn (see Rise and fall and Rise again of the Thermionic Tube ) and vinyl now representing around 3% of music sales (having reached its nadir in 2007 with only around 200,000 sales in the UK), but now reel to reel tapes are also making a notable comeback.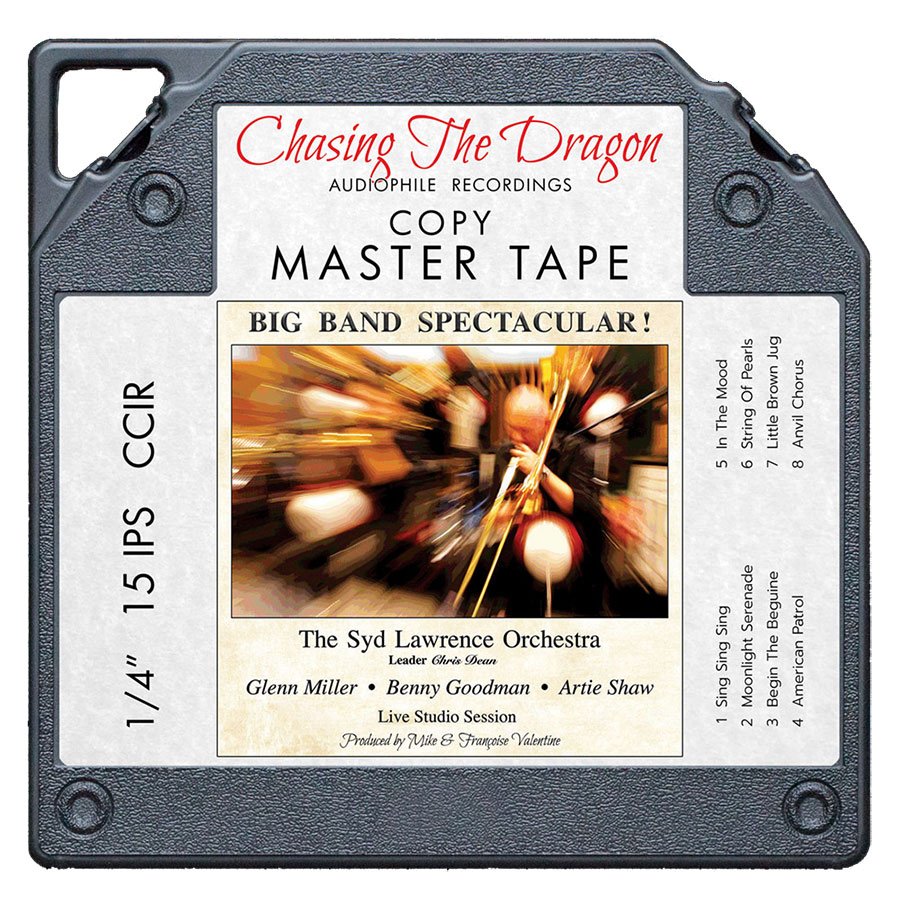 I did mention once in HifiPig that I hoped the cassette would return, and that, too, looks more than likely with UK cassette sales tripling in the last year alone and the launch of a retro 80's cassette ghetto-blaster from turntable manufacturer GPO. If only a retro Nakamichi Dragon would wade its way into my listening room.    Whilst the Oxford dictionary removed the word "cassette player" back in 2011, they may soon need to add it back as sales grow again, just as it appears Fax's are similarly making a petite riposte as they are safer than using the internet, and a while back Kodak started making 8mm movie recorders again. Cassette's comeback might be due largely to nostalgia, there is much to be said about the format's analogue sound and realism, even when you ignore the hiss.  Justin Bieber's latest release "Purpose" and Kanye West's "Yeezus" are just two present-day cassette tape releases. Whilst a Nakamichi cassette might get up to 20kHz, it is reel to reel that hold the limelight for sound quality and realism, even if again you excuse any hiss.  In the 70's when most had cassette recorders, it was the Sony Elcassette or reel to reel that the serious audiophile hankered after. With 15 machines in my home there might also be a certain amount of nostalgia there too, of course.
When I marvelled at the direct cut discs and binaural recordings emanating from Mike Valentine's label "Chasing The Dragon", I did hope that he would one day release his albums on reel to reel. As an ex BBC colleague we both have a passion for things moving at 15ips (or even 30ips, as are his master recordings), and whenever he lectures at HiFi shows as part of his recording company  he will inevitably play something on a ¼ inch tape. Nothing sounded quite so good, and my hope that the format would make a comeback from his enterprise one day finally came to fruition, albeit after a few hints from me. Having recorded albums using reel to reel tape, why not sell them on that medium as well? I can announce that Mike has now added this wonderful format to his music production, until something else takes his fancy (cassette perhaps? No, only joking).  Sales are impressive, averaging over 50 a week and customers coming from Hong Kong, Thailand, Taiwan and America as well as the UK.
"The worst thing you can ever do" he told me "is to rest your laurels, and we have a reputation now all over the world, which is fantastic, but we have got to keep pushing the boundaries".
After having an Ampex ATR 102 ½ inch reel-to-reel recorder running at 30ips as a back-up at his recording sessions and then buying a ½ inch 30ips Studer A820, both used in mastering at the London Air Studios or on location, he recently added a ¼ inch Studer A80 with butterfly heads so that he could then begin producing direct copies to be sold on his website. That has now been superseded by another Studer A820, this time a ¼ inch 15ips machine. Obviously playing back the master 30ips ½ inch tape and recording directly onto the other A820 would eventually wear out the master tape, so he has needed to make a master copy for each album; "We have to do what is called a 'running master', and copy the ½" master onto a ½" running master and then use that to do the ¼" copies". Otherwise after 50 or so playbacks the plastic tape will start to shed its ferrite particles and produce drop outs, whereby top frequencies or complete sections will reduce in level.
The process of producing tapes is an arduous and expensive one. A roll of empty tape is not cheap at around £70, and the music is copied direct from one machine to another in very time-consuming real time (or should I say reel time!) using exceptionally good gold Zensati Seraphim cables at £12,000 a go, and not passing through any digital processing. On top of this are the costs of the master ½" tapes and recording sessions. At a selling price of £360 per tape the price seems more understandable, and competes well with reel to reel tapes produced by the handful of other companies now. All recordings are provided and labelled "tail out" to minimise 'print through' of sound from one layer to the next. As recording tape is basically made from micro-magnets coated on plastic film any loud music might print through from one layer of the tape to the next, so if stored tail out that print through will appear after the commencement of the sound meaning it will be "hidden". Without having the tape stored tail-out print through of loud sections of music would be heard in the silences prior to the music, unless – as in the days of editing in olden BBC days – you used yellow leader tape at the start and between tracks, and red/white leader at the end of the recording, which is a very time-consuming operation and consequently why no one does this anymore. Also, the sticky tape to join it all tends to lose its 'stick' in old age. Whilst it might be a pain having to rewind the tape at the start of your performance it does mean you don't need to do it at the end!
'Chasing The Dragon' use the latest ATR tape which comes in a professional heavy duty plastic box with a handle in the corner. For shorter performances "Standard Play" MasterTape  (~33mins/10 ½" reel at 15ips) is used, and for the longer albums their new MDS36 "Long Play" tape is used (~48mins/10 ½" reel at 15ips), the "MDS" named after ATR's founder Michael D Spitz. Where in the past manufacturers of tapes included Agfa, Ampex, BASF, Maxell, Memorex, Philips, TDK and Zonal, to name just a few, today we are not so fortunate, with only two players, ATR and Pyral. The history of recording tape plays like an episode of Dynasty. Agfa was bought by BASF who turned into EMTEC who were taken over by RMGI who were then bought by Pyral who sold to Mulann Industries in 2015, and still producing tapes based on those from the Agfa and BASF stables, such as SM911, SM468 and LPR35.  American giant Ampex (standing for Alexander M. Poniatoff Excellence) who made the excellent 456 tape was taken over by ATR, a company originally set up to restore, repair and upgrade professional Ampex recorder, the founder Mr Sptiz having been an Ampex Technical Services representative. For me this is the better of the two companies now making tapes, though they are both excellent.  Maxell and Philips, I am pleased to say, do still make cassettes.  The machines for Chasing the Dragon are lined up using CCIR equalisation by Decca engineer Adam Pope,  ensuring the best recording quality is attained. Indeed, this is an exceptionally well recorded and copied production, working well on my Revox PR99 and Sony TC-766-2 high-speed machines. The tape is the MDS36 LP tape meaning that the album easily fits on the spool. Mike didn't want to use the SP (standard Play) tapes as it would mean charging for two of them. Some manufacturers seem to fade out the last tracks to fit as much on the single SP tape, which I really don't like. Each tape is available at £360 plus postage and packing, and the library now includes six labels; "Vivaldi's Four Seasons", "Tribute to Ella Fitzgerald", "Espana", "Music by Candlelight", a "Pure Reference" compilation and the Syd Lawrence "Big Band Spectacular" up for review here.  I wish any of the present day manufacturers would add a tone track (1kHz/0dB) on the tape at the very end so that you could align your machines. Maybe one day.
The Music
I always loved the use of woodwind on the front line of USA trombonist Glen Miller's manuscripts, something that made his big band composing and performing so different to anyone else at the time, and ever since. The warmth from the clarinet, the emotion from the saxophone, and power, authority – and passion when needed – from the brass is shown to the full in these great works, and eloquently performed on this recording from Chasing the Dragon.  The album features the famous Syd Lawrence Orchestra. Syd Lawrence set up his own orchestra in the UK to play works by Miller, Count Basie and others. Lawrence retired from touring in 1994 and died of an aneurysm in 1998. The band continues to this day, playing with just as much energy, emotion and subtleness. This recent album starts with "Sing Sing Sing" a Benny Goodman track that gently gets us in the mood for Glen Miller and Artie Shaw.  A solid drum kit keeps us on firm footing until the brass livens it all up and saxophone, trumpet and pianoforte  solos pre-empt foot-tapping that would please any fitness tracking gizmos you might have tied to your feet. "Moonlight Serenade" is appropriately slower in gusto and gives you a chance to hear the individual melodies and rhythms that make this such a well known and loved track. Visions of an American airfield and pilots listening before jumping into their Mustang P51 bombers fill my mind as I listen. Sad that Miller himself didn't survive the war, losing his life in a plane somewhere over the English Channel on his way to entertain US troops in France. What a waste. Luckily his music lives on with much life and keeping me in the mood to listen to the rest of the album. The few minutes it took to rewind the tape and hope that it didn't chew up the tape on its travels (try telling that to the vendor when reviewing a tape) was well worth the wait and provided me with a timely performance.  I only wonder if the first two tracks are just a little too easy listening to begin the album, and perhaps Glen Miller's "American Patrol" might have been a bit more suitable as an opener with its forceful drum rhythm to get all the brass and the listener on board for an excellent showcase of sound. But whatever the order is it was an excellently musical and audiophile production. The ride cymbals as with the bass tom-tom drum rolls play with a zest and clarity that even vinyl can find hard to match. Of course, no Syd Lawrence album could be complete without "In the Mood" and this and indeed all 8 tracks are carried off with an understanding and vigour that makes the £360 outlay something that you will soon come to terms with. With the beautiful "Anvil Chorus" completing the line-up with Miller's distinctive woodwind 'leading' and brass 'accompanying' style that made him so unique and famous, this is a beautiful way to end the album. When the original double-LP came out one of the discs was a standard issue made from a 30ips stereo tape mix-down of the 24-track multitrack tape, with the second 'identical' record being a direct cut disc taken direct from the analogue Neve mixing desk and using Gefell, Schoeps, STC, Neumann, Flea and AEA microphones. The direct cut disc LP was for me by far the better of the two in terms of quality and realism, and indeed the reason for the two disc collection.  Perhaps a deluxe version with all four formats should be produced; LP, Direct Cut Disc, hi-res WAV and Reel to Reel so you can come to the same conclusion as I have that tape is by far the winning option.  I might not yet have a Studer in my big collection, but my Revox PR99 and A77, and Ferrograph Logic 7 give a timely account. I recently swapped the Teac X1000M DBXii high-speed mastering machine that went everywhere with me in the 80's and 90's for a Sony TC-766-2 mastering machine. For me, this is the best machine; nothing over the top, just very honest and accurate, with superlative frequency response and excellent wow and flutter credentials. Not only this, but the Chasing the Dragon tape itself has an excellent noise floor; with peaks on my well lined up Sony and Revox at over+3dB but with no signs of distortion showing how good the ATR tape is, as well as the meticulous copying done by Mike and his team, and of course the machines. The brass is brash and boisterous, cymbals strong and sizzlingly seductive, and woodwind warm and welcoming,  all adding up to an experience worth hearing through my very long Slee Lautus interconnects; these cables might be thousands of pounds south of the Zensati Seraphims but they are surprisingly good for the money and long lengths have excellent RFI/EMI shielding. All in all, like other 'Chasing the Dragon' tapes I have had the fortune to listen to, this recording represents the very best in audio performance, with no distortion and no worries about not using a noise reduction circuitry such as Dolby A or DBX which would add their own signature to the sound. I have reviewed and listened to tapes from 4 major companies now, and can honestly say the quality from the Valentine stable is as good as it gets, not least due to the detail taken in producing it; no compression or limiting, choice of microphones, analogue mixing desk. excellent sound engineering from Jake Jackson, and the fact that the master is recorded on the same media. The highs are clear and there is a punchy, strong bass.  This tape is well worth considering if you are new or well versed at reel to reel playback, unless of course you want to wait for the next format. But I doubt anything will ever beat reel to reel. Should cassettes truthfully make a comeback, then I don't hold my breath that Mike will ever release any. As he told me; "I can only operate my company by using the "I" word; "integrity"; and if I don't think it's good enough myself we don't do it".
Janine Elliot