Schiit Audio have announced its newest products, the $99 Magni headphone amplifier and the $99 Modi USB DAC.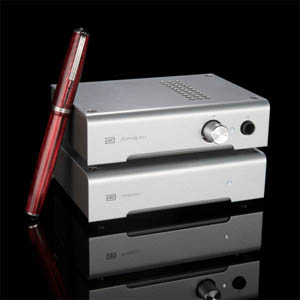 Magni offers a fully discrete design and Modi has an AKM4396 D/A converter and active filter output stage for driving long cable runs.  Both products are made in the USA.
"We're excited to debut Magni and Modi," said Jason Stoddard, Schiit's Co-Founder. "Since our expansion, we've been working on seeing how far we can push the price/performance barrier, and Magni and Modi are the result. Combining large-scale production runs with highly automated assembly and efficient chassis design have really paid off."
Magni delivers 1.2W into 32 ohms, and is capable of driving many orthodynamic headphones, as well as offering >100dB signal to noise for compatibility with many IEMs. It includes a 115V-compatible "wall wart" style power adapter in its $99 price. In addition, its distortion performance is less than 0.004% at 1V out across the audio band, and its output impedance is less than 0.1 ohm.
Modi uses the same CM6631 USB input receiver as Schiit's USB module, running in USB Audio 1.0 mode for driverless operation at all sample rates from 16/44.1 to 24/96, including 24/88.