With its 30th anniversary approaching, Chord Electronics has launched ULTIMA, a new flagship amplifier featuring John Franks' latest circuit topology, the first all-new design in three decades. Chord say 'ULTIMA is the ultimate expression of the finest high-performance, ultra-fast, ultra-high-power amplifier technology available today'.
Comprising of  a reference-quality preamp and two mono power amplifiers (all £30,000 each). The ULTIMA mono power amplifiers have been designed and engineered in Britain. ULTIMA's technology is based on a technical paper by Dr Malcolm J Hawksford (emeritus professor at Essex University) which was taken up and refined by Bob Cordell of Bell Labs. Chord Electronics' owner and Chief Designer, John Franks, then took the theory and developed it to a much higher level; a progression of Cordell's advanced dual-feed-forward error-correction topology incorporating Franks' own advanced concepts in ultra-high-frequency power supplies, which have been a cornerstone of the company's proprietary-technology amplifiers since its inception in 1989.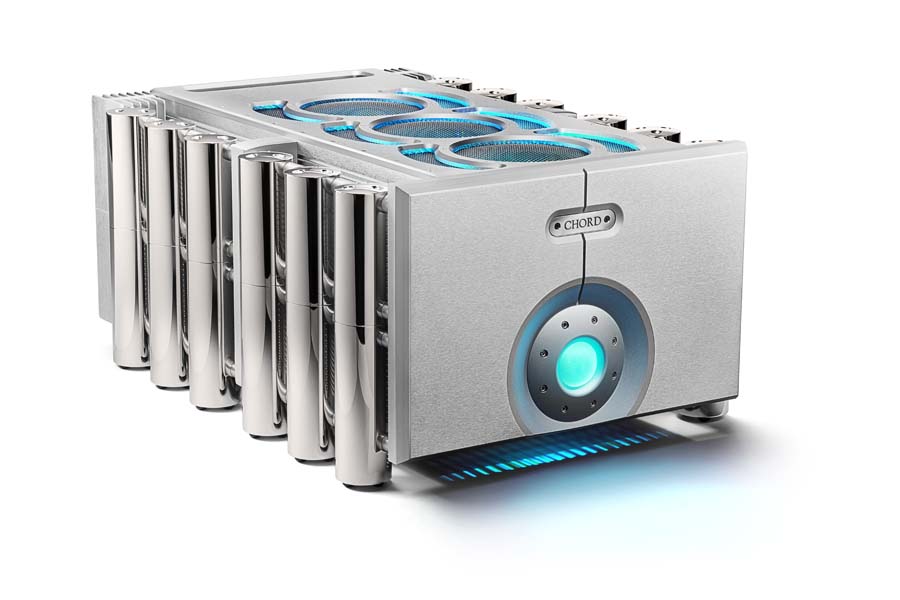 Each 86kg mono amplifier is hand-built at the riverside Kent factory, The Pumphouse, over a period of several days, with each build overseen by a dedicated engineer. Chord Electronics' aircraft-grade solid aluminium casework offers an entirely non-resonant enclosure for the electronics. The casework is neatly complemented by the unique Integra Leg system which offers both striking visuals and the ability to stack with various other full-size Chord Electronics products as well as the Choral units, such as the DAVE DAC/preamp and BLU MKII CD/digital transport, when using the dedicated Choral Ensemble stand.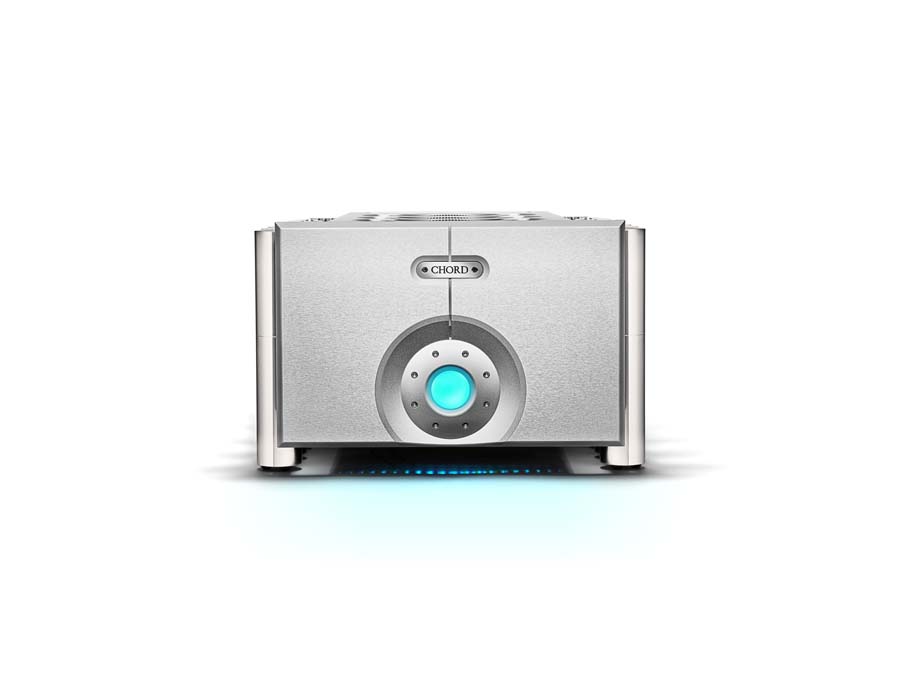 The ULTIMA preamp benefits from true dual-mono construction with separate ultra-high-frequency power supplies for each channel, giving the best possible separation. With the addition of Chord Electronics' low-noise circuitry, noise floor performance is beyond -135dB. The ULTIMA preamp includes three pairs of fully balanced outputs and three unbalanced outputs; inputs include four unbalanced and four balanced with six-step gain adjustment; selection is made via remote control or from the front panel, which uniquely features separate frequency EQ adjust controls for the left and right channels.
Internally, each of the power supplies and the sensitive volume, balance and EQ controls, are surrounded by solid milled aluminium shielding to prevent RF interference. Fully balanced A/V bypass circuitry allows direct connection to A/V processors. Further features include front panel VU meters with BBC ballistics, two low-distortion, low-noise front-panel headphone output jacks and 12V remote triggering outputs.
Chord Electronics' proprietary amplifier technology has seen numerous refinements and updates over the past 30 years, however, ULTIMA receives John Franks' all-new circuit topology, the first completely new design since the company supplied its first customer, The BBC, in 1989.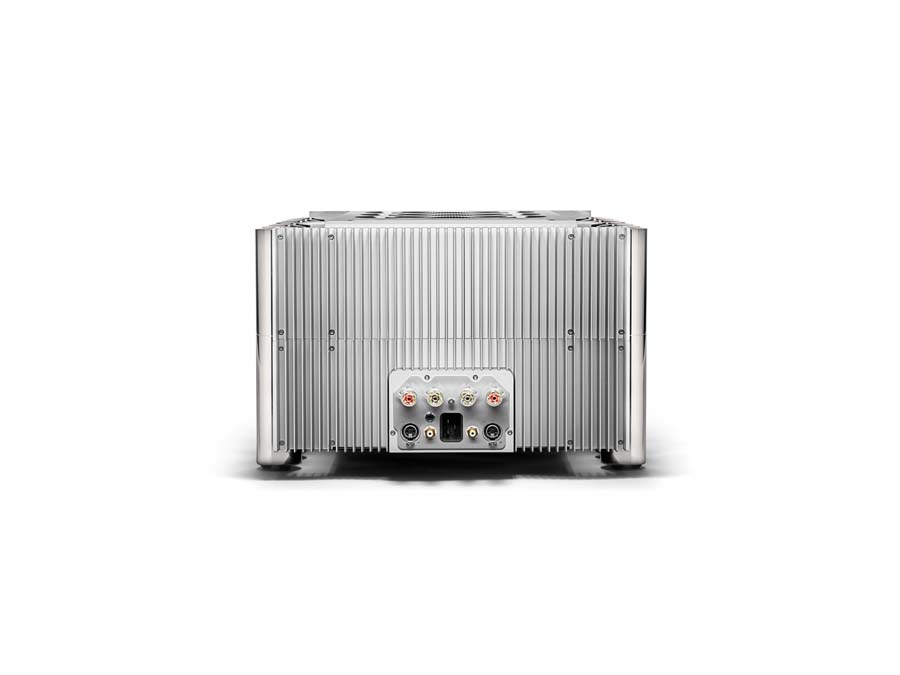 Chord Electronics looked at Bob Cordell's aforementioned work from the 1980s before developing an initial design that incorporated both his topology as well as John Franks' award-winning, time-proven amplifier tech; the nested feed-forward and global feedback allowed for Chord Electronics' custom-designed dual silicon die MOSFET output transistors to perform uniquely well.
The new dual-feed-forward error-correction amplifier technology was first implemented on a medium scale in the Etude power amp (from the Choral range, unveiled at High End, Munich in 2018). Realising its benefits, Chord Electronics started work on a replacement circuit for its range of uncompromising full-size mono amplifiers, ULTIMA being the largest, most advanced and most powerful in the portfolio.
The ULTIMA mono amplifier unit has 64 proprietary MOSFET power devices that demand the most advanced and refined drive circuitry, suitably devoid of sound-degrading components. The drive circuitry features an ultra-low-distortion, high-voltage amplifier operating at very high speed: 300 volts per microsecond technologies with advanced feed-forward and feedback compensation techniques. It also benefits from Chord Electronics' TO3-style dual die lateral matched MOSFETs, which are continuously monitored with output stage error-correction circuitry and feature fully balanced input circuitry with DC-tracking servos and full temperature compensation. ULTIMA  offers 780 watts into 8 ohms, 1,400 watts into 4 ohms and 2,500 watts into 2 ohms. ULTIMA's peak output current exceeds 500 amps.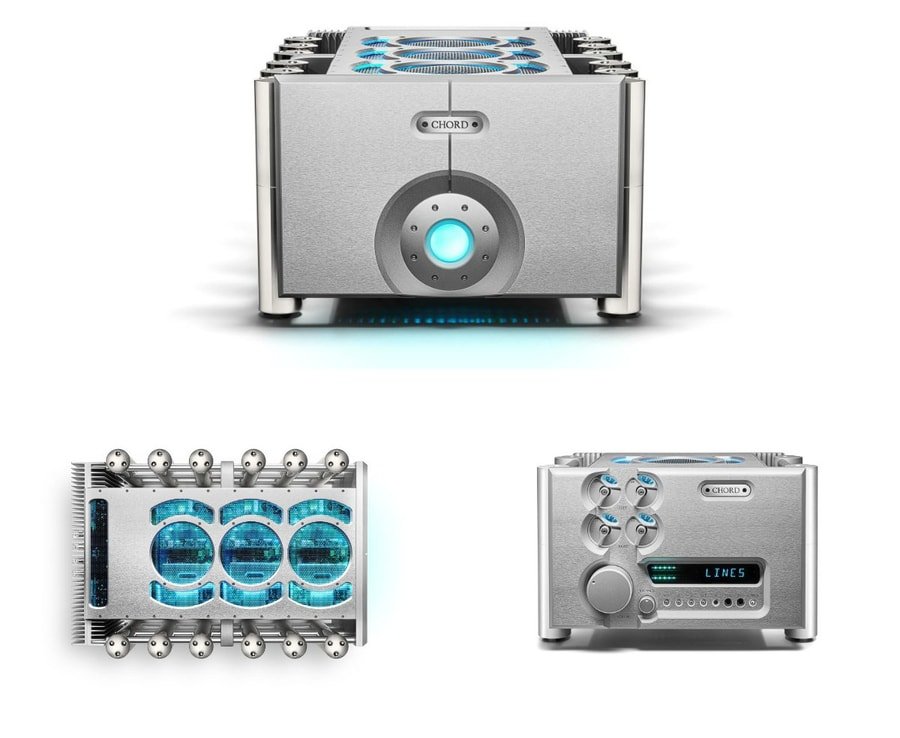 Technical specifications
ULTIMA preamp
Frequency Range: 2.5Hz – 200kHz +/- 3dB
Total Harmonic Distortion: 0.0008% 20Hz – 20kHz
Intermodulation Distortion: -125dB on all inputs
Signal to Noise Ratio: -125dB on all inputs
Channel Balance: 0.01dB
Input Max Voltage: 17V RMS Balanced – 8.5V RMS Unbalanced
Output Max Voltage: 17V RMS Balanced – 8.5V RMS Unbalanced
Output Offset: 0mV (Both Channels)
Potentiometer Performance: 0dB 0.5dB, -20dB 0.2dB, -60dB 0.24dB (13 seconds Full Travel)
Nominal Gain: All inputs subject to six levels of switchable gain (x0.5, x1, x1.5, x2, x2.5, x3)
Input Impedance: 100kΩ balanced – 50 kΩ unbalanced
Output Impedance: 100Ω (Short Circuit Protected)
Operating Voltage: 85V – 270V AC (50Hz – 60Hz) Auto Switching
Power Consumption: 15W
Channel separation: 98dBV
Dimensions Without Integra Legs: 420mm (w) x 355mm (d) x 310mm (h)
Dimensions With Included Integra Legs: 480mm (w) x 355mm (d) x 350mm (h)
Weight: 30kg
ULTIMA mono power amp
Output Power: 780W RMS per channel @0.05% distortion into 8Ω, 1,400 RMS per channel into 4Ω; waveform continuous at 5Hz to 20kHz
Total harmonic distortion 0.0005 per cent (at 1V) 10Hz to 20kHz (8- or 4-ohm loaded)
Phase intermodulation distortion: 0.0005 per cent
Interface intermodulation distortion at 75 percent rated power into 8 ohms resistive load was 0.0002 percent at 1kHz
Peak output current: exceeds 500 amperes
Frequency Response: 0.1dBV from 5Hz to 100kHz any loading between 4 and 8 ohms
Signal to Noise Ratio: Better than -103dB
Input Impedance: 100kΩ Unbalanced/Balanced
Output Impedance: <0.01Ω
Gain: 30dB
Dimensions Without Integra Legs: 420mm (w) x 670mm (d) x 310mm (h)
Dimensions With Included Integra Legs: 480mm (w) x 670 (d) x 350mm (h)
Weight: 86kg
READ MORE HIFI NEWS WITH HIFI PIG