The Germans have always been a very efficient nation and have an enviable reputation for quality. You only have to see how many German cars are on the roads of  the UK to know that, I have a VW Golf now and very impressive it is. Solid engineering and clever design with great attention to detail is a hallmark of most German products. The first time I saw a Huff house on Grand Designs I was blown away by the quality, innovation and speed of construction of this bespoke kit house of glass and metal. 
Now what has this to do with hi-fi, a lot actually. Clearaudio are a German turntable company who have a long track record (pardon the pun) since the 1970's. If you've never seen a Clearaudio brochure then you're in for a treat. It is like a mini Argos catalogue having nearly 90 pages full of superbly made products all devoted to the playing of vinyl. Now some of the younger generation may wonder what are records or why bother in this age of the instant digital download  where the latest tunes are only a finger touch away on your mobile. Well let me tell you, this last year has seen an unprecedented rise in the sale of vinyl overtaking cd sales which have been on the wane for some time now since downloads became popular.
I am a child of the 60's and 70's brought up on a diet of the Beatles , Rolling Stones, progressive rock such as Pink Floyd, Led Zeppelin , Yes etc. This diet got my juices flowing and wanting to try more types of music , As vinyl was the only serious form of replay then the record was king and I bought into it hook , line and sinker. So what has this to do with today? An awful lot. Music has evolved over time but the music I listened to 30 and 40 years ago is still as relevant today as then.
Records have always fascinated me and I still marvel at how such a fantastic sound can be obtained from  a wiggly groove on a piece of plastic.
The product under review is the Clearaudio Performance DC which is a complete package designed  to almost be plug and play for the serious enthusiast willing to invest in a good turntable. Good  turntables at one time were seen as rather fiddly things to contend with and best left to a specialist dealer to set up for you. Rega changed all that in the 80's and Clearaudio have followed suit with this model requiring only moderate  skills to set it up. If you are still nervous about setting a turntable up a good dealer will still do this for you or an experienced friend.
The turntable is compact and very clean looking and has a newly developed DC motor with high precision bearings and is belt driven. The platter is made of 40mm thick POM which rests on a Clearaudio designed ceramic magnetic bearing , a very clever way of producing a frictionless bearing for incredibly low noise and wear. There are three adjustable feet fitted so levelling is very easily achieved . Speed change is via 3 blue illuminated buttons on the front left corner of the deck  and a stop button .33,45 and 78 are catered for. Power is supplied from a plug in DC wall wart. No lid as standard is supplied , but custom made ones can be ordered which just sit over the whole turntable. 
The arm fitted to the deck  is the Clarify another clever design where the mechanical parts don't touch. Again this is done by magnetic bearings and means that the arm is unaffected by resonances. It has a very good arm lead fitted with excellent gold plated phono plugs and an earth tag. The cartridge supplied  as standard is the Virtuoso V2 moving magnet made from ebony wood and has an aluminium cantilever producing a 3.3 mv output. The ebony body is so designed in order to produce a resonance resistant body and other features are an effective reduction in moving mass through the highly polished ebony body  and the stylus is optimally polished for excellent tracking and sound quality. The cartridges are all meticulously tested and matched to produce the best stereo channel matching, minimum phase error and distortion , the flattest frequency response and highest dynamic range . The price of all this superb engineering is £2500. The turntable comes superbly boxed  in customised  foam cut out  packaging with excellent instructions and a very comprehensive  range of accessories supplied as standard including all the necessary tools , alignment protractor, tracking weight scales , bearing oil and a nice spirit level to make  accurate levelling a doddle.
Once I had mounted the arm on the deck with the cartridge, aligned it and set the tracking weight and levelled the arm I was ready to go. First impressions were how quiet the deck sounded in operation, no motor noise and very smooth and slick in operation . The arm feels strange at first when cueing it over a record as the magnetic bearing is peculiar when you are used to fixed bearing arm. It reminded me of my days in retailing when I used to sell the George Hadcock uni pivot arms fitted to Linn LP12's mainly. It was a pain to set up but once you had the knack and persevered it sounded great. The Clarify arm is certainly far easier to set up but still requires a bit of patience to get the tracking weight correct as the magnetic floating bearing needs careful adjustment to get the correct reading. This is the only real part of the deck setup that requires some patience to get the best out of the combination.
I used the Performance DC with my resident Triangle Titus EZ speakers , Tisbury Audio passive pre and Meridian 556 amp .The phono stages were my Whest  Audio Two and another product under review the exciting Perraux Audiant VP3. The turntable fitted into the system seamlessly and performed flawlessly throughout the time I had it. It is very easy to use which is what Clearaudio aimed to achieve and delivered an exceptional sound. I tried all types of music and every record I listened to did not disappoint . Surface noise was very low , no doubt as a result of the magnetic bearings in the deck and arm and superbly controlled resonances. The cartridge was a real surprise as normally at this price range you would expect the manufacturer to fit or recommend a moving coil which clearaudio make a range of themselves. It is a sign of their confidence and belief that thy have stuck with the Virtuoso V2. I have used and sold a lot of moving magnets in my time and I can   safely say I have never heard a better one .If you had walked into the room and started listening to the deck without the  knowledge that the cartridge was a moving magnet you would swear it was a moving coil, it's that good! One of my audiophile friends came over for an evening to hear the deck and we spent several hours listening in amazement. The combination with the Perraux Audiant V3 in particular was magical and I can say neither of us  had heard my system sound so good before with vinyl. Compared to my cd player a Sony CDPxe3000s the turntable was streets ahead and it only took 10 seconds to decide. This is no disrespect to my Sony which is a fine machine even if dated now, cd just cannot compete with good vinyl unless you pay a fortune in my view.
I listened to 'Carmina Burana ' by Carl Orff ( EMI SAN162 ) Old Spice men's aftershave advert music for those old enough to remember .This is a favourite piece of mine and my wife's as we have both heard it live and she has sung it in concert with her local choir some years ago. The depth in the recording was easy to hear with all the attendant detail of the live acoustics of the church. This is a very dynamic recording so is a great system test disc. The range of instruments goes from the subtle sound of bells  to the great crescendo of the tympani with a full choir providing a thrilling roller coaster of a ride. When the music gets busy with the choir and orchestra at full tilt many systems would baulk at the complexity and information overload but the Clearaudio took it all in its stride. Granted the rest of the system had a part to play in this and the synergy was sublime especially with the Perraux.  'Wish you were here' by Pink Floyd and 'Selling England by the pound'  Genesis both sounded superb and the detailing even in recordings going back to the 70's was exceptional. As I used to tell customers without the basis of a good source component no matter how good the rest of the system was it wouldn't reproduce a great sound . The Clearaudio obviously does this and would be a fine start or upgrade for someone keen to get back into vinyl or start from the beginning. There has never been such a choice of good turntables as now. May the trend continue.
It isn't cheap, but then quality never is. The old adage you get what you pay for is very true here. Recommended without hesitation if you're wallet can take the hit.
Build Quality 9/10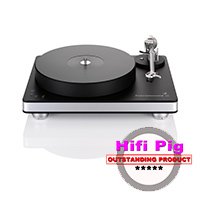 Sound Quality 9/10
Value for money 8.5/10
Overall     8.83
Ian Ringstead
Ian's overall score of 8.83 out of 10 overall means Hifi Pig then submits the item for a second view from another reviewer, in this case Janine Elliot.
To be able to review a Clearaudio Statement turntable would be a dream, as it would be to even afford to buy one. At £89,995 it is not cheap. So, would the Performance DC, at a mere £ 2495, including the arm and cartridge in this review, be even worth taking out of the box? Going by my experience with German Floorsprung Plinth Technique in the past – such as my Thorens TD160 or more recently my aged TD135 – this was, I knew, going to be quite some journey. This modest 11.5kg non-sprung beauty is a beautiful solidly built silver or black curved edged minimalist beauty with an understated black platter made of 40mm deep POM (polyoxymethylene), and a decoupled and resonance-damped DC motor (hence the name) connected to an inner plinth via rectangular belt drive. It might all look a very humble outfit but this turntable is no less important than its biggest brother. Its design is carefully planned, having an inverted magnetic bearing where the inner platter sits atop a ceramic shaft. This has the effect of stopping resonances getting to the arm, and makes for an enviable -92dB rumble. The inner platter on its own will not sit fully down on the shaft, rather needs the main black platter to push it all down. This makes it trickier attaching the belt to the DC motor, but once done this was a doddle to set up. There are three feet which can be adjusted with an allen key to ensure the whole is balanced using the supplied spirit level. Indeed the accessories supplied with this turntable, including white gloves to go with your dicky bow, and the packaging itself, put many other companies to shame. This was a very impressive bundle.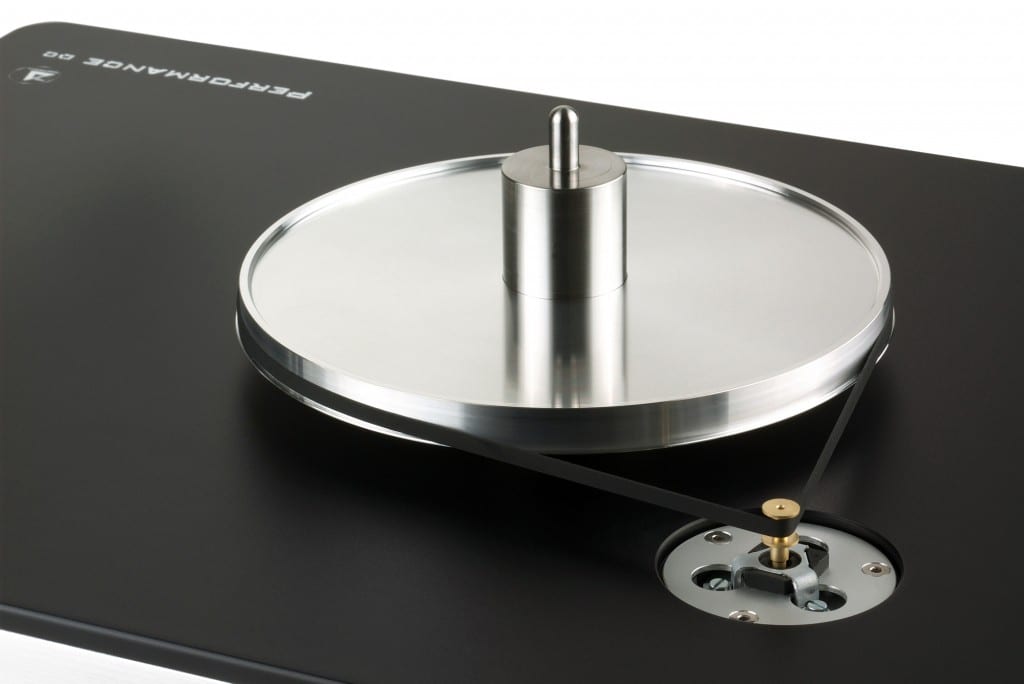 The Performance outfit was supplied with the Clarify arm retailing at £950 and the Virtuoso V2 moving magnet cartridge at £650. My last experiences of unipivot arms were the Hadcock of old, and the Roksan Nima of late. In my youth I preferred the conventionally balanced SME 3s, which worked a treat with the Thorens TD160 as I felt unipivots hard to get just right and looked frightingly wobbly. This 410g arm was a lot more posh, made from carbon, and did take a while to get just right, relying on you using an electric scale as there is no "set to zero and then move the weight clockwise to the correct setting", and the bias adjustment is done from underneath the arm which means you need to lift it up out of its housing to turn the knob, unless you can get your fingers in places you never thought you would ever need to. This carbon arm with magnetic weight adjustment is in no ways' user friendly, but once you accepted its imperfections, it soon doesn't become a problem. Indeed the magnetic design of the counter-weight is very clever and as long as you set up the arm parallel to the record, and have the scales at the height of the record it is very accurate. Only if you decide to play records of different thicknesses (which is very common now with 190g, 225g, 250g etc) you might find a very miniscule change in stylus weight onto the groove. I did enjoy setting this all up, though. The main selling point of this turntable is it having no thrust plate or ball bearing at the base of the main bearing, which means there is much reduced friction and so results in it being one of the quietest turntables I have ever played. Almost all turntable bearings use a metal spindle spinning in a socket, with a small ball-bearing separating the two, but friction will still generates mechanical noise.
The ebony housed Virtuoso V2 worked best for me at 2.1g and sounded as good as any MM cartridge I have had the pleasure of listening to with a brilliant midrange and vocals to die for. The whole combination was quite spectacular with a bass end as rich and powerful as my Garrard 301 that I wished I had never sold.
The Performance DC is priced between the similarly designed Ovation and Concept turntables. The chassis consists of a specific density wood core sandwiched between two massive anodized aluminum plates. A band of polished silver aluminum is then wrapped around the plinth's edges. The DC motor is mounted to the composite main chassis, being well decoupled. The 40mm thick POM platter rotates at either 33, 45, or 78rpm, selected from illuminated buttons on the left. Precision adjustment is possible for each speed via user-accessible trim pots at the back, next to the mains adaptor socket. The unit comes without a lid as standard, nor a record clamp, but these can be bought separately, including the Statement clamp at £500 made of bullet proof wood and stainless steel sandwich.
To the sound, this was particularly good with bass and midrange, playing classics with great oomph. My re-mastered Menuhin Mendelssohn/Bruch violin concertos gave as close to the original ¼" master tapes at Abbey Road Studio as I could get. The only noise was the hiss from the tape, and a few scratches on the start of the LP. I did find the turntable fairly resonant when I tapped the platter, showing the arm wasn't quite so isolated as was the platter. Not a problem as I don't generally tap away on platters, but one reason why I prefer skeleton or solid turntables, rather than sandwiched wood. The original version of this turntable used Starion (an artificial stone), with the next version, the SE, moving to an aluminium/high-density fibreboard sandwich, which the company chose as it produces a better-behaved, more stable platform, and not because it is cheaper. Back to Menuhin, orchestra was placed prominently in front of me with a great depth of field and stereo as good as vinyl will allow. Yehudi played like he was in the room. Turning (as always) to Pink Floyd, the re-mastered 4-record' Echoes album showed authority and energy, with the £650 moving magnet cartridge shouting many pounds more. Indeed, the Ebony clad cartridge with its large protruding aluminium cantilever was the biggest surprise of all. The complete setup was pretty good, but the source of the sound was the biggest surprise. Having been brought up on the Kinks, and playing with second bass player Jim Rodford and at school with his son, I have always followed Argent and The Kinks. So the new album "Working Man's Café" from Ray Davies, The Kinks' distinctive singer, was a great album to play on this gramophone. Tight bass, punchy close-miked lead guitar and lisping voice was not hampered at all in this set up. My Manley Steelhead set at 47,000Ω played with a musicality that 24bits will never replicate. Bass and vocals were excellent, only top frequencies and micro-detail was short of excellent, but, hey, this complete outfit was only £2495, and looking at other outfits at this price this one is up at the top, particularly with its looks. Unlike many skeletal turntables this is duster friendly. It might allow any permutation of black or silver top/bottom and side (which mathematicians will know is "4") I just wish this turntable came in other colours, like red, yellow and blue. Turning to mono, and using the original Ecosse Tru-mono turntable interconnect (see separate review soon) allowed me to hear mono without all the stereo crackles. Indeed, the effect of summation of the stereo crackles reduced into a more acceptable mono (a famous trick used in reverse in those "Karaoke" buttons on Amstrad-eque MIDI hifi players, and later in the Audacity "vocal remover" setting to get rid of the mono middle voice) and allowed more of the music to come out. My precious "Further Studies in High Fidelity" boxed LP (Capitol 1955) gave me a chance to hear mono at its best, and good it certainly was. Some of you will know I veryt rarely play anything mono.
Conclusion; All in all, a gorgeous curvy looking turntable at a price that anyone serious about vinyl should be looking to start at. Everything was there, apart from a record clamp, and I liked it a lot.  What's more, you can always tell your friends you have a Clearaudio Statement's little brother.
Sound Quality – 8.6/10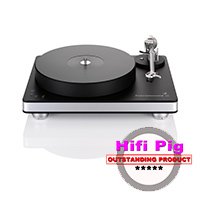 Value for Money – 8.65/10
Build Quality – 8.7/10 (particularly the arm and cartridge)
Overall – 8.65/10
Janine Elliot