Believe me, big doesn't always have to be best. Whilst the Copenhagen High-End Show is petite compared with a number of the biggies out there, it still is one of my favourites and none the less entertaining, full of Scandinavian hospitality even if the Autumn weather is less than welcoming. The show is full of local products that deserve to be known across the world. Situated in Copenhagen, the capital and most populated city on the eastern coast on the island of Zealand, it has grown year on year since its beginnings in 1992. It has taken place at the Clarion hotel for six years now, a wise choice since it is situated right next to the airport and Metro links.
Readers may remember I attended the show last October, and was highly impressed, despite its diminutive size. This year visitor numbers were around the same but with more for them to see, all despite accruing at the same time as the Ascot Show in England, which might have had an effect on numbers. Luckily there were British products at the show as well as those from around the world, presented by both distributors and manufacturers. I particularly wanted to report back on the manufacturers from Norway and Denmark. It was good to see some new faces as well as those appearing last year, though some notable companies were missing, such as Dynaudio, and it would have been lovely to see Bang and Olufsen, even if it is just to see their huge £58K Beolab 90 loudspeaker or iconic retro beer opener.

Arriving at the Clarion I was swiftly welcomed by the head of the show Thomas Sillesen. His experience in the world of Hifi is second to none; firstly, importing Onix in the 80's, then starting up Densen in 1988 describing his position there as "Head Honcho". He also began a High Fidelity magazine.  Being responsible for the Copenhagen show for a number of years now he not only wants it to be more internationally flavoured but also to promote Scandinavian products.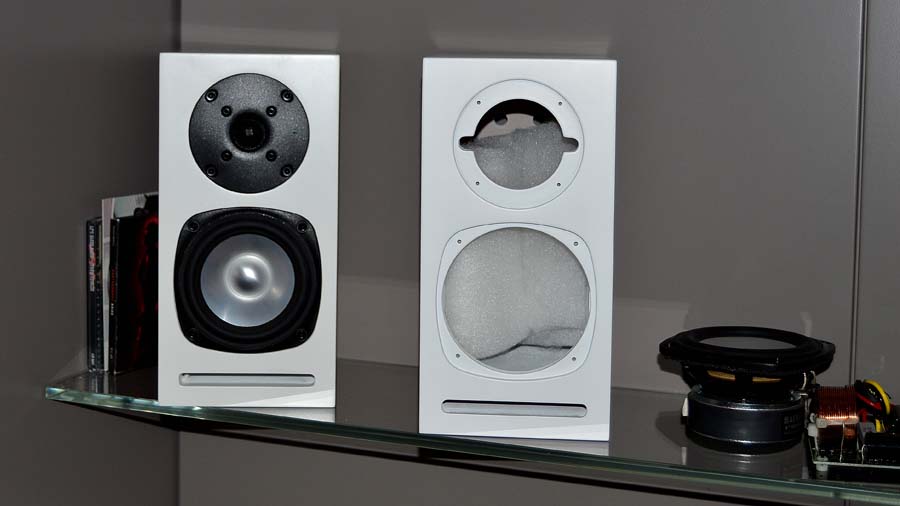 My first visit was to SB Acoustics, a partnership between an Indonesian company – where the manufacturing is done – and Danesian Audio, an engineering company in Denmark, all started in 2006. They produce DIY kits complete with the drivers, and I was very impressed by the sound of their miniature Micro C, available in "Orange Lambo" at 4000 Krona (that's around £460). Using a 4" mid-woofer and ¾" dome tweeter this produced more gusto than its size (262x132x170mm) and price tag suggest. Frequency range was surprisingly good for the size of the front-ported cabinet, ranging 68-28000Hz +/- 3dB. The company produce a range of 8 different speakers from the Micro kit to the floor-standing Rinjani.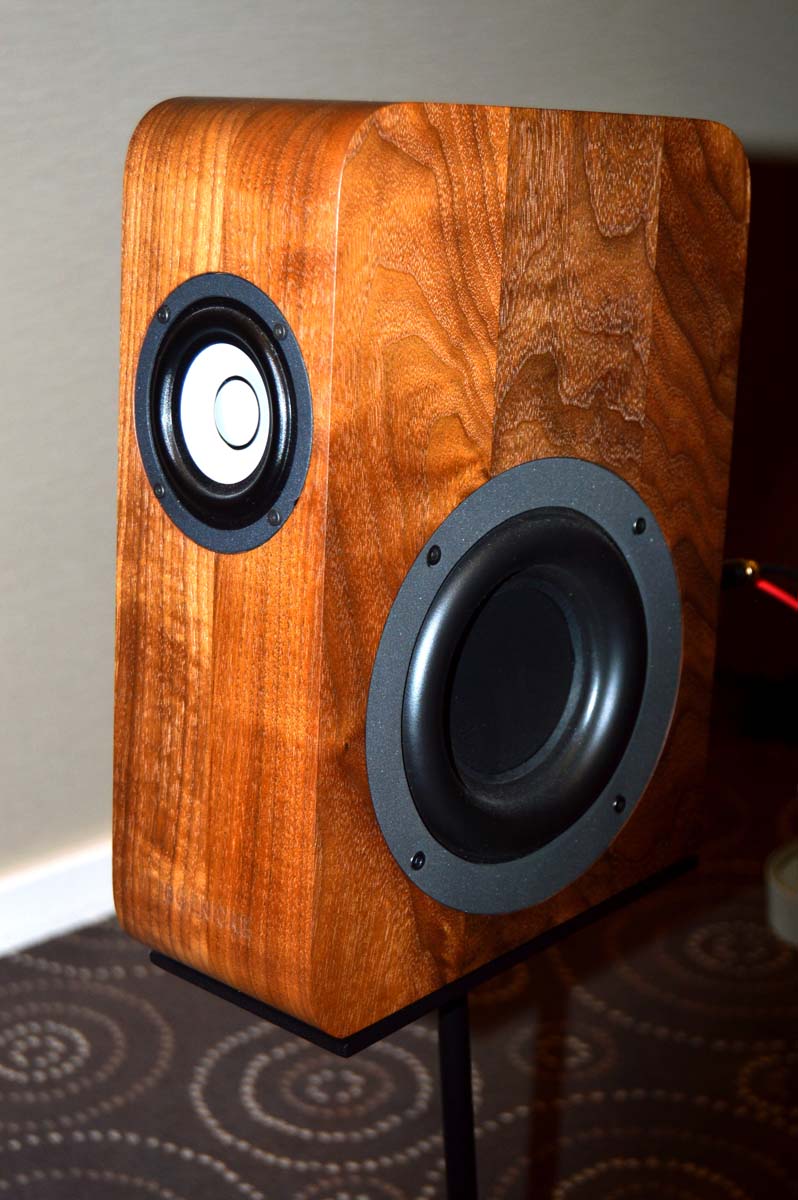 Even smaller was the Boenicke Audio W5 SE+ . Swiss made miniaturisation, this loudspeaker has front-facing tweeter and side-firing midwoofer, plus a rear port, all squeezed into this beautiful baby, just wide enough to place the set of sockets at the rear. At the other extreme on show in the room was the Tune Audio Anima horn loudspeaker with a massive 15" woofer and 5" mid and 1" compression driver with neodymium magnet and titanium diaphragm for high frequencies.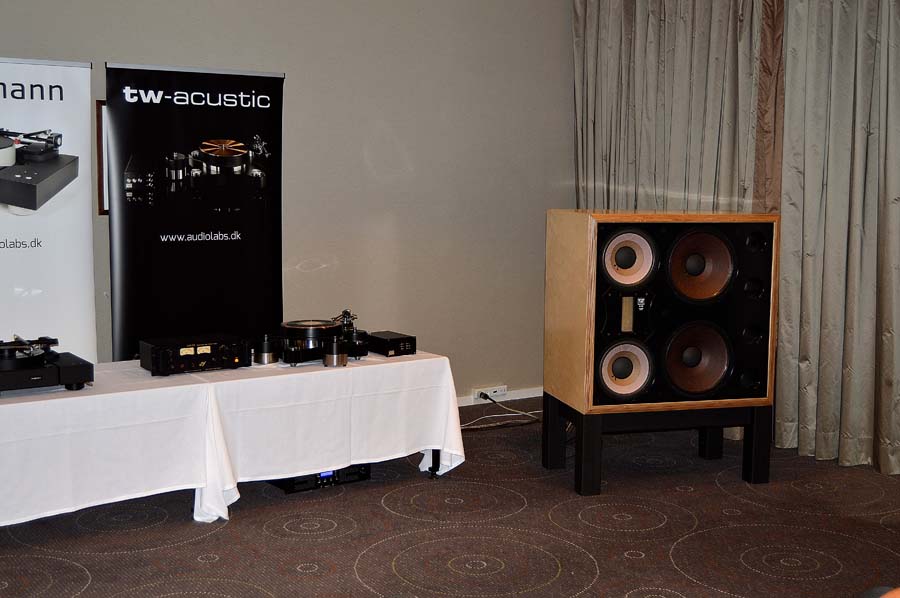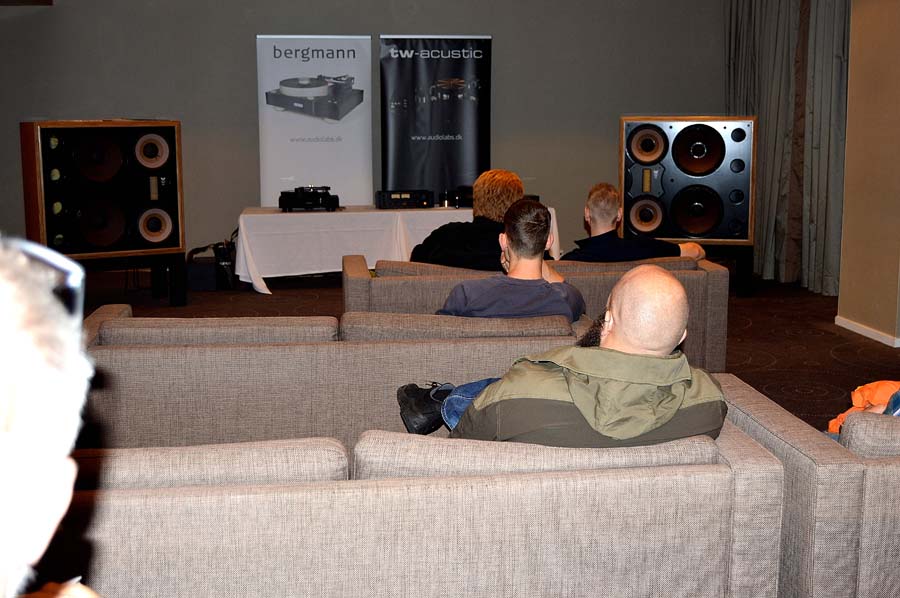 I didn't think things could get any bigger until I walked into the SA room. SA stands for Stage Accompany, which explains why we were all being blasted by the twin paper cone 15" bass, twin 12" mid and patented SA ribbon compact driver on this gigantic SA59. The sound from this 1977-formed and Holland-based company was surprisingly good, though I never like to listen to music at supersonic levels. Some manufacturers play their speakers too loud at hifi shows and they sound awful at these levels, but the SA59 was suitably controlled and musical. Mind you, you'll need a massive living room to fit these monoliths in, plus understanding or deaf neighbours. What is impressive is their specially made tweeter that can reach up to an excessive 142dB due to the patented cooling "AIR-system". The price of €22K per pair is, however, not quite so excessive.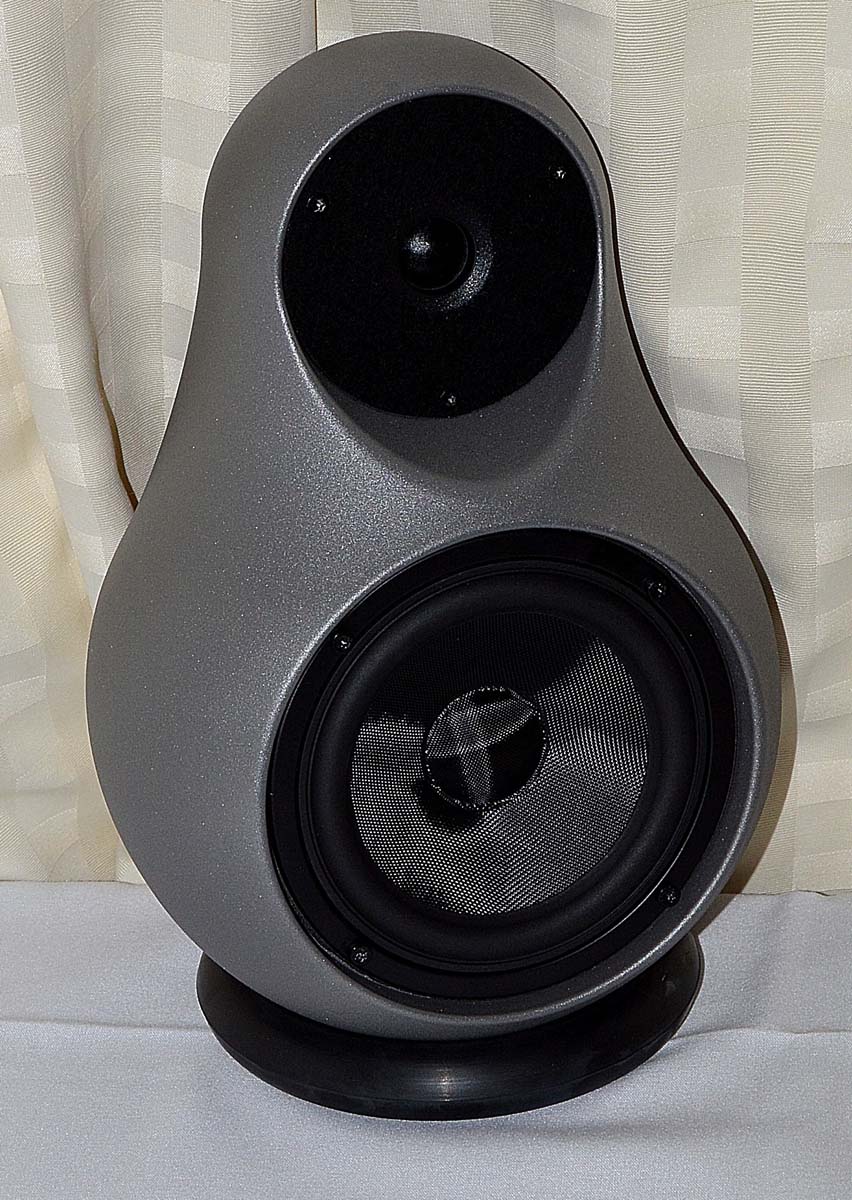 Last year I reported on Jern's Minion styled cast iron speakers. Many will not know that the company produce much more than speakers, producing manifolds and other iron parts for cars including BMW M5 and McLaren. CEO Ole Lund Christensen showed me the heavy manifold that the casting company manufactures, and I could see just how critical the casting needed to be, not just for cars but also his speakers. He chose his speakers to have a cast-iron cabinet not just for its strength, but also because it doesn't vibrate; "wood and aluminium just won't shut up". Ole told me that he finds it harder to build smaller speakers such as the lovely JERN 11 than larger products;
"Big speakers are easy to make than small speakers as all the units are already made. But the JERN 11 was harder as I had to get them specially made".
Ole is not new to the audio business, having sold GamuT Audio in 2003 and designing the control room at the famous PUK Recording Studio.  Interestingly, with all his automotive work as his main business, he told me "Hifi is just a hobby". Well, a very important one I'd say. His speakers are exceptional sounding and pretty cute, too. Read our review of the Jern 14EH loudspeakers.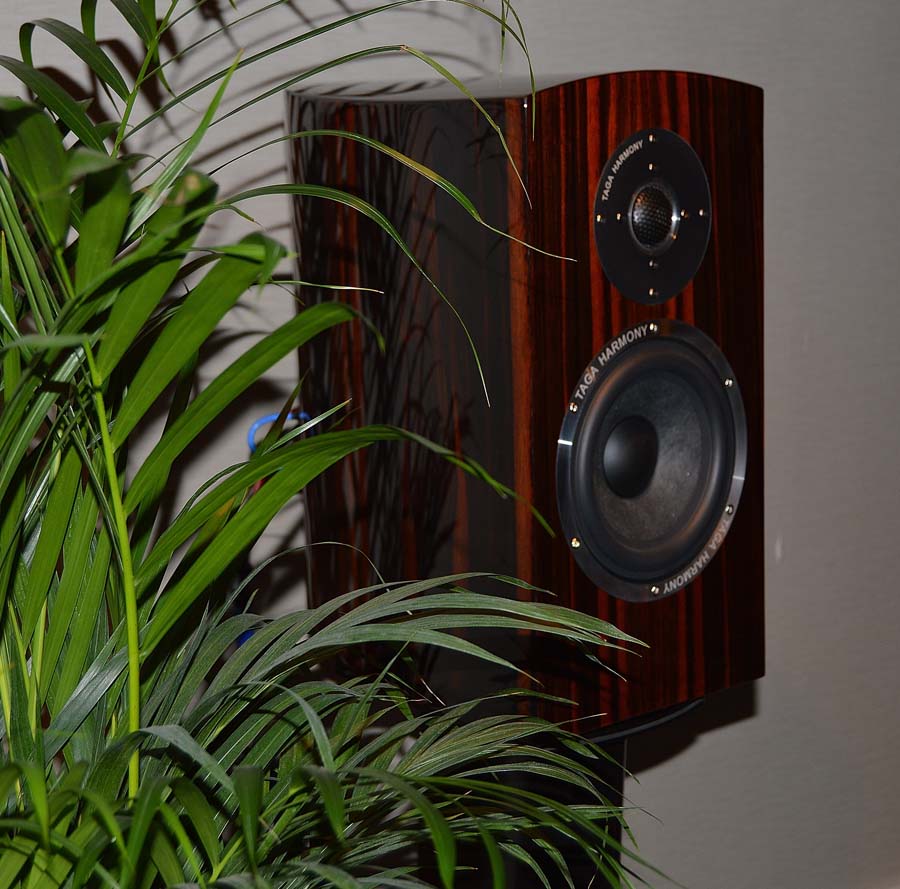 One of the best sounding rooms was the Diamond B60v2 loudspeaker from TAGA, a Polish company who get them made in China. At 20,000Kr this is surprisingly cheap for the sound and build quality. The sound was rich in the midrange with excellent top end plus a detailed and airy soundstage. Studio Sound hifi shop in Denmark presented the speakers with Auralic streamer, NuPrime amplifier, the whole lot coming in at around £5000, which isn't a lot for the sound.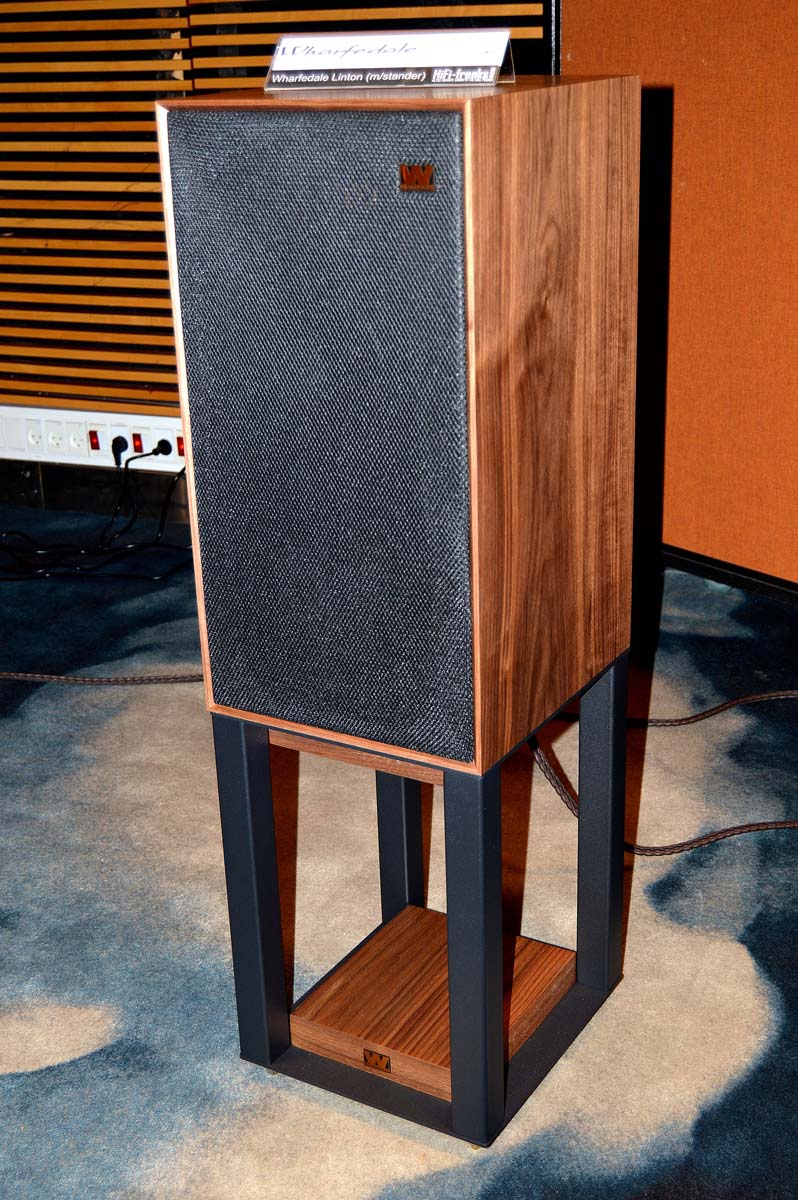 The biggest room at the show housed some old favourites from the hifi world; Stax Earspeakers, Mission, Audiolab separates and an amazingly powerful sound from Wharfedale and Quad. Wharfedale is one of the oldest hifi brands in the world, set up in Yorkshire in 1933. Having celebrated 80 years of production with a special version of the Denton, they have now marked 85 years with an 85th anniversary Linton. Whilst the cabinet looks very much like the original of 1965 though slightly larger in dimensions, the design is far from the same. Keeping a large baffle size was very important, since the bigger the baffle the more the mid frequencies, something known as 'baffle step'. As the baffle size decreases, the point at which the acoustic radiation changes from hemispherical to spherical goes up in frequency. Simply put, that means the sound is brighter and thinner sounding in the midrange the narrower the speaker, compared with a speaker with a more generous baffle. So, the designers came up with large baffle and efficient drivers. The Linton has an 8" woven Kevlar bass, a 5" woven Kevlar midrange housed in its own internal enclosure, and 1" soft dome tweeter. The design of the cabinet is also unique. Energy created by the speakers tries to exit the cabinet; MDF cabinets tend to resonate as the sound easily passes through due to the uniform size of the particles, adding colouration, but chipboard takes a longer time to exit, so the designers have created a sandwich of Chipboard inner (for rigidity) – MDF middle – chipboard outer, forming a lossy path for the sound to pass through. Also, due to the proud chamfer of the front edges of the cabinet which make it hard to remove the front grille, they have designed the speaker to sound best with the front grille in place. The grille also is designed to keep reflections away from the edges. The sound created from this 21st century Linton is far improved over the 1965 original. The speaker worked very well on any kind of music thrown at it, and it is also fairly sensitive (90dB 1W/1m). It had an excellent soundstage, surprising everyone coming into this massive room.  What is even more surprising was the cost; just £999 plus the stand. That stand perfectly matches the speaker well and is even the right size to fit your 12" records.
A more unusual loudspeaker appearing at the show was the Bayz Audio Counterpoint. Looking like the end of a trombone this fibreglass speaker from Hungary has two woofers made from Egyptian papyrus pointing vertically to create a 360-degree sound sweep, with a 360-degree tweeter sandwiched in the middle. The tweeter is their design having no break-up modes and being omnidirectional past 20KHz. The speaker comes in at $60,000 or $97,000 for the carbon fibre version.
This show would not be complete without products from Densen, a company I have followed over the years, largely because I love their minimalist design. Their new Dino amplifier is €1500 of pure AB design, with Class A all the way to 4W followed by Class B to 60W. The clever internal ergonomics not only allow the toroidal power supply to sit nicely inside, but the PCB to simply slot inside. This allows easier assembly and, as boss Thomas Sillesen told me "…so you pay for electronics and not Danish labour time". To keep heat down the fins at the sides are angled slightly upwards, following the direction that the heat goes. To supplement this midi size unit is the €2500 Oxygen Cast streamer, due out on January 1st 2020. This lovely box has two PCBs, one for the DAC and one for the streamer, meaning that the DAC can be easily changed or upgraded as and when necessary.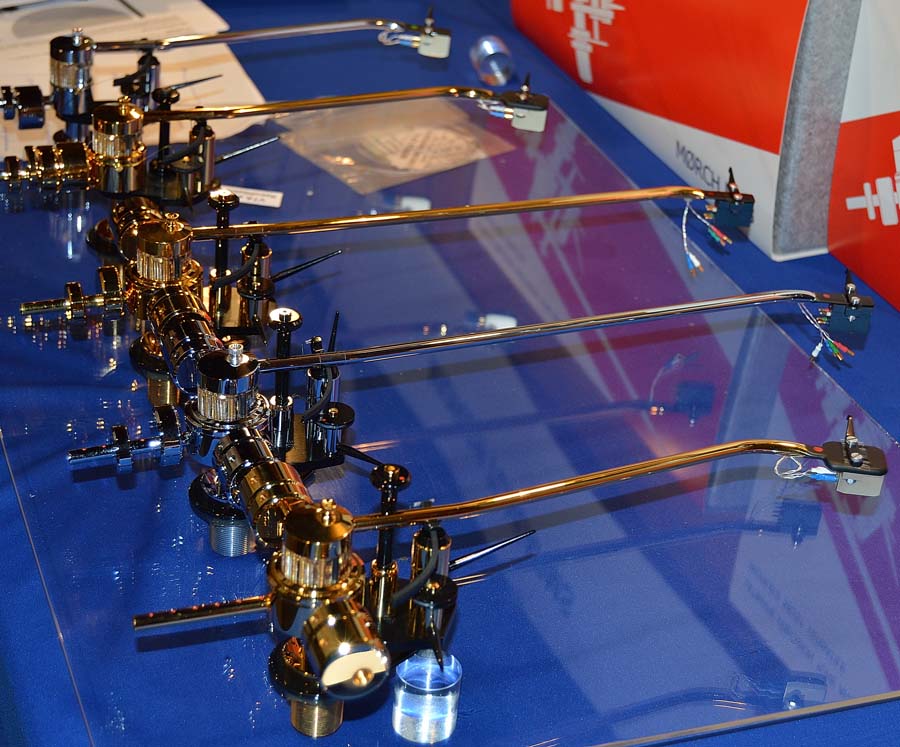 MØRCH was again at the show, showing off their award winning 9" and 12" tonearms. The innovative design has the counterweights positioned low to match the pivot point. Each head-shell is colour-coded to indicate different weights, meaning they will work best with different cartridges. The beautiful DP-8 was amongst the set of arms in the line-up, coming in at $5895 in gold, and is well respected for its capable tracking of bass content.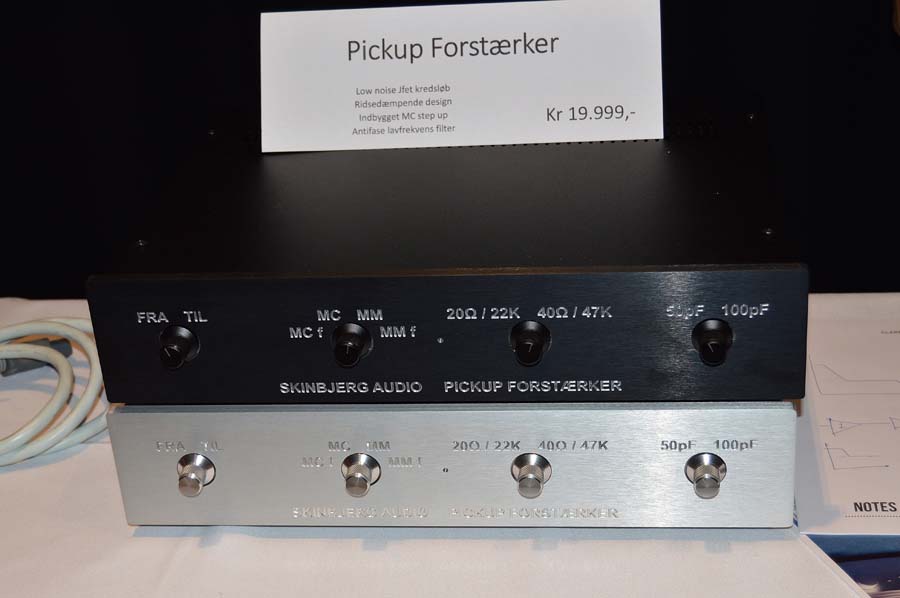 It was good to see a phono box with controls on it that can be easily adjusted on the fly like my Manley Steelhead (which incidentally was also on show at Copenhagen). The Skinbjerg Audio phono-stage is the work of Henrik Skinbjerg, available in silver or black, a MM and MC EQ unit with enough controls to suit most cartridges (MM 22k/47KΩ, MC 20/40Ω). The unit uses JFETS because, as Henrik informed me, "it has the clarity of transistors but organic sound of valves". The design includes a separate step-up converter to keep down noise, plus an antiphase low frequency filter.  "Rumble noise is in antiphase, therefore make it mono in the low frequencies" to eliminate it. What is very interesting is the way he filters the bass and treble to create the RIAA curve. He claims it doesn't amplify scratches as much as others. His scratch damping design starts by EQing the top frequencies and then the bass, rather than starting with the bass and then the top. The phono-stage has two load impedance settings for MM and MC which should match most cartridges. Coming in at 19,999Kr this is a model worth listening to.
No show would be complete without a cable manufacturer, in this case, a husband and wife team from Norway. As they told me "No magic, just magical". Despite the company name the proprietors are Christians and don't believe in magic, so are considering a name change. Whatever the name, the cables are excellently engineered with gold or rhodium plating, 4% silver solder used throughout, and 72 hours burn-in before you get to try them out.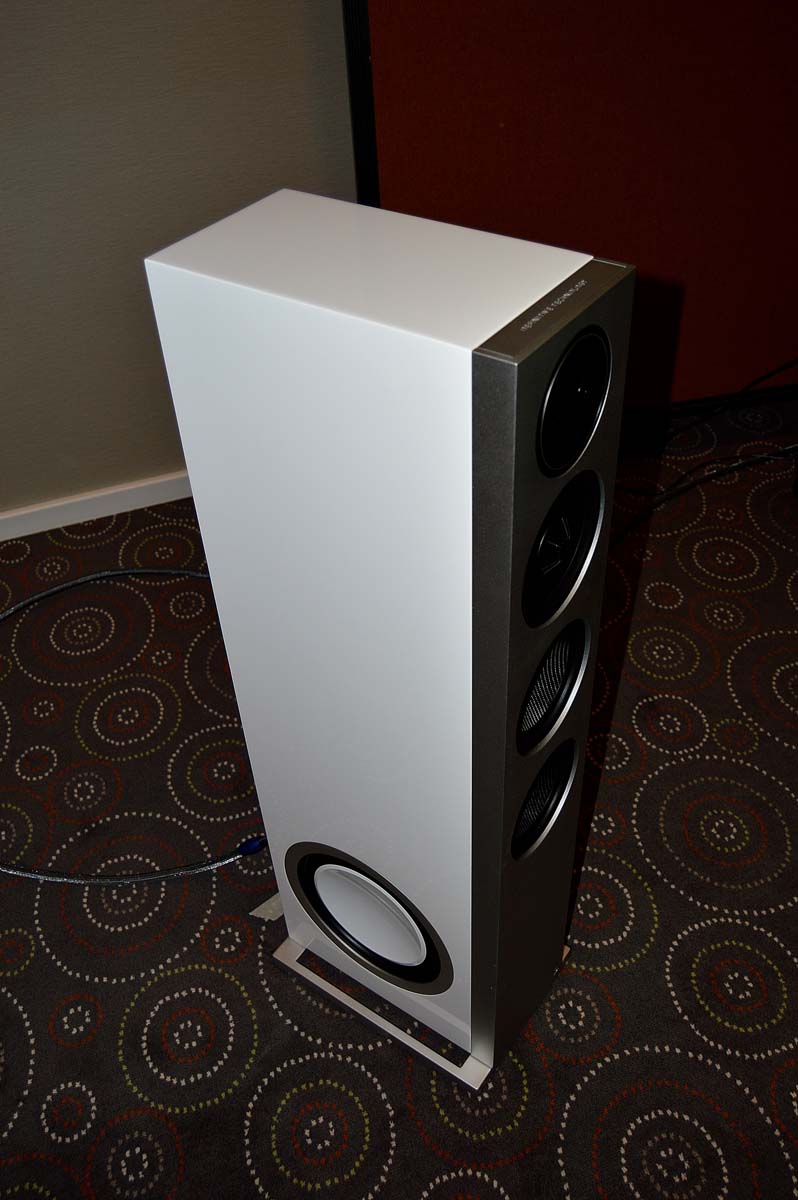 Other companies included Definitive Technologies, better known for their home theatre setups. Their powered speakers provided a very able performance, with 2 PP1980's, 2 PP1960's, and a centre speaker including the subwoofer. Not that you need the sub with the PP1980's going right down to 16Hz. Definitive Technologies also appeared in another room combined with their passive D17 and D15 floorstanders. These speakers have a completely closed cabinet with passive bass radiators at the side.  All this was powered by the brand new Marantz PM7000N, the company's first Current Feedback integrated Hi-Fi amplifier with HEOS Built-in technology (so you can enjoy wirelessly music in any room of your home). The PM7000N can decode hi-res audio ALAC, FLAC and WAV lossless files up to 24-bit/192-kHz and DSD 2.8MHz and 5.6MHz tracks. All this is powered by a toroidal transformer and a high-speed instantaneous current power supply.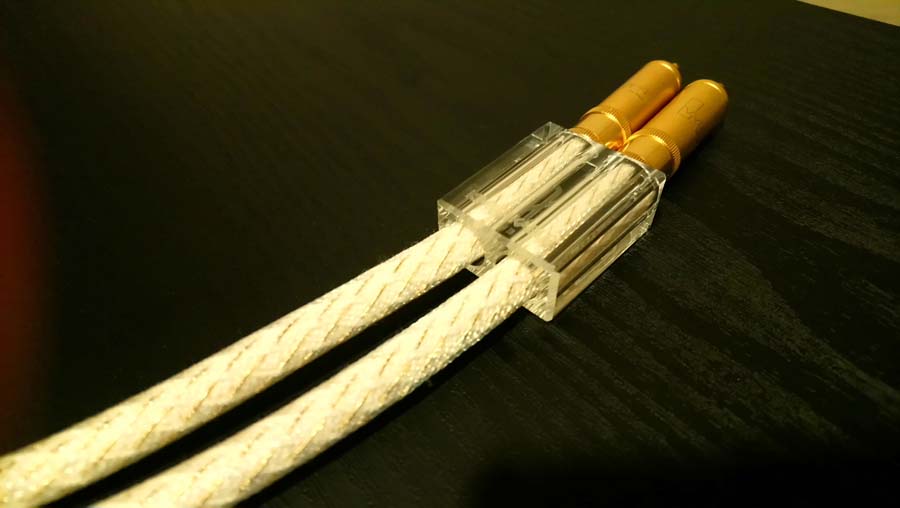 Kimber Kables were in situ at the show, showing off their excellent woven cable architecture. Notable was their $10,000 Naked interconnect, a very distinctive cable with interleaved earth and hot wires on the outside and a cotton-based air dielectric in the centre. Each gold connector is inlaid with an opal and ruby stone. The design lowers inductance creating a wider bandwidth and lower noise, therefore more dynamics.
Of the rooms on the second and third floor, of note is the excellent Cambridge Audio Edge system married with Triangle Signature A speakers, giving a warm and very musical performance. Hifishark presented their search engine for the HiFi community and Hegel from Norway playing into a B&W 803. Their new H120 is a class AB amplifier offering 75 watts per channel. It has a huge 2000 damping factor and provides network streaming as well as SPDif and Toslink connections.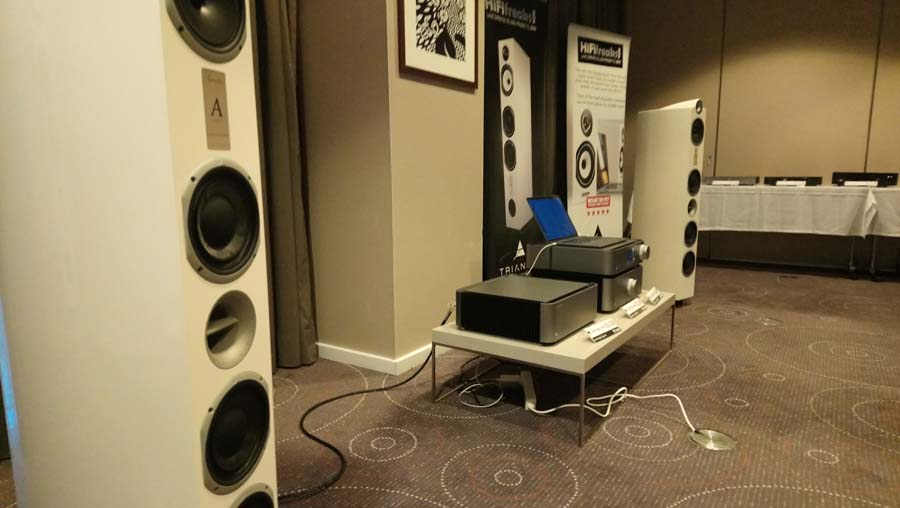 Audionote were in attendance as last year with cellist Vincent Bellanger playing live, and they were generously giving away jumpers and fleeces. Apart from Audionote there were no "freebies" from any of the companies, so no Haribo's and pens as I walked around the Clarion hotel.  But the general mood as I walked about the show was very positive. The arrangers of the show with Hifi-freaks.com, did provide excellent accommodation and food for the press in attendance. Danish food really is special! I must thank them so very much for inviting me to the show and hope that my words will encourage audiophiles across the world to make their way to this excellent show next year. This really was a special show and I look forward to returning again.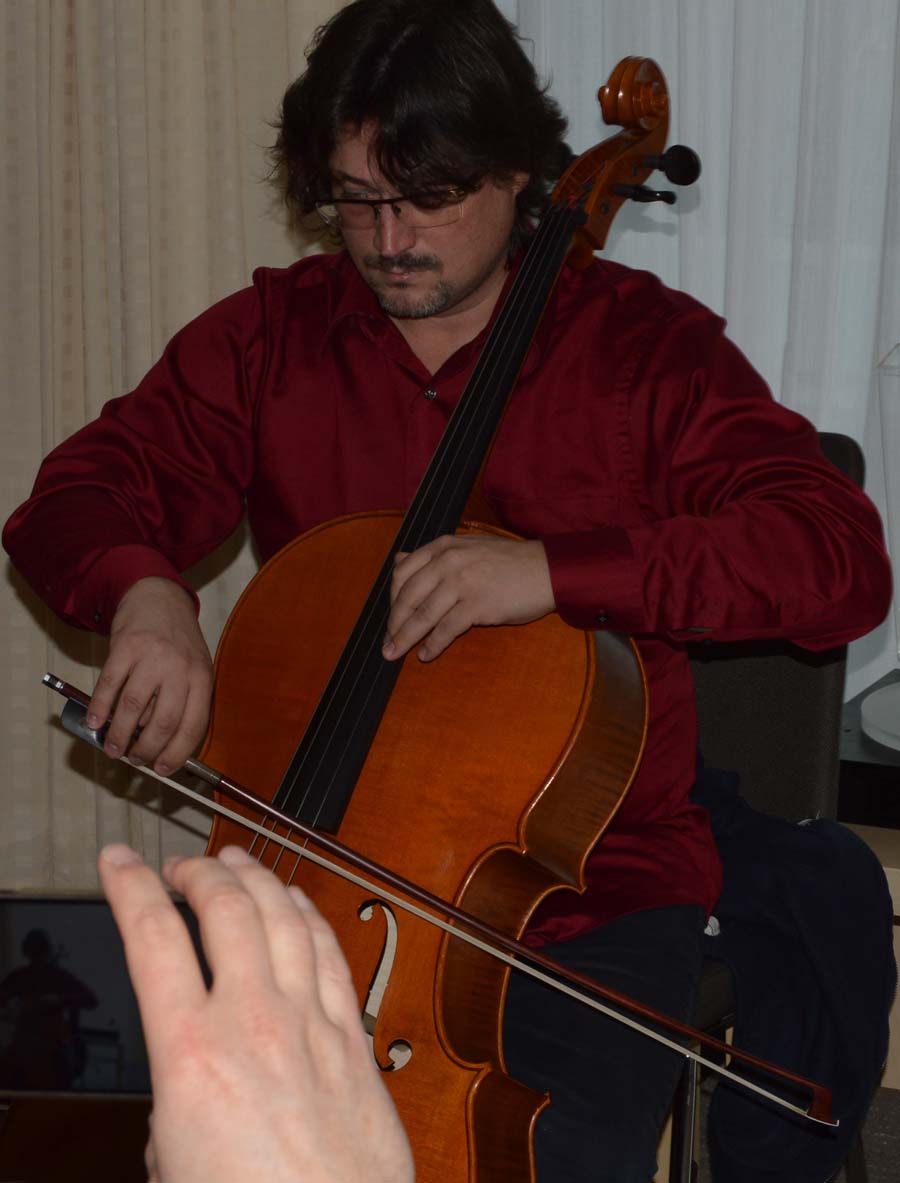 Janine Elliot
Ian Ringstead's report from the show will follow shortly.