Costing £1998, the DAC215 from Danish manufacturer Copland is a combined DAC, preamplifier and headphone amp in one good looking unit. Janine Elliot takes a listen for Hifi Pig. 
I initially got excited about Copland when I first heard their CDA288 CD player in 1996. Producing a series of amplifiers, CD players, and even the unique DRC205 room equaliser, all their products have a distinctive musical performance and looks (particularly the use of rotary hat knobs) that set them apart from others, and I get interested every time a new product is released, not something I can say for many companies out there. The DAC215 at £1998 distribute in the UK by Absolute Sounds is no exception.
DESIGN AND FEATURES
Available with silver or black facia, and looking like a retro 1970s kitchen radio that would grace any NEFF equipped designer room, the only thing this cooks up is an hors d'oeuvre of sweet music.
Copland is a Danish company founded in 1984 by Olé Möller, based in central Copenhagen. His professional career began at Ortofon, another major Danish company, where he specialized in low noise amplification of the minute signals from moving coil pickups. Always considered a class act they now work particularly with valve separates that regularly win praise in the press.  With a series of 6 products in current production, they only bring out a new model after years of engineering and listening tests.
This product uses the highly regarded ESS Technology ES9018 Reference Sabre 32Bit DAC, a product finding itself in a number of DACs and hi-res players. In the DAC215 it is configured in quad-mono, meaning that 8 mono channels are converted into two stereo. By combining four 'in-phase' and four 'opposite-phase' converters per channel, it works like a balanced power supply and adding the two together helps to reduce noise, therefore giving exceptional signal to noise ratio.
With PCM sources up to 384 kHz at 24 and 32 bit, and DSD 2.8-5.6MHz (64,128 and 256) this unit can cater for pretty much anything thrown at it. With a collection of USB, S/PDIF and Toslink digital inputs, plus an RCA analogue input, it can be used as a complete preamp to connect to your power amplifier with its high quality volume control. It can also be used solely as a DAC to be fed into your own preamplifier, missing out the Class A amplifier stage completely. For this review I tried both outputs, arriving at different pairs of RCA sockets at the rear, using MFA Baby Reference pre-amplifier and Krell KAV250a power amplifier. Sources came from a laptop using the Amanero USB driver and Foobar, or else digital output from a Fiio X5.
The asynchronous USB input converter module has its own regulated power supply and power transformer, meaning that a computer's power isn't used and the noisy output is isolated. Once connected, the computer recognizes the DAC and routes the digital audio data to it, bypassing the source device's internal audio circuitry. There are two Toslink and one S/PDIF input, all three allowing 44.1 – 192kHz and 24/32bit. On top of this there is a pair of RCAs for the analogue input as well as the two sets of RCA outputs.
The front panel is distinctive with its radiator, which not only allows ventilation but also shows off the two ECC88/6922 valves, which are additionally lit up by a red LED behind (though should you wish to turn this off you can open up the unit and press a button).  The design of the DAC means these valves are running at around 20% of nominal power, which will extend their life considerably, valves having a limited life span; one of the reasons we went for transistors in hifi back in the 60's, though, as any audiophile will testament to, the valve is as important to today's hi-end hifi as the klystron is for high power radio frequency transmitters, the magnetron is in your microwave oven, and dare I say any owners of CRT tube still out there. Olé uses tubes as he considers that so far "they have not been surpassed as active devices in high-end audio".
The minimalist approach extends to there being no infra-red remote. It is not needed. To be honest it is great to have knobs and switches to play with. To power-on there is a switch on the far right. No need to finger around the back to hunt for a rocker mains switch. On the left of the front panel is a switch, which in the up position lights itself up in red, the amplifier section is bypassed and DAC analogue output via is directed straight to the DAC Left and Right output RCA sockets. In the down position the light is green and the amplifier circuitry in the DAC215 is engaged allowing you to use the volume control and also using headphones, plugging into the ¼ inch socket at the front. The DAC analogue output has a quoted frequency response of 20-20,000Hz +/-0.2dB, though is flat to 70,000Hz, with S/N ratio of 120dB. The Head amp has a better quoted frequency response (20-100,000Hz +/-0.5dB), though gives a much more rounded response up to 250,000Hz at -3dB, and with a powerful bass end, and highly respectable S/N ratio at 90dB. The class-A buffering technology of the analogue filtering sections, composed of discrete transistors, is borrowed from their CD-players, which provide an unfettered and agile sound that belies the small torso of this little monster.
SOUND
On switching on the green/red lights flicker until the complete unit is ready to play music. Initially I used the unit as a preamp using the amplifier circuitry. Playing Pat Matheny, Steve Reich Electric Counterpoint 32Bit 176kHz FLAC I was instantly aware of a warmth, clarity and detail that was immediately interesting in a monotonous minimalist musical recital. The Clockwork Orange main tune from Wendy Carlos (32Bit 176kHz FLAC ) was profound and full of 1960's analogue Moog synthesiser fanfares that worked better through the Head amp than as a straight DAC output into my MFA preamp. Through the DAC output the sound was a lot more precise but lost some of the melodic euphoria that the valve stage added.  Indeed I found this with a number of hi-res files I played; where the DAC output was much more precise and accurate, it didn't give me as much of an emotional outcome as through the pre amp stage.
Pink Floyd's Endless River is the epitaph of an endless foray of musical landscapes since 1967. The final track on this album, "Louder than Words", is for me one of the greatest tracks they have ever produced. Musically, that is. It sets me crying every time I hear it, though I wish the main chorus section was repeated and developed for longer before petering out into the blue yonder, which in my opinion therefore seems to end way too soon. This album is, however, not that good acoustically. The vocal backing is highly digitised, and listening through the DAC215 shows just how off the mark this recording is. However, the valve stage seems to get it under control and make it human again, whilst still retaining all the detail. I recently remarked in the Clare Teal/ Syd Lawrence Orchestra album about the 24/192 backup recording being ditched and instead the reel-to-reel backup then being converted to 24/192 as that sounded so much more musical. There needs to be a link between musicality and technological 'tops'; something the early Philips CD101 14Bit CD player, like several others, proved could be contradicted so well. Even Russ Andrews recently commented that ditching 16/44.1 CDs is perhaps too premature; a correctly mastered CD can still sound excellent. And whilst the highly regarded and complex ESS Sabre DAC is 'tops', I still needed to put it through the valve stage to humanise the recording, largely because the MFA preamp is so acoustically transparent. Interestingly when fed to a less transparent class A/B pre/power combo, the DAC output was preferable. So, it's good to have a DAC giving you the choice of selection.
To add confusion, in some of the music I played the Copland DAC output was actually favourable to the valve stage. If only there was just one set of RCA outputs and you could switch between direct/preamp on the front without having to fondle around the back to re-plug the leads every time. There is much difference between the two outputs. Through the preamp stage the bass is particularly warm and inviting, adding power and emotion when needed, whereas through the DAC direct output it is precise and quick. And whilst this was the more perfectionist route, and ideal if you already have a preamplifier, it often left me wanting and, more importantly with my favourite Pink Floyd track, not crying. If this really is the last track Pink Floyd put to digits or vinyl, then it really does need to sound special. My own album 'Get Over It' was similarly more human through the valve amp, with a greater bass end and mid warmth.
Now, some will prefer the detail and accuracy invited from the DAC output, and playing Linn's Berlioz Symphonie Fantastique it had an immense detail front and rear as well as positions across the sound stage.  This recording is the Scottish Chamber Orchestra's debut recording with their new principal conductor Robin Ticciati, and a monster of a performance.  The 4th movement particularly had immense dynamism, and bass prowess and crisp tops that weren't exaggerated in any way. This was precision and power that Hector would have appreciated hearing, had he still been around. The DAC output won it for me on this occasion. Even a lower quality 16bit/44.1kHz wav file of Ralph Vaughan Williams London Symphony played with a passion I didn't expect to be so compelling. The 2nd movement left me in tears. Definition between the strings extended the boundaries in my living room, giving a large soundstage with meaty bass from Timpani rolls when needed.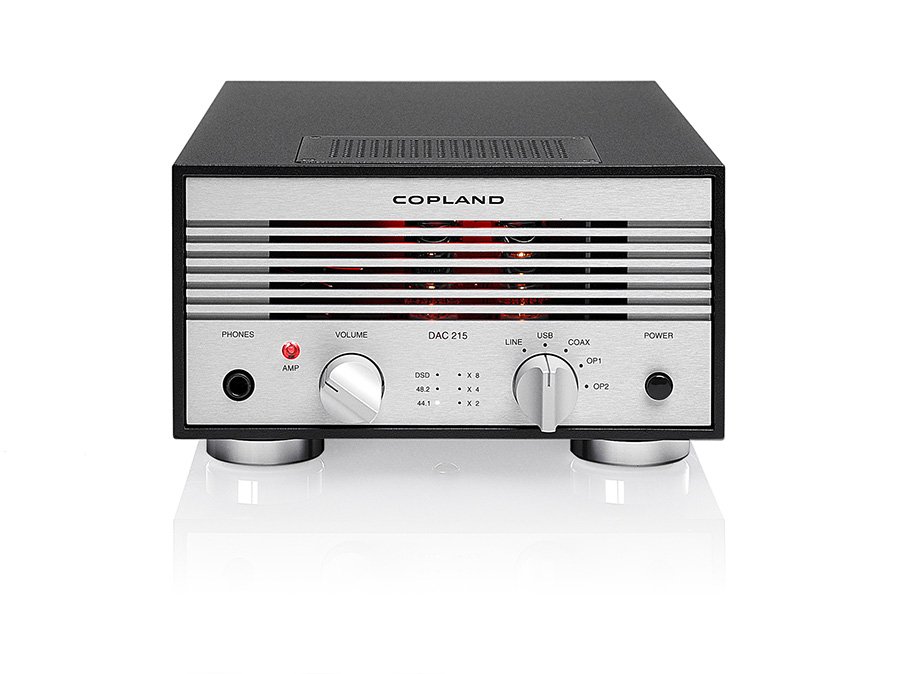 I was torn between favouring exactitude or emotion, spending many hours considering both options, and I have to say the latter won it for me. Having another preamplifier stage might seem pointless since my reviewing fed through the brilliant MFA Baby Reference autotransformer, but the overall sound was much more pleasing to me, and hence this unit stands as a great preamplifier in its own right.  The sound was on the warm side of neutral, and this gave me a much more natural sound than was from the DAC output, which at times could sound a little clinical. Indeed, the valve-stage sound reminded me of the warmth and musical understanding in the Copland CD player that I almost bought many years back.  This great product gives you a choice of how you want to use it, and if you don't have a preamp, then this is a good analogue and digital input control system in its own right.  Used as a headphone amplifier I was of course using the great valve stage, and this gave enough grunt and clarity for my HD650's let alone the bass-generous Meze 99 Classics I also tried. The sound was highly infectious, and will work well with inefficient planar as well as conventional headphones.
CONCLUSION
The DAC 215 is a very special addition to the Copland family, filling a gap in today's hifi bucket list. This product allows all the important digital formats, an essential condition of purchasing a converter, adding a touch of analogue musical finesse through the valve stage, just like the new Rolls Royce SUV maintains that Phantom style and luxury. This machine could do so with 24/32bit FLAC and DSD sources without any sign of difficulty, that I seriously considered investing in one myself. It's minimalistic, simplistic design hides some clever circuitry inside that sets it above many DACs I have had the pleasure/displeasure of playing with over the last few years. Having a choice of two output philosophies makes it all the more appealing.
Highly recommended! 

AT A GLANCE
Build Quality:  Minimalist, well-built design.
Sound Quality:  Much detail and unfettered control, and a musicality, especially through the preamp stage, that made listening to all types of music fun. Works well will all PCM/DSD sources. Excellent headphone amplifier.
Value For Money:  With a price of £1998 this is excellent value, bearing in mind the amount of work this gentle giant can do, serving as DAC, headphone amplifier and preamp
Pros:
Immense musicality and detail
Minimalist good looks and ease of use
Choice of DAC or preamp outputs
Works on all music genres and recording forms up to 384kHz 24/32 bit FLAC and DSD 2.8-5.6MHz (64,128 and 256).
Good to have an on-off button on the front again!
Cons:
Just wish there was one set of RCA output sockets
Some might not like the facia styling
Price: £1998
Janine Elliot
SPECIFICATIONS
DAC:
USB Audio: PCM 44.1~384K (24/32bit)
DSD 2.8~5.6MHz (64~128X)
S/PDIF Input: 1 x COAX / 2 x Optical
PCM 44.1~192K (32bit)
RCA. 2.0 V rms. @ 0dBFS
SNR DAC > 120dB
THD < 0.004%
Head Amp:
Valves: 2 x ECC88 / 6DJ8 / 6922
Output: max. 8.5 V rms
Output impedance: 5.0 Ω
Frequency response: 20Hz~100 kHz (+/-0.5dB)
SNR: 90 dB
THD < 0.02%
Gain Head Amp: 10 dB
Power AC 110~120V or 220~240V
Power Consumption: 25W
Weight: 3.8Kg
Dimensions: 200 x 280 x 115 mm. W x D x H