Earlier today Hifi Pig ran a breaking news item about the new Cyrus 30th Anniversary Edition system and we have now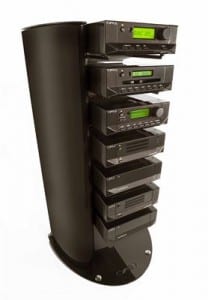 managed to snoofle out further information about the system from Cyrus as well as a photograph.
The new system will comprise of the following individual items:
CD XT SE2
For the Anniversary Series version of the CD XT SE2, Cyrus has made a number of changes including the addition of new AC and DC power filtering, plus additional motor control stage filtering elements.
Stream X2
The Stream X2 represents the top model in the company's range and is a music streamer and internet radio source. To improve performance over the original, Cyrus has added new power supply power filtering and made improvements to the chassis to minimise resonance and the unwanted effects of microphony.
DAC XP+
The DAC XP+ with its built-in preamp has seen an extensive improvement programme in the Anniversary Series. Its DAC chips have been upgraded to 32-bit resolution running in fully balanced operation and there have been numerous changes to the power supply including: upgraded power transformers; extensive new power filtering and improved smoothing on the DAC supply; new 'short path' analogue input switching stages plus an updated XLR output design, providing a purer balanced output circuit.
Mono X 300
The Mono X 300 is Cyrus's most powerful amplifier to date and with its zero-feedback design it gives 300 watts. The Anniversary Series updates include a replacement input buffer op-amp with a higher slew rate and higher gain bandwidth, for a "smoother high-frequency response" plus additional power filtering to reduce electromagnetic interference across all supply voltages.
PSX-R
The PSX-R is said to provide an extremely smooth and stable DC feed, "the PSX-R enables the DAC XP+ and CD XT SE2 transport to reach their full potential" and in this Anniversary guise, includes new AC and DC power filtering which reduces noise across output supply voltages.
Hark II rack
The Hark II rack is a stylish addition to any Cyrus system and is included within the Anniversary Series package. The contemporary vertical system rack features adjustable shelving and is purpose-made for Cyrus components. The rack features an aluminium extruded side blade, which hides wiring, while also providing a power distribution storage compartment. The Hark II rack is expandable, with the system capable of holding up to a total of eight units.