Denon has announced the next instalment of its M series micro hi-fi sytem. Following on from the D-M39, the new D-M40 features a CD Receiver, the RCD-M40, along with SC-M40 two-way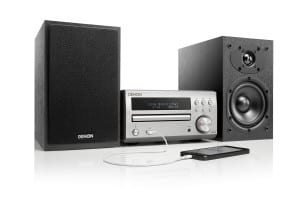 speakers.
The latest micro hi-fi system features improved connectivity options, including two digital optical inputs to hook up a TV, set-top box or other digital sources.
The D-M40's USB port is capable of playing MP3 and WMA files, lossless FLAC, WAV and AAC formats. The system also provides a digitally transmitted play function for iDevices. The new D-M40 also boasts an upgraded headphone amplifier section with dedicated Gain Control.
Measuring just 210mm in width and 310mm in depth, the compact D-M40 can easily fit on a bookshelf, in a bedroom or in the home office while several colour combinations means it can blend seamlessly into different interior designs.
The D-M40 system has an SRP of £349 and will be available from June onwards, with the RCD-M40 CD receiver available in black or silver finish, and the SC-M40 speakers available in black or cherry wood. In selected countries, there will be DAB/DAB+ tuner versions available in store.