Denon has just confirmed the availability of a hardware upgrade for their AVR- X7200W flagship Network AV Receiver.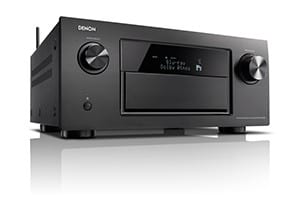 Current owners of this AVR will now be able to upgrade their unit to support future-proof HDCP 2.2 copy protection protocol, needed for copy-protected 4k Ultra-HD content playback. The upgrade, which requires hardware modification at an authorized Denon Service Centre, will start in May. The cost for this upgrade will be EUR 199. At the same time, Denon starts replacing the AVR-X7200W (SRP: EUR 2.799) with the AVR-X7200WA (SRP: EUR 2.999), which is already factory-upgraded with the above new features.
Customers who wish to perform the HDCP 2.2 upgrade to transform their AVR-X7200W into an AVR-X7200WA should get in contact with their Denon retailer. For the owners of either AVR-X7200W or AVR-X7200WA, the Auro-3D software upgrade will continue to be available via Denon.
On a different note, Denon also shared a plan to offer a software update to bring new DTS:X immersive surround sound format to the AVR-X7200W and the AVR-X7200WA later this year. Details will be revealed when the time approaches.
Denon AVR-X7200WA 9.2ch Network AV Receiver – Key Features
210W x 9ch
Symmetrical monolithic amplifier design with Denon custom made transistors
D.S.C.-HD32 with AL32 Processing Multi-channel, Denon Link HD
Built in Wi-Fi with dual antenna, built in Bluetooth
Latest HDMI standard with 4K Ultra HD 50/60 Hz Pass-through and 4:4:4 colour resolution
Full HDCP 2 compatibility for all 8 HDMI inputs
Advanced Video Processing with upscaling up to 1080p and 4k Ultra HD 50/60Hz
8 HDMI inputs (incl. 1 front), 3 HDMI outputs (2 main + zone)
Dolby Atmos (5.1.2, 5.1.4, 7.1.2, 7.1.4*, 9.1.2* configuration)
Auro-3D upgradable (9.1ch, 1ch* with VOG (Voice of God) configuration)
Audyssey DSX and DTS Neo:X 1ch processing
Wide support for streaming formats including DSD and AIFF streaming
AirPlay and DLNA music streaming; Spotify Connect
Advanced ECO mode with off/on/auto setting
Audyssey MultEQ XT32 / Sub EQ HT / LFC (Pro ready)
Audyssey Dynamic Volume and Dynamic EQ
RS232 control
Phono input
2ch processing and 13.2ch pre-out; gold-plated terminals
3 source, 3 zones