Devialet continues to evolve its range of amplifiers with three enhanced models and two new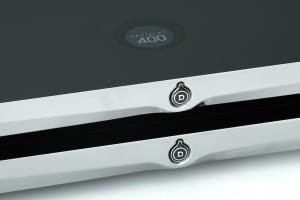 monoblock configurations with the enhancements being the result of a new firmware release (v7.1). Owners of existing Devialet components can download the new firmware free of charge, in line with the company's 'free upgrades for life' policy.
The name of every amp in the range has changed too, reflecting an increase in power delivery – "one of the many improvements brought about by the new firmware".
Devialet 120
Power output: 120W per channel
UK RRP: £4,490 (same as its predecessor, the Devialet 110)
Devialet 200
Power output: 200W per channel
UK RRP: £6,390 (same as its predecessor, the Devialet 170)
Devialet 250
Power output: 250W per channel
UK RRP: £11,800 (same as its predecessor, the Devialet 240)
Devialet 400 (Devialet 200 plus 200 slave)
Power output: 400W per channel
UK RRP: £12,090
Devialet 800 (Devialet 250 plus 250 slave)
Power output: 800W per channel
UK RRP: £20,900
Devialet say the new firmware has the following benefits.
• Increased power delivery and enhanced sound quality for every model, owing to an update of the ADH algorithm; upgrade of the power supply control software; optimisation of thermal management
• SAM (Speaker Active Matching)
• Devialet 200 (formerly 170) now bridgeable to a 400W monoblock, creating the new Devialet 400 dual-monoblock configuration
• New user interface and enhanced iOS/Android app support
• Other enhancements include a shorter boot time and slave inputs for the dual monoblock line, with the option to daisy-chain up to eight Devialet amplifiers in multi-room configurations
A major addition to firmware v7.1, SAM (Speaker Active Matching) is "sophisticated digital processing that enables Devialet components to be precisely matched to a particular pair of speakers", we were present at the Munich Launch and it does look to be a very interesting concept. It is, in effect, a form of bespoke audio tailoring, to ensure the amplifier and speakers fit perfectly together and thereby "unleash the speakers' full potential".
"SAM enables Devialet's power amp circuitry to feed the attached loudspeakers with a specific signal, computed in real time to drive them optimally. This ensures that the acoustic signal produced by the loudspeakers is an exact replica of the audio signal on the recording". Say Devialet.
To date, 17 speakers from various well-known brands including Bowers & Wilkins, KEF, Focal, Magico, Sonus faber and Wilson Audio are already supported; more are being added every week and Devialet aims to have more 100 models supported by the end of the year. Any passive electrodynamic speaker can be measured in Devialet's lab in Paris and the data used to create a SAM profile – people can vote online for the speakers they want to see supported. When any speaker receives 100 votes, Devialet will make it 'SAM Ready'.