DigiBit is introducing today at Hi-End Munich two new products: wamp a wireless streamer and power amplifier and aria mc, a media centre.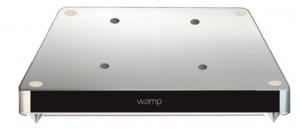 wamp
wamp is a computer audio device, and the first to market to combine such technologies as a wireless power amplifier and wireless media streamer. wamp seamlessly converts your preferred passive loudspeakers into active and wireless using a non-intrusive and unique solution.
wamp consists of a pair of mono block power amplifiers which use Class-D technology with volume control, each rated at 100W. Each is styled as a plinth, designed to act as a support for floor standing loudspeakers, thereby converting any loudspeaker in to an  active wireless hifi system. Using Airplay™ users can stream music up to 24bits-48KHz and up to 24bits-192KHz via Wi-Fi 802.11ac, for added convenience Bluetooth 4.0 support is also provided. wamp also supports wireless and wired LAN up to 24bits-192KHz and DSD as a DLNA renderer. A stereo 2 x 50W bookshelf wamp model will also be available for customers using shelf mounted loudspeakers.
To complete the feature list of wamp, it also comes with a built in 32bit- 384HKz and DSD64/128/256 compatible DAC.
wamp will be available in Q3 2015. Price to be announced later.
aria mc 
The new aria mc (media center) is the response to customer demand to introduce a low-cost yet powerful media centre with many of the attributes of the aria music server series. It has hi res support for PCM and DSD music, aria mc also incorporates support for High Definition video and pictures.
aria mc streams audio, video and pictures from the internet, PC, Mac, iOS and Android portable devices and smart phones as well as from any attached hard disk, NAS or other networked device.
It also has the ability to connect your preferred device to aria mc via Bluetooth™ 4.0, Airplay™ or DLNA™ to stream content in hi-res.
aria mc connects either to Blu-Ray players like OPPO™ via HDMI and USB (OPPO 105 DAC) to play audio and video in hi-res and HD, or to an A/V receiver via its HDMI input. aria mc comes with 2 LAN ports that facilitate the connection to your network and another device.
aria mc supports the latest audio formats in PCM (up to 32bits-384KHz) and DSD (64/128/256) both in stereo and multichannel.
aria mc includes 16GB SSD for the OS and its software, for your media library different versions are available from a diskless to 2TB, 4TB and 6TB HDDs.
The free apps for iPad™/iPhone™ and Android™ control aria mc with our acclaimed easy-to-use GUI, enabling you to listen to music via your aria mc without having to turn-on your TV. Additionally, the unique content streaming to iPad™/iPhone™ and Android™ devices feature allows you to enjoy your media library from any place at home. Last but not least, aria mc supports multi-room streaming to Airplay and DLNA compatible devices.
aria mc will be available in Q3 2015. Price to be announced later.