Following the recent launch of their new, more conventional styled Prestige Facet, passive hifi loudspeakers, Elipson's parent company AV Industry has teamed up with Google to announce two new powered wireless versions featuring Google's Chromecast Audio supplied free for full high res. multi-room streaming capability.
Elipson's new bookshelf Prestige Facet 6BT and floor-standing Facet 14BT (pictured) speakers are the company's new generation of connected speakers.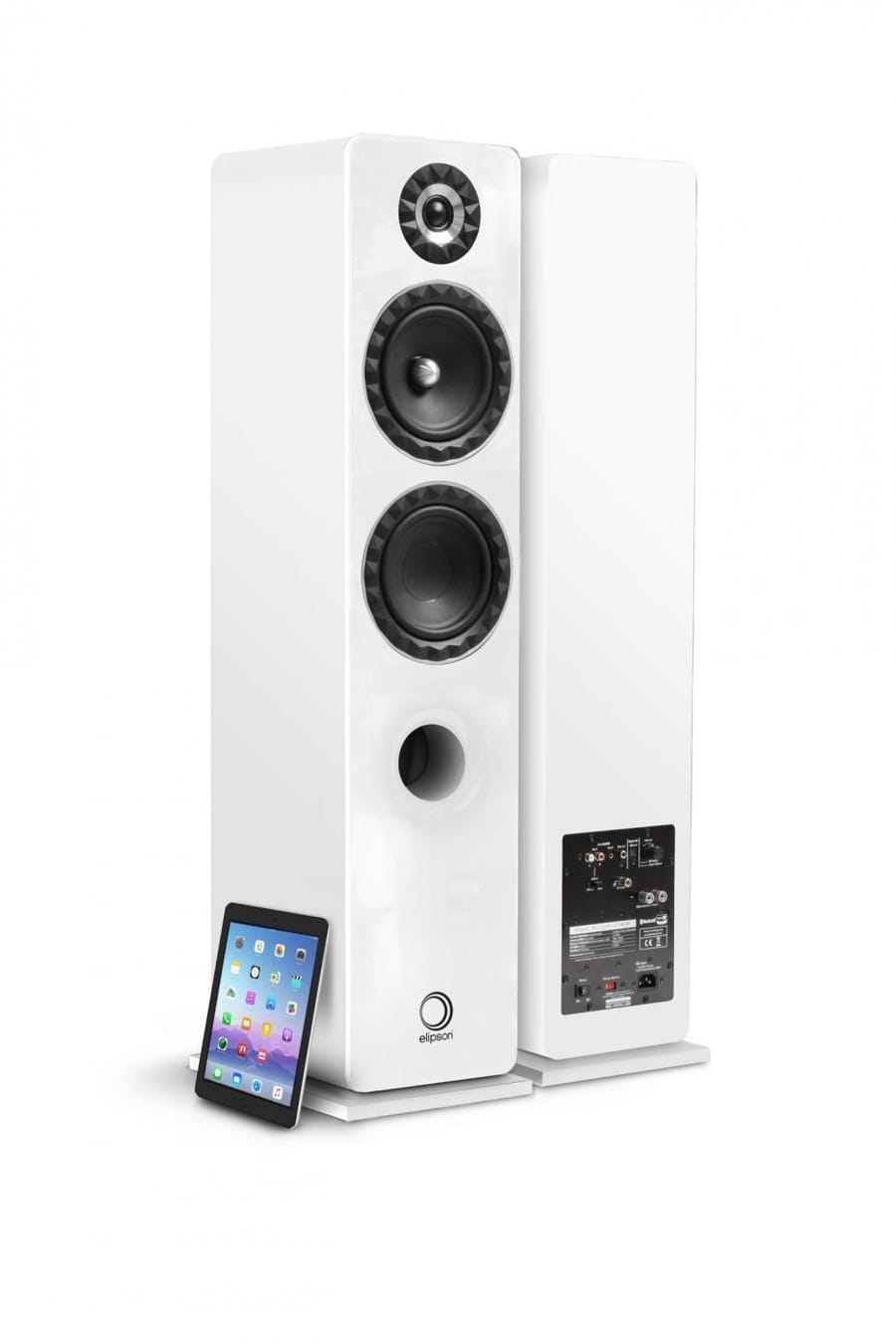 Elipson told us: "Fusing audiophile sound quality with the best in wireless audio technology, these new speaker systems offer the best of both worlds. Benefitting from the same quality of design and manufacturing as their passive speaker versions, the Facet 6BT and 14BT speakers feature powerful and energy efficient Class D amplifiers (150W on the 14BTs) with the versatility and convenience of Bluetooth… and now Google's Chromecast audio wireless streaming from any compatible device".
The Facet BT speakers are easy to install too by simply plugging the powered speaker into the mains, connecting the other speaker with the loudspeaker cable supplied, then just pair with a Bluetooth enabled smartphone, tablet or laptop … or connect the Chromecast dongle to receive the source over your Wi-Fi network. The APTX HD Bluetooth receiver can handle 48 KHz / 24 bit high resolution audio files whilst the Google Chromecast dongle can boost your signal and dynamic range still further to 96 KHz / 24 bit for audio reproduction without compression and an increased output level to 1.4V / 2V RMS.  The Chromecast function also allows you to transform your system into a full multi-room solution (when using other compatible speakers) using the App. In addition to wireless connectivity, the speakers are also equipped for wired connections including RCA Line, RCA Phono and 3.5mm inputs, together with a digital Optical input and Sub Output.
The Prestige Facet 6BT and Facet 14BT loudspeakers will receive their UK debut at the forthcoming Bristol Sound And Vision Show.  They will be available in black, white and walnut vinyl cabinet finshes with black or white matching high gloss lacquered front baffles, at a UK SRP of £549.99 for the Facet 6BTs and £1,149.99 for the Facet 14BTs.  Google's Chromecast Audio dongles are supplied at no extra cost to the consumer.
AV Industry will also be incorporating Google Chromecast dongles into their Tangent branded speakers, the Spectrum X5 BT and X6 BTs and their new product roadmap for this year features many new audio products with integrated Chromecast platforms.
TECHNICAL SPECIFICATIONS:
PRESTIGE FACET 6BT:
Type:                                                   2-way Bass-reflex active speakers
Power:                                     2 x 70W
Amplifier:                                             Built-in, Class D
Loudspeakers:                                    Mid-bass: 140 mm / Tweeter: 25 mm
Frequency response (± 3dB): 57 Hz – 25 kHz
Sensitivity:                                           90 dB/1W/1m
Impedance:                                         6 Ohms
Inputs:                                     RCA line, RCA Phono, 3,5mm jack
Optical S/PDIF
Bluetooth aptX HD low latency
Output:                                                Sub out (20-220 Hz at ± 3dB)
Auto stand-by:                         Yes, after 60 min
Accessories:                           Remote control, Chromecast audio
Finish:                                      Lacquered front panel
MDF cabinet with Vinyl veneer
Colours:                                               Black, white, black/walnut
Dimensions without grill:         W176 x H298 x D213 mm
Dimensions with grill:              W176 x H298 x D223 mm
Weights:                                              5.6 kg (passive) / 7 kg (active)
Dimensions:                            W400 x H460 x D300 mm
PRESTIGE FACET 14BT:
Type:                                                   2.5-way Bass-reflex active speakers
Power:                                     2 x 150W
Amplifier:                                             Built-in, Class D
Loudspeakers:                                    Mid-bass: 170mm / Bass: 170mm / Tweeter: 25mm
Frequency response (± 3dB): 38 Hz – 25 kHz
Sensitivity:                                           92 dB/1W/1m
Impedance:                                         6 Ohms
Inputs:                                     RCA line, RCA Phono, 3,5mm jack
Optical S/PDIF
Bluetooth aptX HD low latency
Output:                                                Sub out (20-220 Hz at ± 3dB)
Auto stand-by:                         Yes, after 60 min
Accessories:                           Remote control, Chromecast audio
Finish:                                      Lacquered front panel
MDF cabinet with Vinyl veneer
Colours:                                               Black, white, black/walnut
Dimensions without base:       W207 x H990 x D302 mm
Dimensions with base:                        W238 x H1011 x D325 mm
Weights:                                              20.5 kg (passive) / 22 kg (active)
Dimensions:                            W575 x H1115 x D420 mm