Italian loudspeaker manufacturer EMME Speakers have sent us pictures of their very latest loudspeaker Copernicus.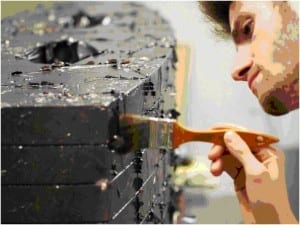 The new loudspeaker keeps many of the concepts from the company's previous loudspeakers and uses their BSSE system (Box Shaping for Sound Enhancement).
The acoustic layout of Copernicus sees three drivers in an unconventional two-ways configuration.
Mid-high frequencies are managed by a ceramic (diamond in option) 2″ mid-tweeter, housed into a 1″ thick BSSE panel, micro-machined from a solid aluminum sheet.
Bass is dealt with by two 10″ aluminum woofers working in parallel, in bipole and asynchronous mode, thanks to a "time shifting" network that continuously changes the phase of one woofer to sync with the other one.
The speakers will be launched at this year's Munich High-End and are available in a range of luxury finishes including real gold leaf.