ENIGMAcoustics  from Irvine, California makes its long-awaited Rocky Mountain Audio Fest debut in Denver, Co., this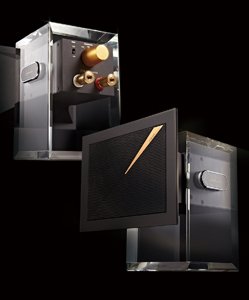 October with the award-winning Sopranino self-polarizing electrostatic super tweeter, the first of its kind in the world.
Also making its RMAF debut is the Mythology M1 Series, a full-range high performance bookshelf speaker. Custom-tailored to integrate with the SBESL™ (Self-Biased Electrostatic Loudspeaker) technology, Mythology utilizes highly rigid and hybrid cabinet structure with laminated birch wood, tempered glass and machined aluminum baffles with integrated speaker stands. Combining with phase-coherent design for optimal transient performance, the result is said to be a "breathtakingly seamless fusion of entirely custom-made dynamic and ESL drivers that is truly groundbreaking".