Epiphany Acoustics have announced the launch of the brand new Atratus II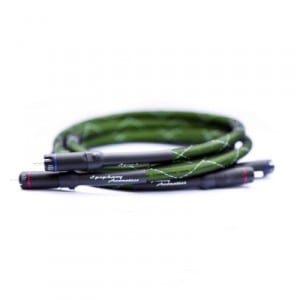 and Atratus III RCA Interconnects! Prices start from £59.99 and £89.99, respectively, for 0.5m stereo lengths.
These represent Epiphany's mid-range and top-of-the-line RCA interconnects and have "been carefully designed to fulfil our on-going philosophy of market leading sound quality at direct from manufacturer prices" says Oliver of Epiphany.
Both cables use the KLE Harmony series RCA connectors – the Atratus II using the Copper Harmony and and Atratus III the Silver Harmony. A high quality OCC copper cable in the Atratus III RCA Interconnects is used.
Atratus II RCA Interconnects
• Twin core copper cable with high coverage braided shield
• Low loss Foam High Density Polyethylene dielectric
• KLE Copper Harmony RCA plugs. Revolutionary new RCA plugs built with silver plated pure copper signal & ground pins to achieve >101% IACS
• Finished with a black woven jacket
Atratus III RCA Interconnects
• Twin core UP-OCC copper cable with dual foil & high density copper braid shields
• UP-OCC copper wire is drawn in one continuous length, removing the crystal boundaries and increasing the purity of the copper.
• Low loss Teflon dielectric
• KLE Silver Harmony RCA plugs. Revolutionary new RCA plugs built with pure silver ground pin and pure copper with dense silver plate signal pin to achieve >106% IACS
• Finished with a black & white woven jacket