The new 3010S2-D from Exposure is the fourth incarnation of their top integrated amp.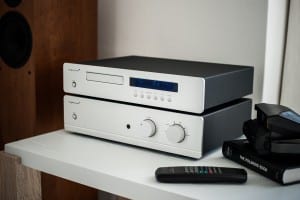 Like its predecessor, the new 3010S2-D comes with six line level inputs. However, one of these is now a direct AV input to enable integration within a surround sound system. There is now also the possibility to fit an optional MM or MC phonostage, or a plug-in DAC board. The latter is capable of up to 192/24 bit PCM and DSD 64, and comes with two inputs: USB and BNC, with auto-switching between them. A preamp output allows for tagging-on of a separate power amplifier, in case you want to bi-amp your system. Speaker terminals are doubled to allow bi-wiring.
Special high-quality capacitors are used in the signal path, and the circuit topology has been mapped with a view to keeping signal and power supply paths short. Cascode circuitry is used for improved power supply immunity.
The preamplifier now sports a brand new circuit board with all discrete components rather than integrated circuits, while the power amp features a fast bipolar transistor output stage for dynamic and vivid performance. A new power supply adds extra stages of regulation for improved performance.
Both the front and back panels are graced with clear ergonomics and simplicity in features, with a well laid-out and comprehensive remote control completing the package.
Technical specifications
Power output (stereo) 110 Watts per channel at 1KHz into 8 Ohms
Input impedance 17K Ohms minimum (line input)
Input sensitivity 250mV
Pre-amplifier output 1V for rated input (gain + 18dB full volume)
Frequency response 20Hz – 20KHz ± 0.5dB
Total harmonic distortion <0.03% at rated output, ref. 1KHz
Signal to noise ratio >100dB, ref. rated output
Channel separation >60dB, 20Hz – 20KHz
Mains supply 110/120V or 220/240V, 50/60Hz (factory set)
Power consumption <400VA, 8 Ohms load, both channels driven
Dimensions 115mm (h) x 440mm (w) x 300mm (d)
Net weight (unpacked) 12kg
Gross weight (packed) 14kg
Warranty 3 years
Pricing & availability
The Exposure 3010S2-D integrated amplifier is available now in silver or black, priced at £1,700 (incl. VAT).
Optional additions:
On-board MM phonostage £240
On-board MC phonostage £240