The first of six 'Complete@Home' loudspeakers, Falcon says the IMF100 kit offers the performance of a high quality two-way for less than half the price in as little as 30 minutes…
Falcon Acoustics has announced the first of six models in its 'Complete@Home' range of loudspeaker systems for home assembly. Including Falcon drive units, Italian birch ply cabinets and Falcon factory-assembled pre-wired crossovers, the IMF100 can be completed in as little as 30 minutes. No soldering is required, all tools are provided, and the build is supported by a YouTube video.
Transmission Line
The IMF 100 is a two-way 1/8th wave transmission line system, featuring matched pairs of Falcon B110 and T27 drive units (as used by the Falcon LS3/5a), precision CNC-engineered B110 retaining rings, precision-matched Falcon crossovers and full production-grade birch ply cabinets, made in Italy from natural walnut or rosewood veneers. Created in the same factory as the Falcon Acoustics BBC LS3/5a, the IMF100 shares similar voicing to this LS3/5a but with extra bass extension.
The IMF100 system uses parts that are exclusively sourced and manufactured in the UK/EU for the best quality and consistency.
Specification
Cabinet:   1/8th wave folded TL.  Italian manufactured Plywood cabinet in 12mm and 9mm graded Birch Ply, natural Walnut or Rosewood veneers.  Magnetic attached Cloth grille.
Drive Units: Falcon B110 (5") Bextrene Cone bass unit; 19mm (¾") Falcon T27 Mylar dome tweeter. Matched pairs
Freq. response         38Hz-20kHz +/- 3dB
Impedance                8 ohms
Sensitivity                  86dB/2.83V/m
Power handling        15-100W
Connector                 4mm Custom-Designed nickel-plated binding posts
Dimensions(hxwxd)             460 x 225 x 275mm (+12mm for grille and binding posts)
Finish                         Natural wood veneer – Walnut or Rosewood
Weight                                   12.5kg each, 28 kgs per pair shipping weight.
Packing                     Pr speakers per shipping carton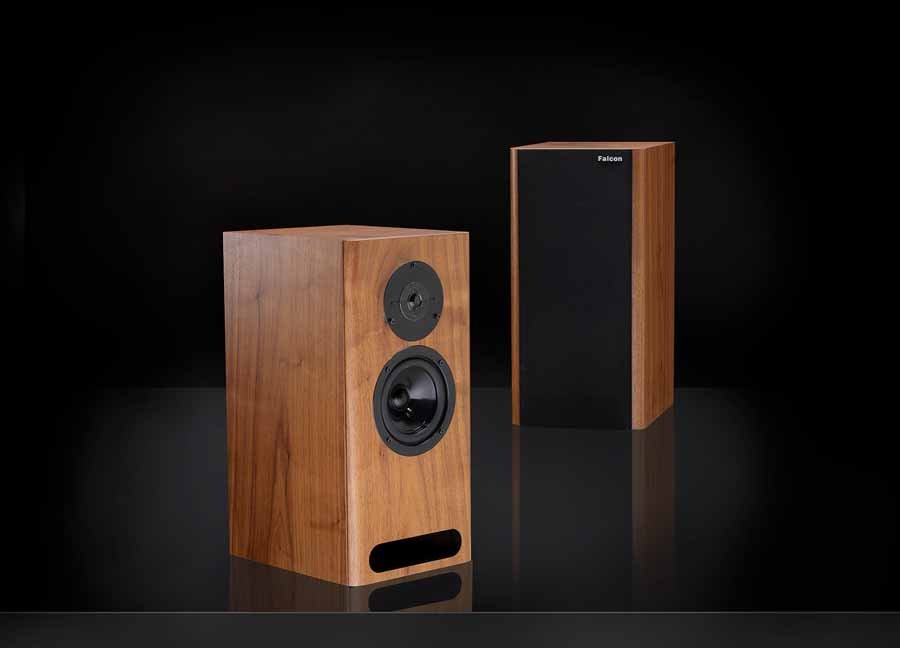 Pricing
Typical UK pricing pair (inc. all tools) inc VAT: £1495