Flexson, specialist in accessories for SONOS, has launched VinylPlay – a turntable for the digital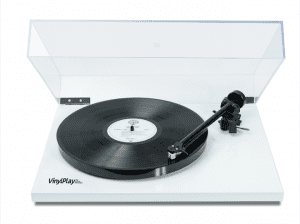 music age. With vinyl sales growing as fast as music streaming, VinylPlay gives music fans a best-of-both-worlds solution: a record player that's easy to use and can be simply integrated into a modern streaming system.
Key features of VinylPlay – a fresh spin for SONOS:
• Play, archive and stream your records
• Looks good; sounds great
• Set up in seconds; enjoy music in minutes
• Just add powered speakers for instant music system
• Pair with SONOS to stream records around your house
• Make back-up, digital copies of records
• Made in the UK
• Sleek monochrome styling; protective lid
• Plays singles and albums; 33 & 45rpm speeds
"Until now, digital turntables have either been cheap 'USB' decks that sound poor and can ruin your records, or 'audiophile' turntables that are typically pricey, fiddly to set up and look out of place in a modern home," says David Cain, Flexson sales and marketing manager. "We set out to design something better: a digital, SONOS-friendly turntable that offers superb sound quality, but is easy to use and easy on the eye," he adds.
VinylPlay allows users to easily enjoy vinyl alongside other music formats. Its integrated analogue-to-digital converter makes it simple to connect up to a wide range of modern music systems, from active/powered speakers to hi-fi/AV systems and SONOS (straight into a SONOS PLAY:5 speaker, or via SONOS CONNECT). You can also connect it to a computer to archive digital copies of your precious records.
Suggested UK retail pricing is £329; Euro SRP is €449. US $ pricing is TBC.