GIK Acoustics-Europe will exhibit at the 28th Annual Sound & Vision The Bristol Show at Marriott City Centre Hotel Bristol from 20th – 22nd February, 2015. GIK Acoustics-Europe General Manager David Shevyn will be on hand to meet customers and provide acoustic advice.
They are teaming up with Heed Audio who will present the new Heed Thesis range of electronics. GIK Acoustics will treat the room "so the Heed electronics and Heed speakers really sing".
Just a few items we'll have on display in Room 322 include: FreeStand Acoustic Panels, Tri-Trap Corner Bass Traps,Monster Bass Traps, Q7D Diffusors and several of our outstanding ArtPanels.
The FreeStand series was originally launched in Europe last April as a 50mm FreeStand Acoustic Panel. Since then they've expanded the FreeStand line to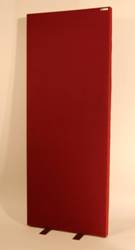 include a 100mm FreeStand Bass Trap.
Both FreeStand versions cover 1520mm of vertical wall space.
The FreeStand series are movable panels ideal for any room where wall mounted panels cannot be used or for rooms with multiple purposes. For listening rooms, control rooms and home theaters, the FreeStand series are a "stylish solution for use in front of doors and windows".
GIK Acoustics-Europe General Manager David Shevyn says, "The FreeStand panels are perfect for customers whose rooms serve dual functions – such as living rooms as theatre rooms or bedrooms as mixing studios. The FreeStand is lightweight, versatile and totally movable
making it ideal for all sorts of uses. And there's no better event to showcase the versatility than at The Bristol Show."
Visit GIK Acoustics in Room 322 with Heed Audio.