At Hifi PIg we're keen not only to bring you reviews of the high-end, expensive products but also like to point out the odd bargain that is out there. Here Janine Elliot continues Hifi Pig's « Headphone Month » with a review of a £60 set of headphones available from the high street.
The thought of me walking into the local electronics store and spending £250 on the latest designer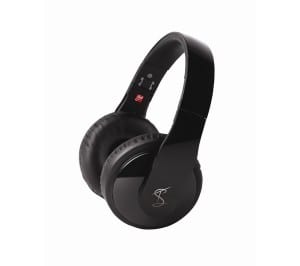 headphones with unrealistic bass-heavy response would only appear in my worst nightmare. Just as I love the idea of owning the latest designer sports footwear, I only buy something that fits well, whatever its colour or name engraved. So with audio, sound comes before the brand.
I take my non-designer hat off to Dr Dre for managing to sell unrealistic sounding, but highly enjoyable and good looking headphones. But £260 for an over-ear white, red or black iPod attachment is as cost effective as me putting on my central heating and opening all the windows. So, reluctantly I decided to try out a number of headphones designed for the young iPod trendy. Names included Sony, JVC, Sculcandy, Beats by Dr Dre, etc.
For the purposes of this review I'll just say they were all bland, boring, too trebly, too bass heavy, uncomfortable or too expensive. None of them made me enjoy listening to music on the move and, with some, the bass just made me ill. Except for one. Ironically, this designer named, brilliantly packaged, well accessorised (non-tangle cord, carrying pouch), comfortable, pleasant to listen to and good looking little number is actually made exclusively in Hemel Hempstead for Currys/PC World. Well, made in China, actually.
Coming in white, black and, if you're lucky, in red, this foldable over the ear Goji Tinchy Stryder is amazingly good value and £200 cheaper than some Dr Dre's, yet it's handling of bass without distortion, and crispier top end is without equal. In use whilst walking the noisy streets of London, I could actually get more out of the music than my expensive inner-ear phones. The closed back covers the ear with enough energy to stop most of the traffic getting in, yet not too much to make them uncomfortable for long periods of time. Only in really hot conditions did I find the faux-leather construction a bit sweaty. I disabled the EQ settings on my iPod, as the increase in bass and top end equated to the "R&B"or "Rock" settings that I could have selected. It should be maintained flat, or on "Electronic" setting at the very most.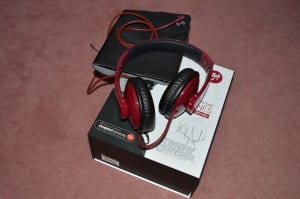 Made by 'Goji', they are designed in collaboration with Tinchy Stryder, the stage name for 1986 Ghanaian- born Kwasi Danquah III. As well as founder of the headphone and phone accessories label, he is a musician, investor, and even oversees his own clothing range. The MOBO award-winner now has three hit albums under his belt and his CV is longer than the small print on my bank account.
This was an amazingly musical headphone for the price. The droning lower bass D at the start of The Division Bell, Pink Floyd, was there, clearly defined, but not so prominent as I perhaps had expected. The gentle cymbals and bass drum at 4'27" were just right; not OTT. Only in the next track did I feel any saturation, and at high level I could feel the wind blow like the 18″ drivers of my subwoofer. Some people like this, especially the young Vauxhall Nova drivers outside my house at midnight. But I didn't need any extra equipment for my ears to get the same effect, and this was much more musical. However, switching over to Slee Voyager (also under test this month) through my open back Sennheiser HP650s, the soundstage widened enormously and the cymbal rim shots had a completely new lease of life. The bass was still there, just cleaner, quicker, painless. In the normal world, when you set up your subwoofer, it should be just loud enough not to be individually noticed. Low bass in the £60 and £70 (for white or black, respectively) GOJIs were noticeably loud at low frequencies, and hence worked better on popular music or watching an action movie, rather than classical music, where the positions of instruments was less easy to define as were they on my much more expensive cans. However, the dynamic range, particularly in the lower end, was magnificent.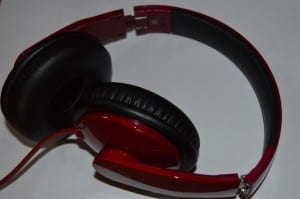 I don't normally speak so fervently about products like this. It goes against all 25 years of my BBC sound engineer background. But this product is actually pretty amazing for the price. Having it only available to the DSG empire (the largest electrical retailer in the UK) also based in Hemel Hempstead), keeps that price down. Whilst I won't want to listen like this for too many hours, it's a bit like coming away from the dentist after fillings. You just so want to tuck in to sweets, but know you just daren't do it.
Sound Quality – 7.3/10
Value for Money – 9/10
Build Quality – 8.5/10
Overall – 8.3/10
How we carry out reviews.
Read more Hifi Review.