Italian brands Gold Note IS-1000 Streamer and Integrated Amplifier does what it says on the tin and has an impressive range of connectivity, high power output and even has a built in MM/MC phonostage. It costs £3820 (around $5000) as tested in the UK (a version with an updated DAC is available for £4500) but does it all add up to a great deal in the final analysis? Stuart Smith finds out. 
CONSTRUCTION AND FEATURES
When a product arrives well packaged there is an immediate sense that you are dealing with a company that takes pride in its products, trust me many even supposedly high-end products arrive poorly packed and it's a major gripe of mine, but I needn't have worried about this unit – purpose made side cheeks slide into an inner box and there is a second box for extra protection… so we are off to a good start.
Take the IS-100 out of its box, it's a heavy beast but on the shelf is the epitome of understated Italian class. The chassis is an all-aluminium affair with nicely carved air vents on the top and sides and the Gold Note logo on the top. On the front panel, we have the power indicator, a screen and a single knob that is used for navigating the screen and changing source etc. It's all very uncomplicated and simple to get your head around even for someone like me who tends to (initially) bypass the manual and jump straight in. A remote control is included and is functional in that it gets the required job done but I would have like to have seen the remote match the IS-1000 itself.
Around the back it's a lot busier, but it is well set out. Left to right we have XLR balanced inputs and two pairs of RCA inputs. One of these RCA inputs can be used for line or phono (MM or MC) whilst the second can be used for line or AV inputs. You then get a couple of pairs RCA outputs with one being fixed and the second variable. There's a pair of good quality binding posts above which sits the digital input area. There is an RF in to connect the included WiFi antenna, a mini-usb for firmware updates, a firmware button for manual update, 3 TOS Links, an RCA coaxial input, an ethernet port for a wired connection to your network and a USB in port. Finally, you've got the master power switch and the AC input.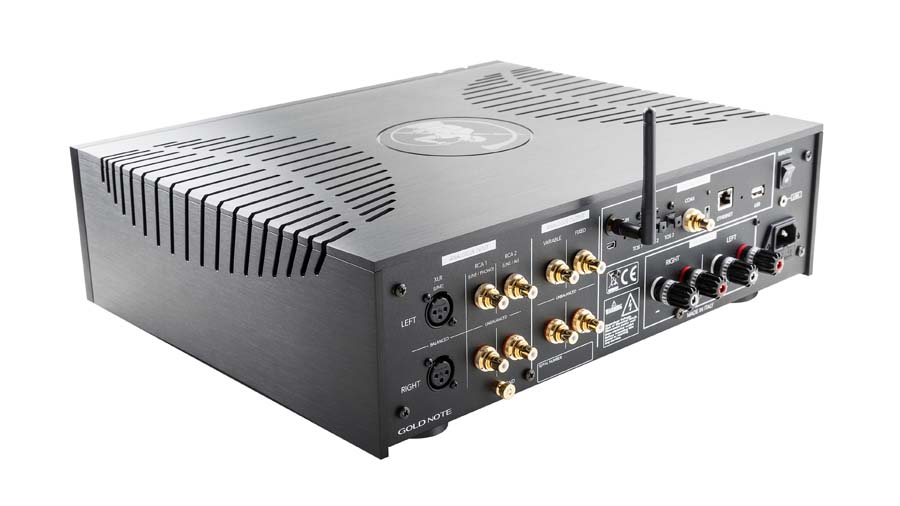 To be honest and primarily for the sheer convenience, I mostly used the IS-1000 in wireless mode and to control the unit in this mode there is, of course, an app for both Android and iOS devices called Mconnect Control. Set up is a doddle with great guidance from the logically put together and not over-complicated handbook that comes with the IS-1000. The app lets you access your favourite streaming services including Deezer, Tidal, Qobuz as well as internet radio stations and music stored on Dropbox or One Drive. I used Tidal as that's what I have a subscription for. The app also allows users to add favourite musical choices to a favourites folder and to make playlists.
Turn the IS-1000 on, the screen lights up and you are presented with a very simple and well thought out navigation that uses, as mentioned, the control knob. Top left and right of the screen you have balance (a useful feature often lacking in integrated amps), centre top you can turn the display off, bottom left and right you choose the source and switching between MM and MC cartridges. Also on the screen and not immediately obvious as to what they are is DF-High/Low and Booster On/Off. The DF button is a nifty and I think pretty clever idea as you can change the damping factor of the amp to suit your particular speakers. Set it to high (250) for speakers that are low to mid sensitivity and low (25) for higher sensitivity loudspeakers. Gold Note claim that in low-mode the IS-1000 will act as a low powered valve/tube amplifier. As I said, I think this is a useful feature and makes good sense in that it widens the potential user-base for this unit. It's also very useful for me with my reviewer's hat on as I do like to put kit that arrives for review through as many speakers as I possibly can at the time.
The other virtual button, the Booster, acts as far as I can tell like a bass boost that used to be pretty common on amps but seems to have fallen out of favour.
Of course, all the above can be done from the comfort of your armchair.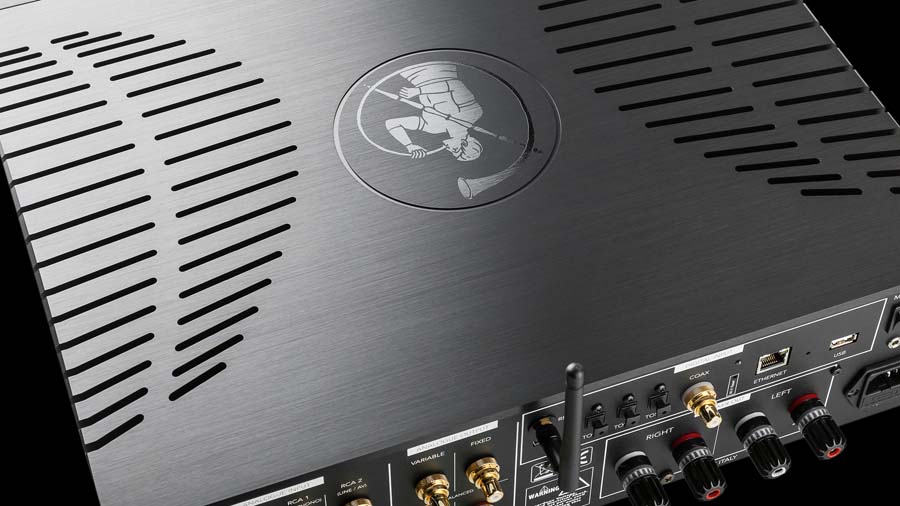 The IS-1000 supports, as mentioned, Tidal plus MQA via Tidal, Qobuz, Spotify, Spotify Connected and Deezer with Roon but you can also connect to your NAS drive, Hard Disc Drive and also to USB sticks. It allows for DSD 64 native and via DoP on USB and LAN and PCM up to 24/192. File-wise it plays all the usual suspects.
Worth noting is the fact that the IS-1000 does have cooling fans inside the unit but I can honestly say I never noticed these running at any time during the review period and it is worth noting the "Updates Since This Review" section at the end of the review. 
SOUND
We've got a pair of Pure Audio Project speakers open Baffle speakers in for review (they have been here a few months so we know them pretty well) and to be honest I wasn't really getting the sound I was expecting from them with a pair of 50W monoblock amps we have at the relevant price-point. However, hooking them up to the IS-1000 set to high damping factor really got them on-song and with the amp feeling to have much more grip and control – it's a simple matter of fact that these speakers needed the extra power the Gold Note was able to provide -it outputs 125 Watts into 8 ohms. I'm not going to the sound of the Pure Audio Project/IS-1000 combo as they are not part of our reference speaker compliment and I really only mention this point to highlight the Gold Note's ability to bring these open baffle speakers alive. I had a similar experience when connecting the amp to a pair of Boenicke loudspeakers (Review here) – in fact I'd suggest that the Gold Note/Boenicke combo were a very good partnership and I spent a good couple of days simply enjoying music through this pairing.
Connecting the Gold Notes to the Avantgarde Duo XDs and switching to low damping factor I was rewarded with a mid-band that was sweet and slightly on the warm side when compared to the class D amplifiers we use as a reference. I don't really see this is a criticism of the Gold Note as the amps we use for reference have been chosen specifically to be analytical and somewhat clinical in their presentation – they are after all a review tool and some people will prefer the more relaxed yet powerful sound of the Gold Note. Female vocals were presented really beautifully with bags of detail and no harshness in the upper frequencies. Instruments sat properly and stable in the stereo mix and I really do think that the IS-1000 played to the Duos' strengths giving a highly enjoyable and engaging musical experience that was somewhat addictive. A good sign of something being "right" is when you stop actually analysing the sound and just sit and enjoy the tunes you are playing.
The Duos are active in the bass department and so out came our hORNS Mummy speakers and I heard that same feeling of grip in the bass I'd heard with the Boenickes. Dub reggae and other bass heavy music sounded great, but then popping on Concierto De Aranjuez showed the IS-1000 to be a deft performer with classical music, being fast and dealing with dynamic changes without missing a beat.
Up to now I'd been using Wi-Fi or wired ethernet connection and also attached a hard drive and found the flavour of the IS-1000's presentation to be consistent across the board. Connecting a CD player with balanced outputs and I had the same experience of a dynamic if slightly warmer presentation that is easy to listen to and certainly non-fatiguing. If you are reading this and think my calling the Gold Note slightly warm in its presentation is suggesting that it's woolly and a bit lacking in detail then don't – what you have here is power with a certain amount of grace.
Sadly, I only had access during the review period to MC cartridges and so was unable to make use of the MM part of the phonostage but found the stage to be very, very, very quiet, again with a dynamism that really let you get into the records you were playing and it's pretty transparent allowing the music to flow. Is the phonostage as "accurate" or as good as our reference, well no, but that costs pretty much the same as the whole of the IS-1000 so we're really comparing apples with oranges. Do I think the phonostage could hold its own with competition up to the £750-£1000 mark? – I'd certainly say so. The phonostage here isn't going to satisfy the die-hard vinylista who has spent thousands and thousands on their record players, arms and cartridges, but it is well good enough for the market that I believe this unit is aimed at – those looking for a nice looking, well connected all in one streamer and amp that also has the option for playing records.
CONCLUSION

The Gold Note IS-1000 is stonkingly well built and looks the business. It offers those looking for a one box/just add speakers solution a great product at a price that I believe to be very reasonable for what you are getting.
Connectivity is comprehensive and I can see many having the IS-1000 as the hub of their entertainment system and having it not only for playing tunes saved on NAS/HDD or from streaming services but also for putting the television through.
It's a fab product that is most definitely in the mid-fi audio bracket in the way that it plays music but also caters for those that just love music, want great sound but really don't want to go down the whole multi-box route.
The inclusion of a phonostage is a stroke of genius and whilst not everyone will have the need for it, many will given the seemingly unstoppable revival of vinyl.
AT A GLANCE
Build Quality:
Very, Very nice and solid. Needs a nicer remote.
Sound Quality:
Grippy and controlled in the bass, erring on the slightly warm side of neutral in the mids but nice and detailed in the upper frequencies with plenty of power and dynamic range.
Value For Money:
You are getting a lot of product in the one box and fit and finish are very good so I think it offers very good value for money.
Pros:
A highly connected and good sounding bit of kit that is simple for non-technophiles to get to grips with.
Cons:
I did have the app crash on me a few times when using Tidal. You are paying for a phonostage whether or not you want or need it. The unit did need resetting a couple of times when left on and we had an electrical surge – though this could also be seen as being a positive point from a safety/protection point of view.
Price:
£3820
Updates since review:
A new update that enables the screen brightness selection – 100%, 50%, 25%, OFF.
Automatic speed adjustment for the fans: up until now they were either ON or OFF – from now on their speed will be automatically adjusted to control the internal temperature preventing overheating while keeping the amp silent.
The will enable better control of the unit when using Roon and the guys at Roon Labs are testing it now to give it the full certification.