Gold Note are a well known for their very high end products but here Janine Elliot takes a listen to their €195 and €350 moving magnet cartridges.
Gold Note is well known for their distinctive turntables, particularly the €65,000 Bellagio Conquest Black King featuring a massive 270mm spindle. However, the company are also making phono stages, speakers, amplifiers, a CD player, a DSD streamer, cables and stands. They also make a variety of moving coil and moving magnet cartridges. I loved moving magnets in the 1970's and my favourite Stanton 681 EE, Decca London Gold, Ortofon VMS20E and Shure V15iv cartridges still play well on my various old turntables. When everything turned Moving Coil we saw Moving Magnets consigned to the lower-end of the market as the sound from the new MC's generally got faster and more detailed. In recent years new design MM's and MI's are back, showing that the format still has a place at the end of your arm. I recently reviewed the entry point Valore (meaning 'value') turntable and used their entry point Vasari Red cartridge, finding it sounding refreshingly musical and detailed.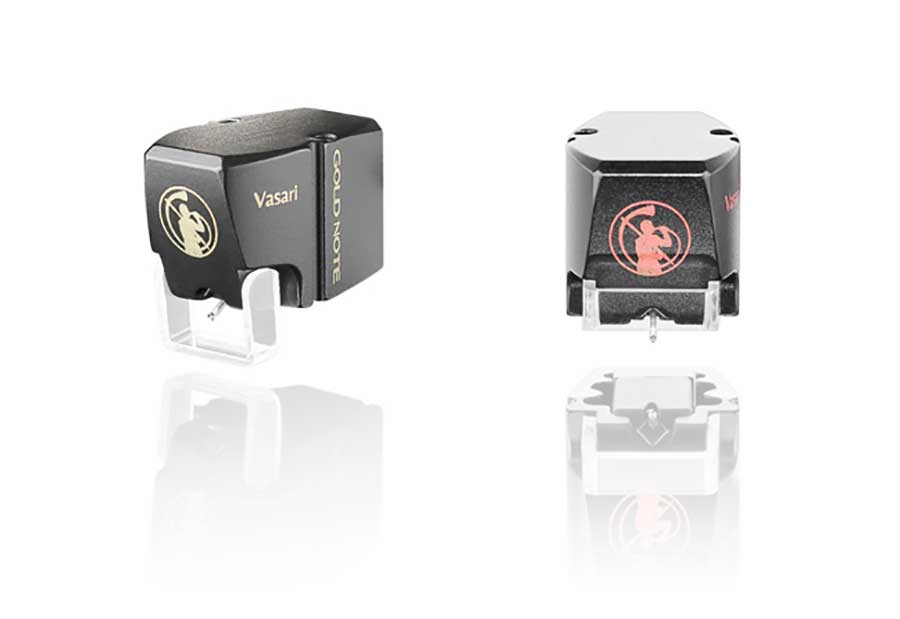 Gold and Red seem to be common names in the GoldNote portfolio. Their Donatello, Machiavelli and Tuscany series of MC cartridges are epic products offering Gold and Red versions with equally epic specifications; the Tuscany offers 5-55,000Hz, 35db channel separation, silver wire and Samarium Cobalt magnet, boron cantilever and micro-ridge diamond. Those cartridges retail at 4.800 – 7,300 Euros for the Red and Gold respectively. So to be offered moving magnet Vasari Red and Gold cartridges that retail at a mere €195 and €350 I was rather apprehensive. However, the Red performed admirably in my Valore turntable review, so I wanted to put it together with the Gold to see how they both performed.  I asked Tommaso Dolfi, Marketing Manager of Gold Note why he chose "Gold" and "Red" as model variants, as opposed to "Gold" and "Silver", and he told me the colours are related to the high-end and luxury world, something broader than hifi. He told me "…many brands usually define with gold the elegance/premium line and with red the "sportier" line". He is currently considering the possibility of a silver range.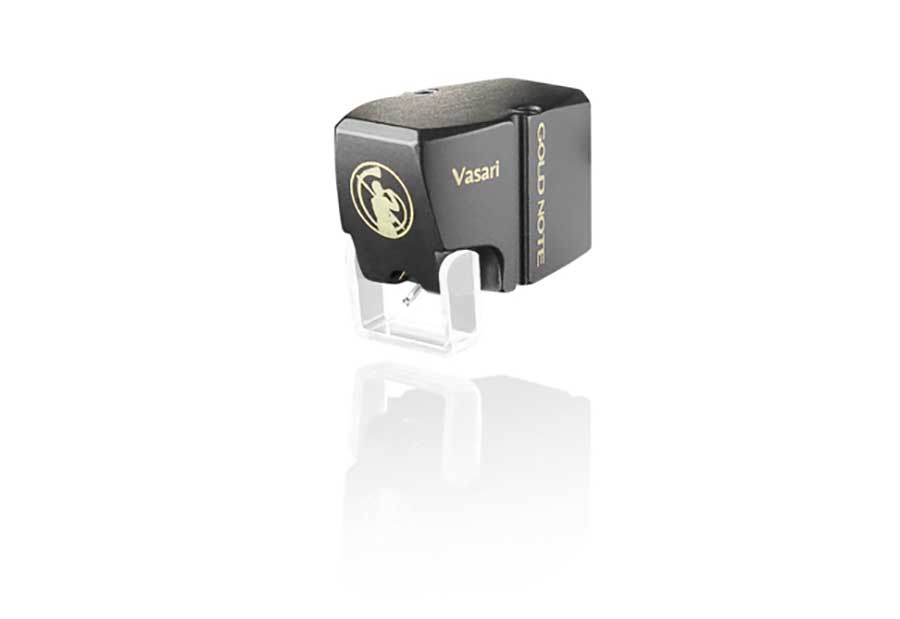 The Vasari replaces the earlier Babele moving magnet cartridge that retailed around €95, and comes in two levels of performance and design. Whilst both have similar looks it is clear that the Gold is a higher quality product being two grams heavier and formed from a solid block what Gold Note call "Duraluminium".The Red is made of Delrin, otherwise known as Polyoxymethylene, a thermoplastic that has very high strength, hardness and rigidity. Both are very well made, as one would expect from Gold Note. Both have a rigid aluminium cantilever with copper wire and Alnico magnet, and both track at 2 grams. The Gold has a 7.5 x 15.5μm elliptical diamond whereas the Red is a 15.5μm conical shape. Unlike MM cartridges of old the cantilever is securely and directly installed into the metal body in order to ensure good rigidity and trackability, and ultimately so that all the information from the record groove makes its way to the magnet. And, if it does go blunt, as diamonds will eventually do, Tommaso Dolfi will re-tip a new diamond just as we have got accustomed to on our favourite MC cartridges.  The variance between the two cartridges isn't just simply the diamond tip and housing material, as Tommaso I told me;
"The difference in the material used for the body also means that the Gold requires more precise and strictly matching internal coils"
The Vasari RED gave for me a full-bodied and detailed sound, surprising me with its ability at such low cost.  Stravinsky's Symphony in C, written between 1938 and 1940, is one of my favourite works from the Russian-born composer, pianist, and conductor; a work commissioned by an American philanthropist Mrs. Robert Woods Bliss.  The 30 minute four movement work was written during his neoclassical period allowing it to be favoured by many traditionalists who might be less enamoured by his earlier more-distinctive rhythmical and less tonal style of writing, and the Vasari cartridges allow a very musical and clear picture of what is going on in the composer's head, even if perhaps he denied it at the time;  The Second World War was already under way and Stravinsky was still mourning the death of his wife and daughters from tuberculosis, something the composer himself had just been diagnosed with in 1937. Stravinsky denied that his own personal woes had anything to do with the work's rather laid back style and its retreat into more traditional writing, though it is easy to see some connections in the music. An extremely vivid placement of instruments, especially the depth of clarity in the cellos, was immediately apparent, though with the Gold this was slightly improved; enabling a finer degree of involvement in the orchestration and instrument positioning, particularly the brass "bursts" to interrupt the quaver repeating patterns of the strings. The cello is the closest instrument to the human voice, ranging from a bass singer bottom "C" to above top "A" in the soprano's high end. The Red had previously shown me an almost human character to the instrument, as of course with violins and violas. The Gold communicated even better allowing me to get even closer to the music. That elliptical stylus would help get more detail from the groove. The two models do have identical specifications, both with an impedance of 1kΩ, an output level of 4.0mV and a claimed frequency range of 15Hz to 25kHz, but that stylus and solid aluminium frame do set this model as the clearer and more detailed, and ultimately better of the two, though at almost doubling of the price. That might seem a lot, but at €350 is a small price to pay for such improvement.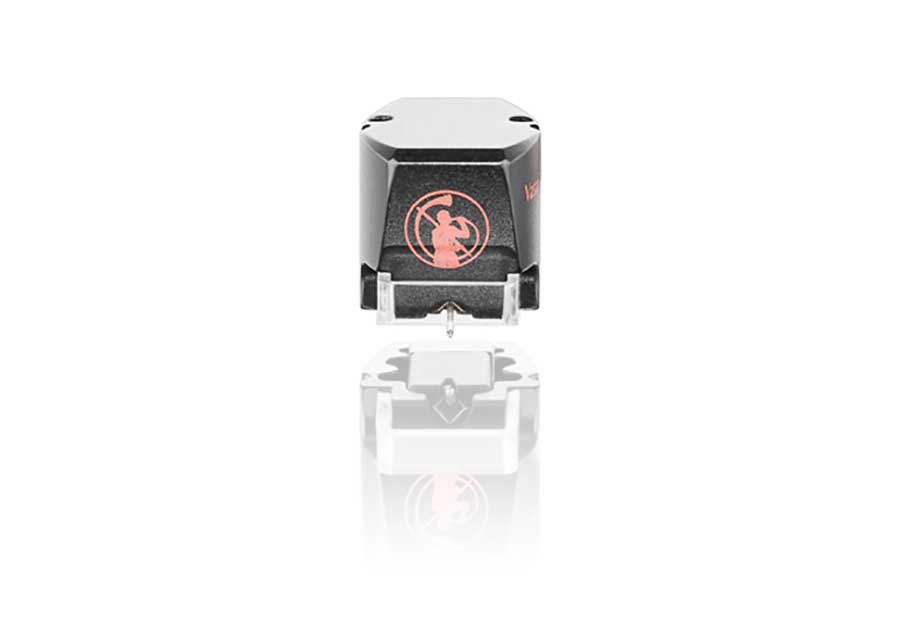 Turning to a 160g Rush live Kiel Auditorium album recorded in Missouri in1980, the Gold gave a more detailed and warmer sound with good attack and excellent spread of detail across the sound stage, particularly in the lower frequencies. The cartridge is a warm sounding product, but not in a bad way. It made me think of the warm sunshine in Montespertoli near Florence, Italy, where it is made or perhaps St Louis, Missouri, where the album was recorded. It also still sounded transparent, which worked well with the rock album just as much as I expected it would, of course, with classical music. Detail and ambience were excellent for such a modestly priced product. Turning to the Schubert Trout Quintet (EMI ASD 4032) showed yet again how good this cartridge is allowing clear positioning of instruments, particularly the piano, with a good detail of the individual musical lines.  Rick Wakeman's "The Myths and Legends of King Arthur and the Knights of the Round Table" has a degree of orchestration that is as long as the album title, and often can sound congested and confused when not played on the very best cartridges. The Vasari Gold cartridge gave a very forward sound that was slightly more open than on the Red, and whilst not quite as good as my usual array of much more expensive cartridges, was still very acceptable. Indeed, my time with the Vasari Gold and Red showed me just why moving magnets shouldn't be put cast to the annals of history just yet. Bearing in mind unless it is a high output Moving Coil it can be 1/100 of the sensitivity of a moving magnet so you need a really good MC phono-stage to compete. Another reason why you shouldn't give up on moving magnets just yet. For those with a good 47KΩ load phono-stage or those with limited availability of cash, you should make the most of moving magnets, and both the Red and Gold are excellent contenders.
Conclusion
Whether coming in Red or Gold, this new cartridge from Gold Note was a surprisingly good sounding product at €195 and €350 respectively.  The Vasari takes the best parts of the best MM's of old and put them all together in a single package.
There was an excellent musicality, especially in the low and mid frequencies, and an almost human sensitivity to the music making it very enjoyable. There is a definite improvement in detail and clarity from the Gold; an elliptical diamond is also a very important move in reducing any harmonic or intermodulation distortion, and the stricter matching of internal coils really does make a difference.
So, if cash allows that extra price is worth considering for the extra performance, and so would be the preferable choice, but don't be fooled at either's cheap price; these are both high achieving products that wouldn't feel out of place in a £3000+ turntable.
Good value
Excellent bass and midrange, especially on voices and strings
Can choose between two versions to fit your wallet
Cons:
Just slight lack of detail and speed when compared to much more expensive Moving Coil cartridges
GOLD
Typology: MM Phono Cartridge
Output level: 4.0mV
Frequency response: 15-25000Hz
Impedance: 1000Ω
Suggested load: 47KΩ
Inductance: 500mH
Compliance: 10×10-6cm/dyne
Channel separation: > 22dB
Channel balance: < 2dB
Suggested tracking weight: 2.0g
Cantilever: Aluminum
Diamond: Elliptical
Diamond size: 7.5*15.5μm
Weight: 9g
Coil Wire: Copper
Magnet: Alnico
Mounting hole diamond distance: 9mm
RED
Typology: MM Phono Cartridge
Output level: 4.0mV
Frequency response: 15-25000Hz
Impedance: 1000Ω
Suggested load: 47KΩ
Inductance: 500mH
Compliance: 10×10-6cm/dyne
Channel separation: > 20dB
Channel balance: < 2dB
Suggested tracking weight: 2.0g
Cantilever: Aluminum
Diamond: Conical
Diamond size: 15.5μm
Weight: 7g
Coil Wire: Copper
Magnet: Alnico
Mounting hole diamond distance: 9mm